Colon Cancer Awareness Month
---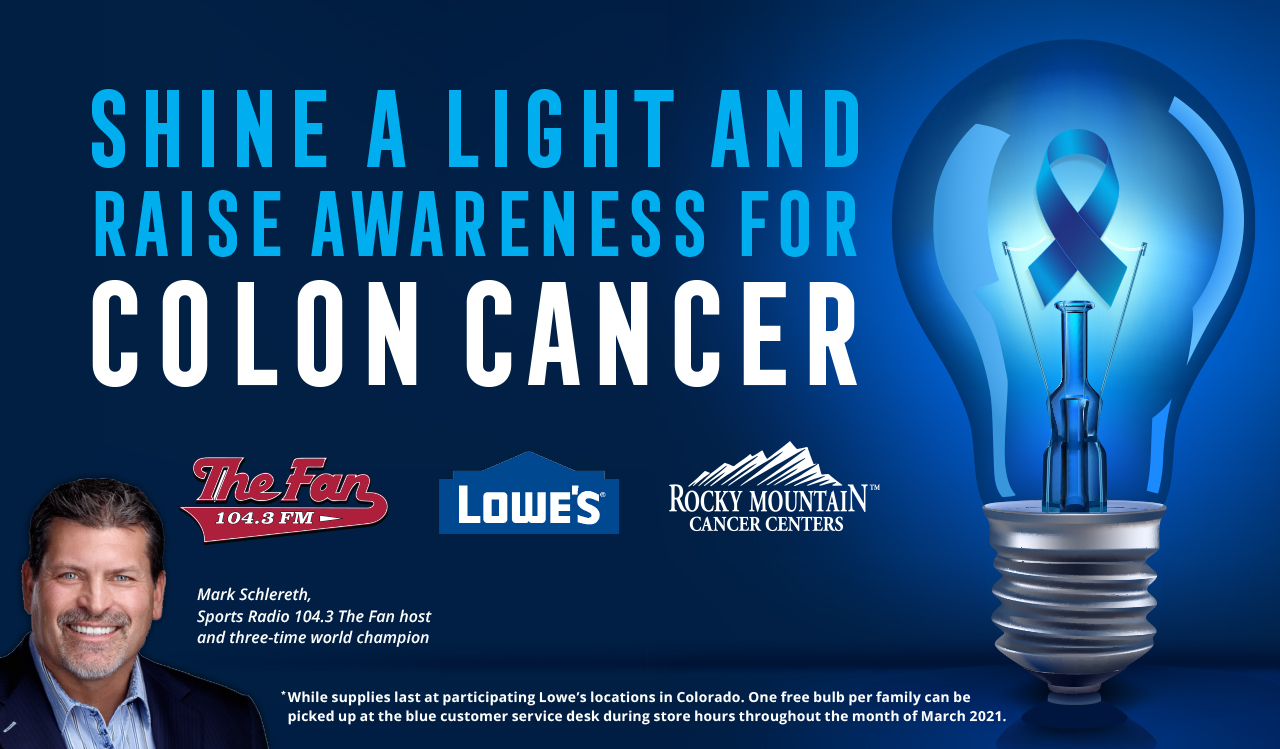 Pick up your FREE* lightbulb at participating Lowe's Colorado locations:
Aurora
1701 S Havana S
4455 S Buckley Rd
24505 E Wheatlands Pkwy
Colorado Springs
4252 Royal Pine Dr
4880 N Nevada Ave
2945 New Center Point
701 N Academy Blvd
Lakewood
10555 W Colfax Ave
5258 S Wadsworth Blvd
Pueblo
1225 Highway 50 West
2900 W Pueblo Blvd
* While supplies last. One free bulb per family can be picked up at the customer service desk during store hours throughout the month of March.
Bringing Awareness to Colon Cancer
According to the American Cancer Society, excluding skin cancers, colorectal cancer is the third most common cancer diagnosed in both men and women in the United States. At Rocky Mountain Cancer Centers (RMCC) we are working to shine a light on the importance of early detection and the difference it can make in survivorship.
Don't Be in the Dark
Screenings save lives. Family history, ethnicity and race can put you at a higher risk for colorectal cancer so it is important to talk with your doctor regarding screening recommendations.
A colonoscopy is considered the "reference standard" screening study for colon polyps and cancer. During a colonoscopy, a gastroenterologist looks at the inner lining of the colon (large intestine) for any polyps- small clumps of cells that have formed on the lining- and then will remove them. Most colon polyps are harmless but over time some can develop into cancer. If they are cancerous finding them earlier when the disease is easier to treat is important. If caught early it is highly curable. Yet only about a third of cases are diagnosed in early, highly curable stages of the disease.
Get Screened
The American Cancer Society 2018 guideline recommends colorectal cancer screening starting at the age of 45 for those at average risk. If you are at high risk for the disease talk with your doctor about the recommended age for you to start screening.
Regardless of your age or family history, if you are experiencing symptoms don't ignore them. You're never too young for colon cancer. The Colorectal Cancer Alliance reports that one in ten adults are diagnosed with colorectal cancer before the age of 50. Talk to your doctor about screening.
Know Your Family Health History
Genetic counseling for a personal or family history of colorectal cancer is indicated for individuals with any of these red flags:
Personal or family history of colorectal cancer diagnosed under age 50
Family history of multiple cancers (Any combination of 3 of the following) colorectal cancer, breast, ovarian, uterine, prostate, or pancreatic cancer
Personal history of >10 colon polyps
Rocky Mountain Cancer Centers has one of the region's largest genetic counseling programs. Learn more about our Genetic Counseling Programs.
Your Family Has a History or Colon Cancer – Now What?
At RMCC, our Colon Cancer Prevention and Risk Assessment Clinic is designed to help patients accurately evaluate their colon cancer risk based on their personal history, family history and genetic testing.
Our unique program includes a collaborative approach to surveillance and risk reduction involving both a board-certified medical oncologist and a certified genetic counselor.
The program includes:
Review of screening colonoscopies
Review of personal and family history
Genetic counseling and testing for hereditary cancer conditions such as Lynch Syndrome
Sample is collected at the end of the genetic counseling appointment (ex. blood draw).
Results are completed in approximately 1 month.
Results are disclosed at a follow-up appointment.
Patients receive a personalized medical management plan based on their risk assessment.
Clinical Research Trials
At RMCC, our oncologists are well versed in the latest advancements in colon cancer research, genetics, risk assessments, and new targeted and immune therapies. Clinical research trials represent some of the most advanced treatment options. Talk to an oncologist for more information about colon cancer research trials at RMCC.