Medically Integrated Dispensing Pharmacy
---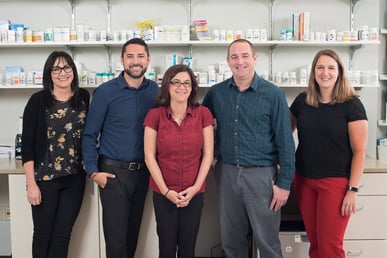 Rocky Mountain Cancer Centers (RMCC) has a Medically Integrated Pharmacy team ready to fill oncolytic and supportive care prescriptions for RMCC patients. Within our Denver-Rose location, we have a team of dedicated pharmacists, technicians, and a patient financial counselor ready to provide an exceptional medication service for you and your patients.
Getting started is as easy as providing us with your prescription benefit card, and we'll take care of the rest.
We are able to process prescription claims with most prescription benefits providers, including Medicare B and Part D. In addition to convenience our in-office dispensing service may also be a more cost-effective option than retail or specialty pharmacies. Retail/specialty pharmacies often require immediate payment and sometimes are not able to verify all coverage options (e.g., Medicare, supplemental plans, copayment assistance programs) before dispensing. We are able to verify coverage, as well as investigate alternative co-payment assistance resources, prior to dispensing. It's possible to reduce your out-of-pocket expense by using our program.
Receiving your cancer specialty medications at the point of care also allows our nurses and pharmacy team members to provide you with on-site education and answer any questions you might have.
Our pharmacists understand the importance of getting you started on your treatment right away. They will fill your prescription and overnight it back to your clinic to coincide with any learning sessions your nurses will do to explain your treatment plan and answer any questions. Refills may be coordinated with your next scheduled visit to the clinic or may be sent directly to your home.
For any questions, you can contact the RMCC Pharmacy Team at 303-285-5085.
Frequently Asked Questions
What Rx's can the Pharmacy Team fill?
Oral oncolytic and supportive care medications.
What Rx's does the Pharmacy Team not fill?
Controlled substances, thalidomide agents (Celgene, Revlimid), and most non-oncology disease-state management medications.
What kind of communication can patients expect from the Pharmacy Team?
Initial phone calls, medication delivery confirmation, answers to clinical questions, follow-up calls, and refill assistance.
How do patients receive their prescriptions?
Prescriptions are delivered directly to a preferred RMCC clinic for pick up, or if needed, to the patients' home.
If your question is not listed here, please use the patient portal, Navigating Care, to message your site. Select the message type prescription.