Neuroendocrine Specialists
---
For residents of the Colorado Front Range and individuals around the globe, quality care for neuroendocrine cancer is found right here at RMCC. Our multidisciplinary team works together to give you the best care possible, led by Neuroendocrine Surgeon, Dr. Eric Liu, who brings world-class expertise to neuroendocrine care. Medical oncologist Dr. Allen Cohn, specializes in diagnosing and treating carcinoids, a type of neuroendocrine tumor. Together, this expert team provides comprehensive treatment for patients with neuroendocrine tumors.
When you come to RMCC, we'll discuss your signs and symptoms. We'll review imaging scans and test results. And together, our specialists discuss your case to develop a treatment plan that makes sense for you.
Team members who may work on your case include:
Endocrinologists
Interventional radiologists
Medical oncologists
Pathologists
Radiation oncologists
Radiologists
Surgeons
At The Neuroendocrine Institute at Rocky Mountain Cancer Centers (RMCC), our specialists have extensive knowledge in the diagnosis and treatment of neuroendocrine tumors. This means we are able to provide you with advanced treatment options to help you achieve better outcomes and enjoy a long, high quality of life. Throughout your treatment, they will keep you in the loop so you understand your options and your progress every step of the way.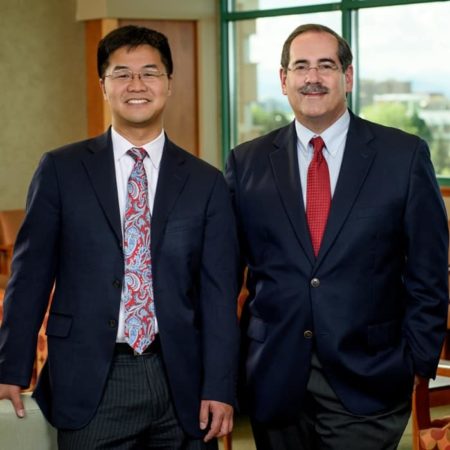 Specializing In Answers
If you or someone you love has more questions than you have answers about the disease, we are here to provide you with all the information you need.
At The Neuroendocrine Institute at Rocky Mountain Cancer Centers, we specialize in treating all types and stages of neuroendocrine tumors. Our NET cancer care team is both knowledgeable and experienced, with each physician considered a leader in the diagnosis and treatment of this rare and complex cancer.
When you come to RMCC, we guarantee that we will take the time to listen, educate, and coordinate the best treatment plan possible for your unique situation.
Neuroendocrine Tumors Educational Resources
Rest assured, you're in good hands at RMCC. Our neuroendocrine specialists are strong advocates of education for patients with neuroendocrine cancer and their families, as well as for physicians and other clinicians.
Both Dr. Liu and Dr. Cohn are active leaders and participants of various groups and foundations that are engaged in NET research and education. To learn more about these organizations, visit: