Who is On Your Colorectal Cancer Treatment Team?
---
If you've been diagnosed with colorectal cancer, you'll soon have a team of specialists caring for you who are well informed about the treatment process and what you can expect. The primary physician you will be working with will be a medical oncologist. However, there are many others who are an important part of the treatment process.
Your Colorectal Cancer Treatment Team
Rocky Mountain Cancer Centers has an experienced colorectal cancer treatment team dedicated to finding the best course of action for you. Treatment is personalized for each patient based on several factors including the cancer's stage and whether it's the first time for treatment of this cancer. RMCC also participates in clinical research studies that open additional treatment options for some patients offering the most recently developed treatment plans.
Most patients start with the medical oncologist for their treatment planning. From there, many other specialists and other members of the cancer care team will be included in the treatment process.
Medical Oncologist
This physician, who specializes in the treatment of cancer using drug therapies, typically serves in the lead role. They will communicate with the other specialists needed for your care. Together they'll determine the recommended treatment plan including the timing of surgery and which other treatments are right for you including chemotherapy, targeted therapy, and immunotherapy. They'll also discuss whether radiation therapy should be part of the plan and when it would be done.
Colorectal Cancer Surgeon
If you should require surgery for colon or rectal cancer, you will consult with a surgeon who specializes in gastrointestinal (GI) surgeries. This is not the person who performs a colonoscopy, which may have been done to find the cancer. A GI surgeon will determine what type of surgery is needed to remove all of the cancer depending on its location.

Your surgeon will work with the medical oncologist to identify where it's located and discuss whether there should be treatments given before surgery to shrink the tumor. Learn more about surgery for colorectal cancer.
Radiation Oncologist
Radiation oncologists specialize in treating cancer with radiation therapy. Radiation therapy may not be used for every patient, depending on where the cancer is located. However, many patients are given external beam radiation therapy over the course of several weeks. This ensures any remaining cancerous cells after surgery are killed. It's also sometimes used to shrink tumors that have spread outside of the colon. The right dosage and exact positioning will be part of the plan developed by the radiation oncologist.
Advanced Practice Providers (APP)
An advanced practice provider, or APP, is formally trained as an advanced practice registered nurse or a physician's associate. They work closely with your doctor and during some appointments, you may only visit with the APP to check on your bloodwork and discuss how you're feeling to see if there need to be adjustments. While they are not your doctor, they are a primary point of contact that works with you and your cancer team to help shape your treatment plan.
Additional Team Members Who Work with Colorectal Cancer Patients
Triage Nurse: These nurses work with the medical oncologist and the APPs to make sure the treatment plan is being executed. They'll discuss any reactions you may have that might make the doctor consider a different treatment path. They also provide support for questions about side effects, patient concerns, and prescriptions.
Infusion Nurse: Most colorectal cancer patients receive infusions for chemotherapy, targeted therapy, or immunotherapy. An infusion delivers the drugs into the vein through an IV. These are given in the infusion room at the cancer center and are overseen by an infusion nurse. They know how to help you feel more comfortable during your treatment which can last from a couple of hours to all day. They'll also monitor you for side effects during treatment that can be addressed.
Radiation Therapist: If radiation therapy is a part of the colorectal cancer treatment process, the radiation therapist will help to position you in the exact spot you need to receive radiation treatments. They'll also help you to feel as comfortable as possible during the treatments. Most patients who receive radiation therapy go 5 days a week for several weeks, so you'll get to see your radiation therapist quite often.
Social Worker: A social worker may help you find resources or assist with daily challenges you face while working through treatment. They can help you with your emotional and psychological concerns while coping with colorectal cancer. They can arrange for counseling, housing, childcare issues, nursing home placement, and community resources.
Patient Financial Counselor: This person has a good understanding of what will be covered by insurance and can help you with finding resources to cover the costs of treatment if needed. Talk with them about payment planning and ask questions about what's covered through your insurance.
Other Cancer Center Office Staff: While working through treatment and appointments, you will encounter other professional staff members who will assist with scheduling and supportive care.
Should You Get a Second Opinion?
Many people wonder if they should get a second opinion. The short answer is yes. You may have an initial provider or physician that you feel isn't listening to your concerns. You might be worried that the treatment they recommend is unnecessary or is more treatment than what's needed. Each practice operates differently and may have staff you feel more comfortable with. Getting a second opinion is not uncommon, and in fact, most health insurance providers will cover the cost of the second opinion visit. Talk to your insurer before booking the second opinion appointment to be sure.
Finding a Colorectal Cancer Specialist in Colorado
Rocky Mountain Cancer Centers is a leading colorectal cancer treatment team with locations throughout Colorado. We respect our patients and their personal preferences during the treatment process. Our patients should understand you are not a number and that your care will be individualized with the most advanced options available. We are happy to provide a second opinion to others who may want to explore other options or find a care team more suitable to their needs.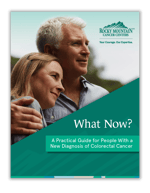 Free Guide for Newly Diagnosed Colorectal Cancer Patients
Get helpful tips on what to expect and how to prepare your mind and body for colorectal cancer treatment.