Who is On Your Lung Cancer Care Team?
---
After a lung cancer diagnosis, you might be wondering who will be taking care of you. While the primary person you'll see will be a medical oncologist, there are several other important people on the team who will guide you through your lung cancer treatment.
Your Lung Cancer Treatment Team
Rocky Mountain Cancer Centers has experienced lung cancer specialists focused on getting you the best results possible. Under their guidance, you will get the attention and support you need during your cancer treatment journey.
Your lung cancer treatment team will likely include the following lung cancer specialists:
Medical Oncologist
Typically, the medical oncologist serves in the lead role of cancer treatment, communicating regularly with the other specialists on your care team. Working closely together, they will determine every detail of your treatment including the best type(s) of treatment for your personal case, as well as the timing in which you should receive them. Rocky Mountain Cancer Centers has medical oncologists on staff who are specialized in all types of cancer, including thoracic (lung) cancer.
Surgeon
Surgery is not always recommended for patients with lung cancer. However, there are times when surgery is needed to remove a portion of the lung or the entire lung through procedures such as lobectomy, segmentectomy, wedge resection, and pneumonectomy. The specialist with expertise in the surgical management of lung cancer is called a thoracic surgeon.
Radiation Oncologist
The radiation oncologist is experienced in the use of therapeutic radiation to treat lung cancer. Receiving radiation treatment, whether external or internal, for your lung cancer may be part of your recommended treatment plan, particularly if your lung cancer has spread to certain lymph nodes in the center of your chest. If your lung cancer could benefit from radiation therapy, the radiation oncologist will determine the right method and dosage.
Advanced Practice Providers (APPs)
Advanced practice providers are nurse practitioners (NP) or physician associates (PA) who work with the oncologists to provide care, education about treatments, and help with side effect management. On some visits, you might see only the APP. While they are not your doctor, they are a very important part of your team, acting as the primary point of contact for many of the members of your cancer care team. Feel free to tell them everything you would tell your medical oncologist.
Additional Team Members Who Work with Lung Cancer Patients
In addition to the ones listed above, other important team members who are involved in the care of lung cancer patients include:
Triage nurses: These nurses work with the medical oncologist and the APPs. They help with many facets of your treatment including keeping your treatment plan on track, side effect management, and determining whether you need urgent or emergent medical care. They also provide support for questions about side effects, patient and family concerns, and prescriptions.
Infusion nurses: These nurses are in the infusion room and administer chemotherapy, targeted therapy, and immunotherapy according to the treatment plan. They are with the patients in the cancer center throughout their treatments and can help you manage side effects that come up.
Radiation therapists: These team members help you get in the proper position for each radiation therapy session, help with administering the radiation treatments, and help address any side effects.
Social worker: Oncology social workers can help patients with the day-to-day challenges they may face with their mental and emotional health during cancer treatment. They are able to provide resources that can assist in the ways you need them most. Contact our social work team to sign up for our supportive care groups.
Patient financial counselor: Patient financial counselors offer assistance navigating financial resources and setting up payment plans.
Schedulers/Assistants: Schedulers and assistants set up appointments and provide other clerical support. They are an important part of assisting the rest of the team in providing you with optimal supportive care.
Dietitian or nutritionist: A specialist trained to advise people on what to eat to meet their dietary needs. Depending on your cancer care needs, you may have access to a Rocky Mountain Cancer Center nutritionist who will help guide you in making healthy lifestyle choices during and after your treatment.
Is Getting a Second Opinion Necessary?
If you are curious about getting a second opinion, you are not alone. Many people wonder if a second opinion is necessary. We feel that a second opinion can be a wonderful way to put you at ease if you are still concerned about your initial physician or the recommended treatments. Every practice operates differently and it's important that you feel completely comfortable with both the team and the care they will be giving you. Getting a second opinion is not uncommon, and in fact, most health insurance providers will cover the cost of the second opinion visit. To verify that your second opinion appointment is covered, talk to your insurer before booking.
Finding a Lung Cancer Specialist in Colorado
Rocky Mountain Cancer Centers is a leading lung cancer treatment team with locations throughout Colorado. We respect our patients and their personal preferences during the treatment process. Our patients should understand that we see you — you are important to us and we want to ensure your needs are met through receiving an individualized care plan that includes the most advanced options available. If you would like a second opinion regarding other treatment options or care team support, we are happy to provide that for you.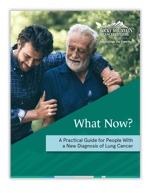 Free Guide for Newly Diagnosed Lung Cancer Patients
Get helpful tips on what to expect and how to prepare your mind and body for lung cancer treatment.