Who Should Be on Your Prostate Cancer Care Team?
---
A urologist is often the physician who runs tests to identify prostate cancer. They may discuss further testing with you and/or surgery to remove the prostate as part of treatment for this condition. They may also suggest you visit a cancer specialist called an oncologist.
Should You See an Oncologist Before or After Prostate Cancer Surgery?
While surgery is sometimes the best treatment, it's a good idea to consult with cancer treatment specialists before scheduling surgery. They can review your prostate pathology report and discuss treatment options that can, in some cases, avoid or delay surgery.

If you've already had surgery for prostate cancer, it's still a good idea to consult with the oncologists to determine if additional treatments are recommended to help prevent the cancer from recurring.
Find a Prostate Cancer Specialist Near You
The comprehensive approach offered by our prostate cancer team combines the most advanced treatments with education, support services, and complementary therapies.
Choosing A Prostate Cancer Treatment Plan
When meeting with an oncology team, they will discuss your diagnosis and treatment options based on the location of the tumor, stage of cancer, and the patient's overall health.
They are also likely to speak with your urologist to review your medical images, pathology report, and other test results.

If the cancer is found at an earlier stage, the oncologists may recommend watchful waiting before starting treatments. If the cancer is at a later stage, treatments may need to begin right away. This can include radiation therapy, hormone therapy, and other treatments as an alternative to prostate removal surgery called a prostatectomy.
FREE DOWNLOAD: When to Start Prostate Cancer Treatment?
The Rocky Mountain Cancer Centers team includes experienced prostate cancer specialists focused on getting you the best results possible, at the right time.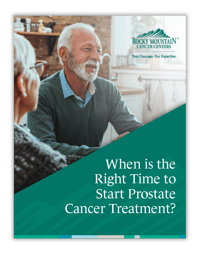 Your Prostate Cancer Treatment Team
There is more than one type of physician included in the treatment planning process. Your prostate cancer treatment team will likely include the following specialists:
Radiation Oncologist
Radiation is often recommended as the first therapy when it's time to start cancer treatment. Radiation oncologists will determine if external beam radiation therapy, low-dose "seed" brachytherapy, or high-dose brachytherapy is the best path forward.
If you have surgery, this can also be a treatment provided after surgery to be sure all cancer cells in the area have been killed.
Medical Oncologist
The medical oncologist oversees the delivery of hormone therapy or targeted therapy that may be included as part of treatment. This includes oversight of the PSMA therapy for advanced prostate cancer. If chemotherapy is necessary, the medical oncologist will oversee this as well.
The medical oncologist works closely with the rest of the team to determine the right timing of any medical oncology treatments.
Urologist/Surgeon
If the cancer care team determines that surgery should be a part of the treatment plan, it's often the urologist who performs this procedure.
Talk to your urologist and cancer treatment team to discuss side effects that you should plan for after surgery.
Advanced Practice Providers (APPs)
Advanced practice providers are nurse practitioners (NP) or physician associates (PA) who work with the oncologists to provide care, education about treatments, and help with side effect management. On some visits, you might see only the APP. While they are not your doctor, they are a very important part of your team, acting as the primary point of contact for many of the members of your cancer care team. Feel free to tell them everything you would tell your oncologist.
Additional Team Members Who Work with Prostate Cancer Patients
In addition to the physicians and advanced practice providers there are other important team members involved caring for prostate cancer patients. You may interact with all or some of these during each appointment.
Our schedulers and assistants will help you set up your appointments and handle any general questions you may have.
Radiation Therapists
If radiation therapy is part of the treatment plan, you will see the radiation therapists at each of your treatment appointments. Once the proper dosage has been decided, and your treatment has been planned by the radiation oncologist, the radiation therapists will help to get you in the proper position for each treatment session and help address any side effects.
Triage Nurses
These nurses work with the oncologists and the APPs to ensure your treatment goes as smoothly as possible. This includes keeping you on schedule with treatments, helping you manage side effects, and determining whether you need urgent or emergent medical care. They also provide support for questions about side effects, patient and family concerns, and prescriptions.
Infusion Nurses
If you need treatments that are delivered by an IV, you will receive this in the infusion suite, typically in an outpatient setting. These nurses are specialized in the
administration of cancer treatment medications and fluids through an intravenous (IV) line, central line, or venous access port. They are there to monitor the delivery of treatments and make sure you're as comfortable as possible.
Social Worker
Oncology social workers can help patients with the day-to-day challenges they may face with their mental and emotional health during cancer treatment. They are able to provide resources that can make your cancer treatment easier to navigate. Contact our social work team to sign up for our
supportive care groups
.
Dietitian or Nutritionist
A specialist trained to advise people on what to eat to meet their dietary needs. Depending on your cancer care needs, you may have access to a Rocky Mountain Cancer Center nutritionist who will help guide you in making healthy lifestyle choices during and after your treatment.
Patient Financial Counselor
Patient financial counselors offer assistance navigating financial resources and setting up payment plans. They can also help you better understand your insurance coverage.
Is a Second Opinion Necessary?
Getting a second opinion can be a wonderful way to boost your confidence regarding your prostate cancer diagnosis and recommended treatment plan. If you are curious about getting a second opinion, we at RMCC encourage you to take advantage of that option if possible. Every practice operates differently and it's important that you feel completely comfortable with both the team and the care they will be giving you. While most health insurance providers will cover the cost of the second opinion visit, it's still a good idea to contact your insurer for verification.
Finding a Prostate Cancer Specialist in Colorado
If your cancer care team determines that external beam radiation therapy should be included in your treatment plan, it's best to find a location that's convenient to your home. With advances in radiation technology, effective treatment can be given in 1-2 weeks.
Rocky Mountain Cancer Centers offers locations throughout Denver, Colorado Springs, Pueblo and the Front Range to help make treatment as easy as possible. Our team is a leading prostate cancer treatment team. Our goal is to ensure your needs are both respected and met.
If you or a loved one has been diagnosed with prostate cancer, please schedule a consultation with one of our prostate cancer specialists near you.