Your First Appointment
Your Cancer Care Journey Begins Here
At Rocky Mountain Cancer Centers we recognize the stress and challenges that a cancer diagnosis can bring we're here to help and guide you along the way.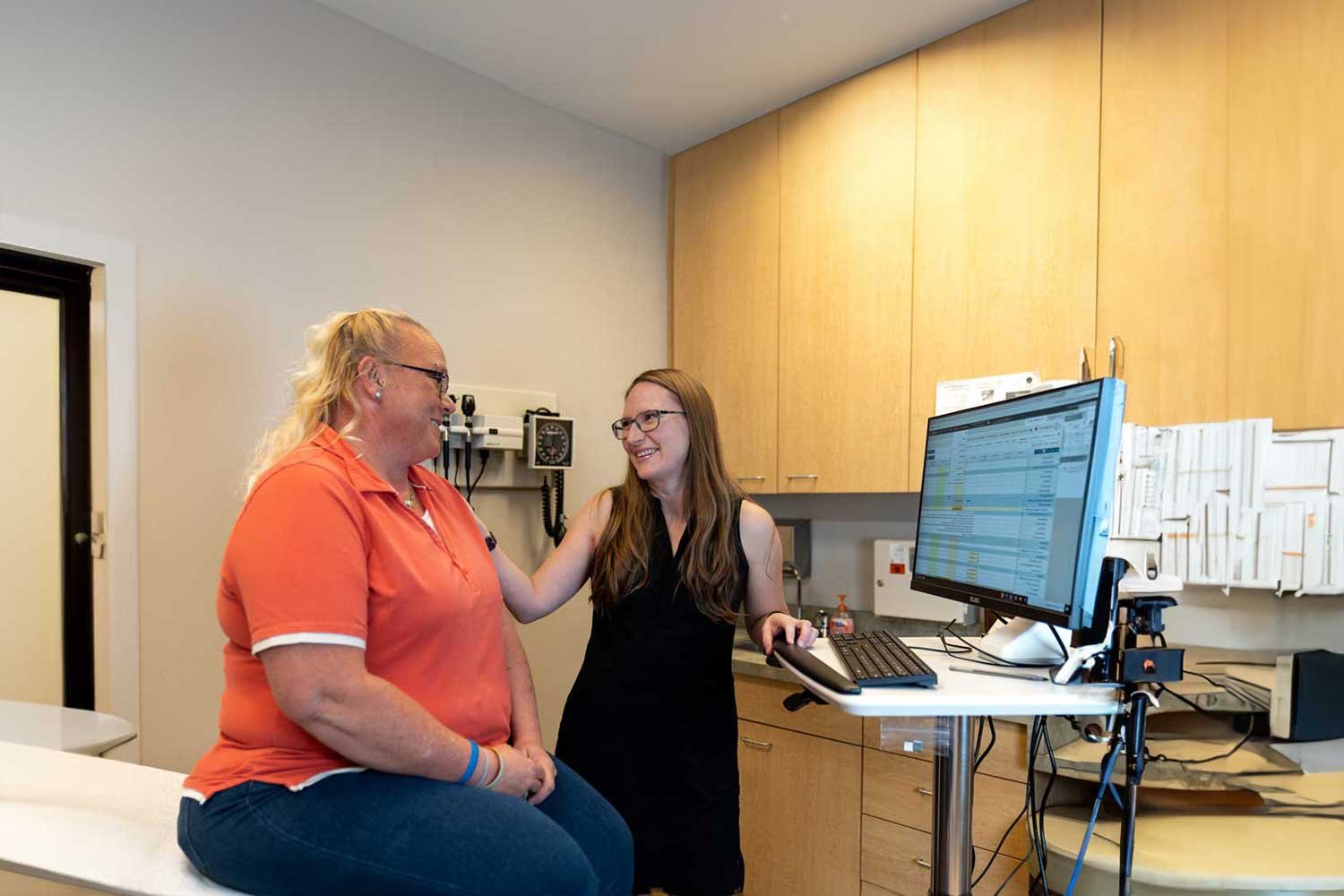 What to Expect at Your First Appointment
Your first appointment will be comprehensive so you should plan to spend at least an hour with us. We know that sorting through and understanding information about your cancer and various treatment options isn't easy, so if possible, we encourage you to bring an adult family member or friend with you for this initial appointment to listen, lend support, and take notes.
Please arrive about 15 minutes prior to your scheduled appointment time and check in with our front desk ambassador. You will receive a new patient packet containing practice information, educational materials, and forms for your review and completion if you have not already done so.
Thoroughness and accuracy are essential when completing your forms, especially your family history questionnaire. Therefore, we strongly encourage you to have downloaded and completed your forms prior to your first appointment. Being thorough in your completion of these forms will allow you to have a more informative meeting with your physician.
During this initial visit with your doctor and other members of your care team we will explain your diagnosis and together develop a personalized evidence based treatment plan to create the best possible outcomes. Don't be afraid to ask questions. Having answers, as tough as they sometimes are, can help you make a plan and in making a plan, reduce the anxiety and fear that often come from indecision or the unknown. Our goal is to empower you to advocate for yourself and be an active partner in your care so you can make the best decisions for you and your family. Our experienced oncology social workers are also here to ensure that you are supported throughout your journey with access to counseling, support groups, educational events and referrals to appropriate community resources.
If you haven't already scheduled an appointment, request one at the location that's most convenient for you.
Follow Up Care
For your convenience you will be able to schedule any subsequent appointments needed prior to leaving the office. These may include appointments for:
Blood work only
Chemotherapy or radiation treatment
A physician appointment, with or without blood work
Additional imaging tests
If you'd prefer to wait to schedule your next appointment, you can visit our website 24/7 and schedule an appointment for any of our 19 office locations at your convenience. One of our schedulers will be in touch within 24 hours to discuss the reason for your visit, and confirm your next appointment. When calling for an appointment call the clinic's main number and ask for the scheduler for your doctor. Please contact the cancer center as soon as possible during regular business hours if you need to cancel an appointment.

Our Cancer Treatment Services
Many of our cancer treatment centers throughout Colorado offer a full range of services including diagnostic imaging, radiation therapy, chemotherapy, in-office dispensing of oral chemotherapy, clinical trials and supportive services all under one roof to optimize patient convenience and time.
Medical Oncology
treating cancer with medicine, including chemotherapy
Radiation Oncology
treating cancer with therapeutic radiation
Hematology
treating blood disorders and/or blood cancers
Gynecologic Oncology
treating cancer of the female reproductive organs
Breast Cancer Surgery
treating breast cancer with the removal of the tumor or breast
Neuroendocrine
treating cancer in specialized cells called neuroendocrine tumors
We also connect patients with our team of experienced oncology social workers, who are readily available to help you understand your treatment and answer questions. During the meeting, your care team will review your diagnosis with you, including the type and stage of cancer you have. You'll then discuss the goals of treatment. Some cancers are treated with the goal of ridding the patient of the disease (curative) while others are treated to slow their growth or minimize symptoms (palliative).
Helpful Articles for Cancer Patients, Caregivers, and Survivors
We offer blog articles that help address various aspects of a cancer diagnosis, living with cancer, and survivorship.
What to Bring to Your First Appointment
Please bring to your first appointment:
Your insurance card(s) and a referral if needed
Your driver's license or photo ID
Your prescription card
Completed new patient forms, if you did not complete them online
Medical records including diagnostic films and related reports, pathology reports, etc. (Note: Some doctors and clinics may prefer to send them directly to us)
Contact information for your primary care and/or referring physician so we can make sure they are kept up to date on your treatment plan.
Many of our treatment patients are extremely sensitive to strong smells. For this reason, please refrain from wearing perfumes, colognes, or heavily scented lotions whenever you are in our facilities.
Insurance & Billing Information
Our patient financial counselors are trained and knowledgeable about insurance benefits and reimbursement, including Medicaid and Medicare, for cancer treatments and services. They will discuss with you what your insurance company will or will not cover and help you set up financial arrangements for all co-insurance or non-covered amounts. Many insurance plans do require you to pay an office visit co-payment at the time of service. Some may also require a co-payment for chemotherapy treatments. For your convenience, we accept cash, check, Visa, MasterCard, Discover and American Express at our clinics, and offer online bill payment.
Resources for Patients:
You're Not Alone
Through this difficult time, the team at Rocky Mountain Cancer Centers is here to help you every step of the way. Our entire team is dedicated to assisting patients with every aspect of the treatment process from finances to support groups and more.
Navigating Care Patient Portal
Rocky Mountain Cancer Centers offers a secure link to your health care information, including lab results, through our patient portal, Navigating Care. Ask any staff member how to enroll.
In-Office Oral Chemotherapy Dispensing
For the convenience of our patients prescribed oral chemotherapy, we can fill your prescriptions in our office, with little or no wait. We accept most major prescription benefits providers including Medicare Part B and D.
Receiving your oral chemotherapy at the point of care also allows our nurses and pharmacy team members to provide you with on-site education and answer any questions you might have. Getting started is as easy as providing us with your prescription card and we'll do the rest.
RMCC Hospital Privileges
Should you require hospitalization our physicians admit patients to these hospitals, many of them conveniently located near our clinics:
Brighton
Platte Valley Medical Center
Boulder
Boulder Community Hospital
Castle Rock
Castle Rock Adventist Hospital
Colorado Springs
Memorial Hospital

Penrose-St. Francis Hospital
Denver
Porter Adventist Hospital

Presbyterian/St. Luke's Hospital

Rose Medical Center

St. Joseph Hospital
La Junta
Arkansas Valley Regional Medical Center
Lafayette
Good Samaritan Medical Center
Littleton
Littleton Adventist Hospital
Louisville
Avista Adventist Hospital
Longmont
Longmont United Hospital

Longs Peak Hospital
Parker
Parker Adventist Hospital
Pueblo
St. Mary Corwin Medical Center

Parkview Medical Center
Steamboat Springs
Yampa Valley Medical Center
Thornton
North Suburban Medical Center
Westminster
St. Anthony North Hospital
Vail
Vail Valley Medical Center
MyLifeLine
MyLifeLine helps cancer patients and caregivers engage their friends and family to get the social, emotional, and practical support necessary to the healing process. Patients and caregivers receive a safe, secure online communication platform that can help reduce the daily burdens faced by families.
To learn more and sign up today, visit mylifeline.org.