Choosing the Right Breast Surgeon
---
When breast cancer treatment is on the horizon, it's important that you're in good hands. And while there are many doctors who perform breast cancer surgery, most of them do not specialize in breast cancer quite like a breast surgical specialist does.
What is a Breast Surgical Specialist?
A breast surgical specialist is a surgeon who specializes in breast cancer and other diseases of the breast. Areas of a breast cancer surgeon's expertise include:
Lumpectomy/Breast-sparing surgery
Mastectomies, including skin and nipple-sparing surgeries
Preventive/prophylactic mastectomy
Simultaneous and staged reconstruction of the breast
Lymph node surgeries, such as axillary node dissection and sentinel node biopsy
Choosing a Breast Surgery Specialist
Choosing your breast surgeon may be one of the most important decisions you will make concerning your care as he/she plays a critical role in your breast cancer treatment plan. Since treatment for breast cancer frequently begins with surgery, surgical outcomes pave the way for your cancer treatment to follow. This is why it's so important to choose a highly qualified and experienced surgeon who specializes in breast cancer surgery.
Better Outcomes for Patients with a Breast Surgery Specialist
As mentioned earlier, there are many surgeons who perform breast cancer surgery. However, they really only handle a few cases a year. Unfortunately, that's not enough to produce a steady number of favorable results. In fact, research shows that breast cancer patients who have surgeries performed by physicians who have done a high volume of breast cancer surgeries have a better prognosis than patients of lower-volume surgeons.
What makes specialized breast cancer surgeons different is that they have dedicated their professional careers to the disease and perform hundreds of breast cancer surgeries every year. With years of training and education focused on breast disease, they have an in-depth knowledge of cancer biology, genetics, and the most advanced surgical options to help patients obtain the best outcome.
Meet Our Breast Surgeons
At Rocky Mountain Breast Specialists (RMBS), we are pleased to have Dr. Katrina Oyague and Dr. Gerlinde Tynan, board-certified general surgeons specializing in the full spectrum of breast cancer care. They are active members of the American Society of Breast Surgeons and fellows in the American College of Surgeons. Dr. Tynan is also one of few surgeons certified in breast ultrasound.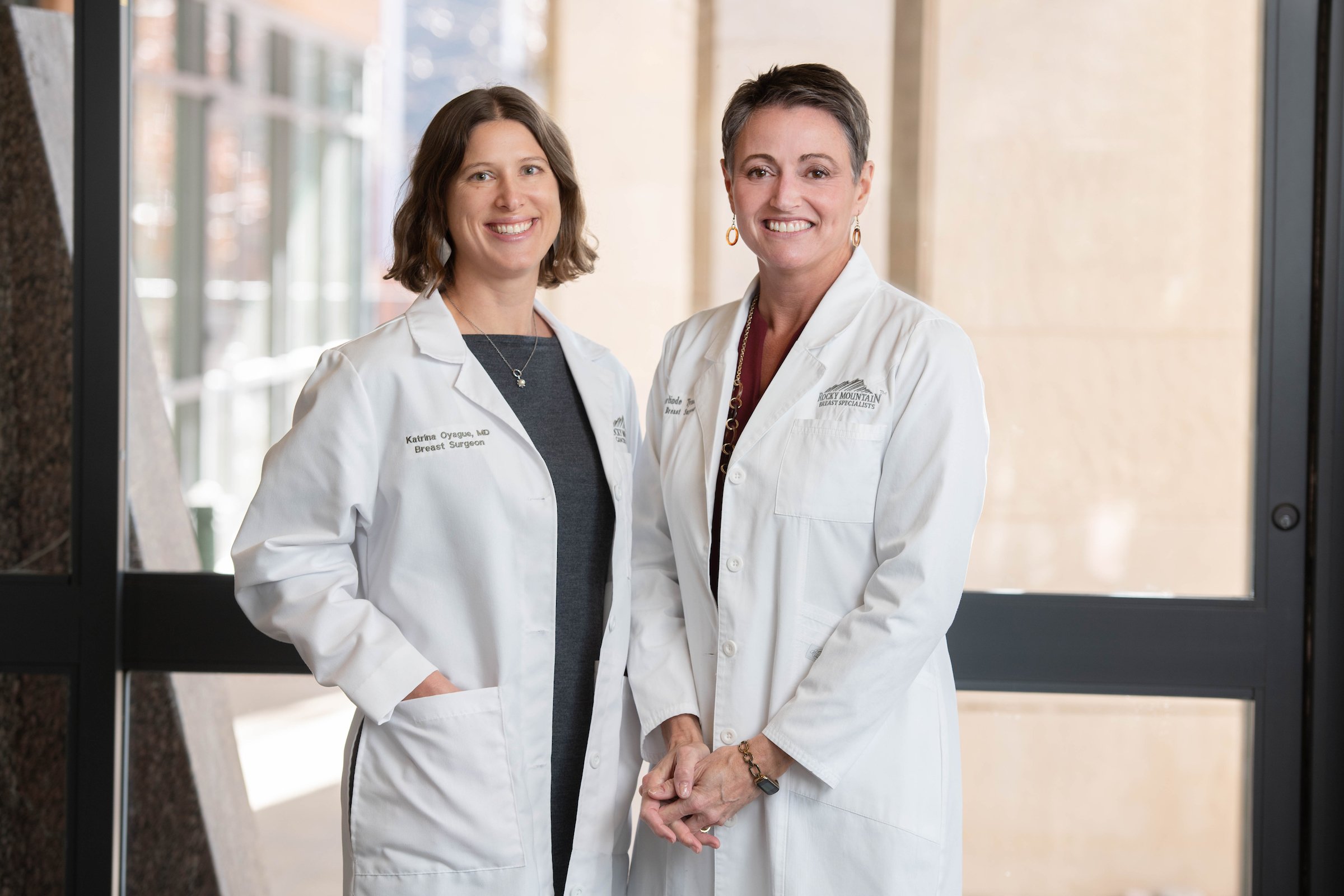 Comprehensive Care from Our Team of Experts
Breast cancer and other breast diseases often require treatment from many different specialists and medical professionals. At Rocky Mountain Breast Specialists, we bring together experts in advanced treatment therapies and comprehensive supportive care to provide a total treatment program.
Our multidisciplinary team of breast specialists includes recognized experts in areas such as breast surgical specialists, medical and radiation oncology, genetic risk evaluation, and supportive care— all of who collaborate to deliver unparalleled continuity of care. This multidisciplinary team of cancer providers offers expertise in all areas of breast care including:
Advanced surgical procedures including breast-conserving lumpectomy, nipple-sparing and skin-sparing mastectomy, lymph node surgery, oncoplastic surgery, and reconstructive surgeries.
Cancer support groups and educational programs support patients after their treatment ends.
Clinical trials providing access to promising new therapies for breast cancer.
Genetic testing to help identify risk for hereditary cancers and to create more personalized treatment strategies.
Medical oncology experts for chemotherapy, hormone therapy, and immunotherapy treatments.
Diagnostic imaging services including PET and CT to assist in evaluation and treatment planning.
Radiation therapy that includes leading-edge technology and treatments like Intensity-Modulated Radiation Therapy (IMRT), Image-Guided Radiation Therapy (IGRT), and brachytherapy.
Resources for second opinions for patients and their referring providers.
Supportive care addressing the emotional, financial, and nutritional needs of patients.
This team, along with your nurse navigator, will guide you on your journey to health. Our hope is that by working together, we can develop a more personalized and cohesive treatment plan that will offer you the best outcome and quality of life possible. From a breast cancer diagnosis to survivorship, the team at RMCC by your side every step of the way.