Eric Liu, MD, FACS
---
Neuroendocrine Specialist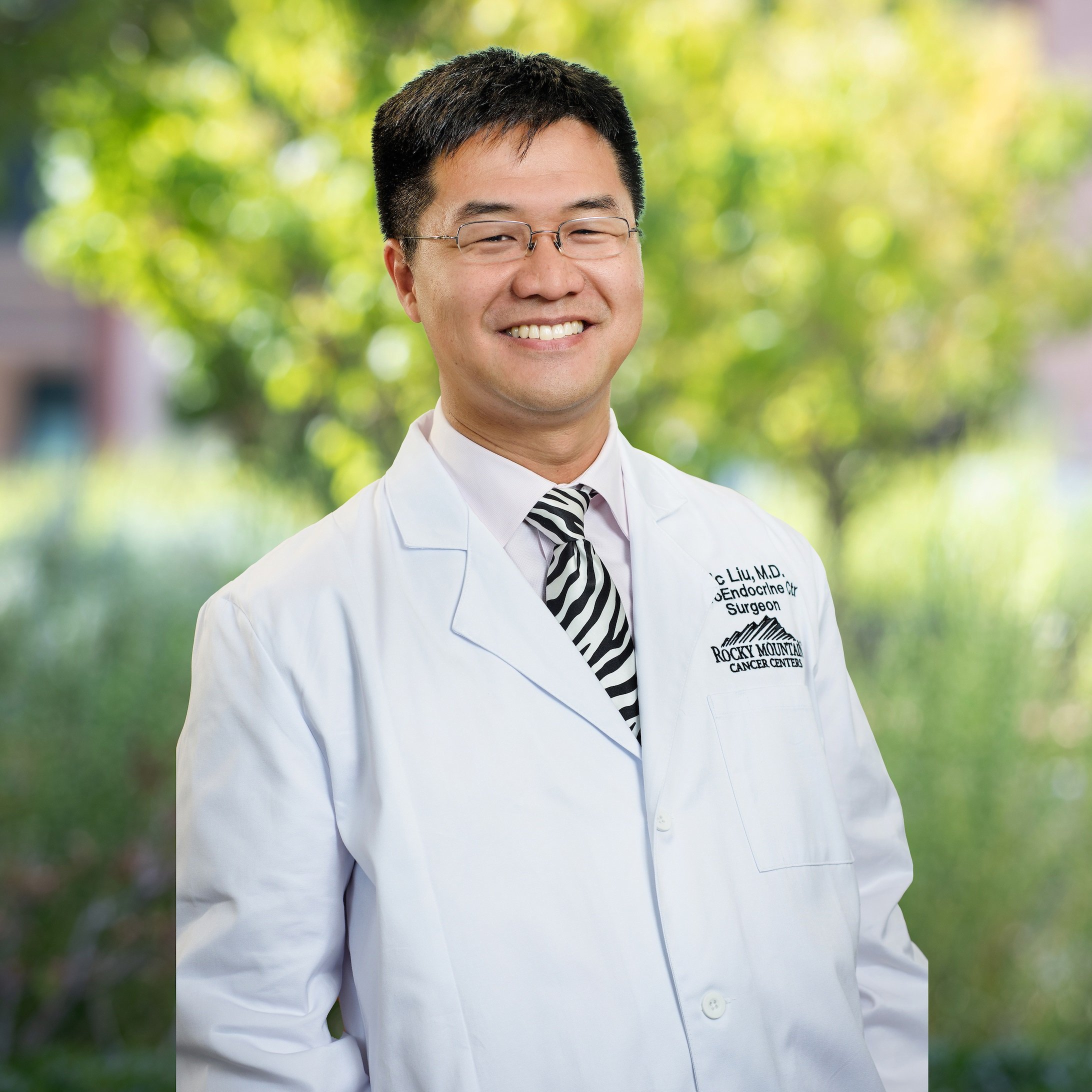 1800 N. Williams St., Ste. 200
Denver, Colorado 80218
303-388-4876
About Eric Liu, MD, FACS
Dr. Eric Liu is a board-certified general surgeon with advanced sub-specialty expertise in neuroendocrine cancers. He is the Surgical Director of The Neuroendocrine Institute at Rocky Mountain Cancer Centers and treats patients with neuroendocrine and carcinoid tumors. His practice encompasses all types of neuroendocrine tumors, including lung, bowel, pancreas, stomach, liver, adrenal, and many more. He sees patients both nationally and internationally.
His philosophy is to help with all aspects of the patient's care. He employs cutting-edge cancer treatments such as surgery, medications, imaging, liquid radiation, advanced interventional radiology, and transplantation. Dr. Liu uses advanced surgical techniques to debulk tumors to treat symptoms and complications of the disease. Importantly, he employs a multi-modal approach for the best long-term outcomes to improve both quality of life and quantity of life. His favorite saying is, "The art of neuroendocrine is not WHAT to do, it is WHEN to do it."
Dr. Liu routinely gives lectures on neuroendocrine around the country and internationally. The Neuroendocrine Institute established a new "THERANOSTICS" CENTER that offers Peptide Receptor Radionuclide Therapy (PRRT, Lutathera), Gallium and Copper DOTATATE PET/CT imaging, and nuclear clinical trials. He also works closely with collaborators around the world to provide the newest treatments.
He contributes to national treatment guidelines and practices evidence-based medicine. He is also the founder of the advocacy group The HealingNET Foundation, that focuses on increasing awareness and educating community healthcare providers on the unique care NET patients require.
Dr. Liu works closely with sub-specialists such as other surgeons, radiation oncologists, and interventional radiologists and participates in a regular tumor board conference dedicated just to neuroendocrine cancer. During these tumor boards, cancer experts collaborate and review cases, share knowledge, and determine the best possible treatment for each patient.
Board Certifications
General Surgery
Specialties
Neuroendocrine Cancer

Carcinoid
GEP NETs – foregut, midgut, hindgut
Lutathera
Metastatic NETs

Radiopharmaceuticals

Copper Cu 64-Dotatate (DetectNET)

Gallium Ga 68-Dotatate (NETSPOT and DOTATATE PET/CT)
Education
Fellowship
Research, Columbia University, New York, NY
Senior Clinical Research, National Institute of Diabetes, Digestive and Kidney Diseases, National Institutes of Health, Bethesda, MD
Neuroendocrine Oncology, Uppsala University, Uppsala, Sweden
Residency
General Surgery, New York Presbyterian Hospital, New York, NY
Medical School
Columbia University, College of Physicians and Surgeons, New York, NY
Patient Care Philosophy
My focus is to always treat the patient – not just the disease. I find that giving the patient time and respect is critical to developing a sense of trust because it is a team effort with the patient in the center. I've told people many times that I value the quality of life as highly as the quantity of life. Therefore, I use every resource at my disposal to address the problems. When treating neuroendocrine cancer, it is absolutely imperative to approach it with a multi-disciplinary approach because it crosses into so many different medical subspecialties.
Languages Spoken
Chinese (Standard Mandarin)
English
Additional Information
American Association for Cancer Research
American Association of Clinical Endocrinologists
American Gastroenterological Association
American Medical Association
Association of Academic Surgeons
Presbyterian St. Luke's Hospital Cancer Committee, Chair
Sarah Cannon Cancer Institute Complex GI Committee
European Neuroendocrine Tumor Society
North American Neuroendocrine Tumor Society
Rocky Mountain Cancer Centers Quality Committee
Sarah Cannon Complex GI Working Group
Society of Asian Academic Surgeons
US Oncology Surgery Committee
Presbyterian St. Luke's Hospital Surgical Oncology Institute, Medical Director, Founder
The Healing NET Foundation, Founder, Chief Medical Adviser, Consultant
US Oncology GI Executive Research Committee
US Oncology Surgery Committee
2017. Invited Speaker, A Surgeon's Perspective: Overview, Evaluation and Management of Neuroendocrine Tumors, North American Neuroendocrine Tumors Society: Annual Symposium. Philadelphia, PA.
2017. Invited Speaker, Surgical Advances for Neuroendocrine Tumors, Visiting Professor, Instituto Alexander Fleming, Buenos Aires, Argentina.
2017. Biomarkers for diagnosis and follow up of NET, NETour '17, Buenos Aires, Argentina.
2017. Invited Speaker, Clinical Applications of 68-Gallium-DOTATATE Imaging, Canadian Society of Nuclear Medicine Annual Meeting, Toronto.
2016. Invited Speaker, Clinical Applications of NETSPOT, Advanced Accelerator Applications at the Society of Nuclear Medicine and Molecular Imaging Annual Meeting, San Diego.
Liu E, Paulson S, Gulati A, Freudman J, Grosh W, Kafer S, Wickremesinghe PC, Salem RR, Bodei L. Assessment of NETest Clinical Utility in a U.S. Registry-Based Study. Oncologist, 24(6): 783-790, 2019.
Gibson WE, Gonzalez RS, Cates JMM, Liu E, Shi C. Hepatic micrometastases are associated with poor prognosis in patients with liver metastases from neuroendocrine tumors of the digestive tract. Hum Pathol, 79:109-115, 2018.
Idrees K, Padmanabhan C, Liu E, Guo Y, Gonzalez RS, Berlin J, Dahlman KB, Beauchamp RD, Shi, C. Frequent BRAF Mutations Suggest a Novel Oncogenic Driver in Colonic Neuroendocrine Carcinoma. J Surg Onc, 117(2):284-9, 2018.
Howe JR, Cardona K, Fraker DL, Kebebew E, Untch BR, Wang YZ, Law CH, Liu EH, Kim MK, Menda Y, Morse BG, Bergsland EK, Strosberg JR, Nakakura EK, Pommier RF. The Surgical Management of Small Bowel Neuroendocrine Tumors: Consensus Guidelines of the North American Neuroendocrine Tumor Society. Pancreas 46(6):715-731, 2017.
Woltering EA, Bersland E, Liu E, et al. Neuroendocrine Tumors. American Joint Commission on Cancer (AJCC) Cancer Staging Manual: Eighth Edition, Ch 29-34, 2017.
Charoenpitakchai M, Liu E, Zhao Z, Koyama T, Huh WJ, Berlin J, Hande K, Walker R, Shi C. In liver metastases from small intestinal neuroendocrine tumors, SSTR2A expression is heterogeneous. Virchows Arch. 470(5): 545-52, 2017.
Fata CR, Gonzalez RS, Liu E, Cates JM, Shi C. Mesenteric Tumor Deposits in Midgut Small Intestinal Neuroendocrine Tumors Are a Stronger Indicator Than Lymph Node Metastasis for Liver Metastasis and Poor Prognosis. Am J Surg Pathol 41(1):128-133, 2017.
Deppen SA, Liu E, Blume JD, Clanton J, Shi C, Jones-Jackson LB, Lakhani V, Baum RP, Berlin J, Smith GT, Graham M, Sandler MP, Delbeke D, Walker RC. Safety and Efficacy of 68Ga-DOTATATE PET/CT for Diagnosis, Staging, and Treatment Management of Neuroendocrine Tumors. J Nucl Med, 57(5):708-14, 2016.
Salaria S, Means A, Revetta, Idrees K, Liu E, Shi C. Expression of CD 24, a Stem Cell Marker, in Pancreatic and Small Intestinal Neuroendocrine Tumors. AJCP, 144(4): 642-8, 2015.
Oberg K, Modlin IM, De Herder W, Pavel M, Klimstra D, Frilling A, Metz DC, Heaney A, Kwekkeboom D, Strosberg J, Meyer T, Moss SF, Washington K, Wolin E, Liu E, Goldenring J. Consensus on biomarkers for neuroendocrine tumour disease. Lancet Oncol, 16(9):e435-e446, 2015.
Marincola P, Liu EH (2015). History of Neuroendocrine Tumors. In Yalcin S and Oberg K (Ed.),
Neuroendocrine Tumours: Diagnosis and Management. Springer, Berlin, Heidelberg, 2015.
Kidd M, Liu E, DeHerderer W, Pavel M, Kilmstra D, Friling A, Metz D, Heaney A, Kwekkeboom D, Strsberg J, Meyer T, Moss S, Washington K, Wolin E, Goldenring J, Oberg K, Modlin, I. Biomarkers for Neuroendocrine Tumor Disease: A Delphic Consensus assessment of Multianalytes, Genomics, Circulating Cells and Monoanalytes. Lancet Oncology 16(9):e435-46, 2015.
Liu EH, Solorzano CC, Katznelson L, Vinik AI, Wong R, Randolph G; AACE Endocrine Surgery Scientific Committee AACE Endocrine Surgery Scientific Committee – Neuroendocrine Carcinoid Subgroup. Aace/Ace disease state clinical review: diagnosis and management of midgut carcinoids. Endocr Pract, 21(5):534-45, 2015.
Shi C and Liu E. Anatomy, Histology, and Function of the Pancreas. Pathobiology of Human Disease, (pp. 2229-2242), 2014.
Liu E and Modlin I (2014). Role of Surgery in a Multidisciplinary Approach. In Baum R (Ed.), Therapeutic Nuclear Medicine (pp. 909-916). Berlin: Springer.
Shi C, Gonzalez RS, Zhao Z, Koyama T, Cornish TC, Hande KR, Walker R, Sandler M, Berlin J, Liu EH. Liver metastases of small Intestine neuroendocrine tumors: Ki67 heterogeneity and WHO grade discordance with primary tumors. American Journal of Clinical Pathology. 143 (3): 398-404, Mar 2015.
Gonzalez RS, Liu EH, Alvarez JR, Ayers GD, Washington MK, Shi C. Should mesenteric tumor deposits be included in staging of well-differentiated small intestine neuroendocrine tumors? Mod Pathol. 27(9):1288-95, Sep 2014.