By Kelly Kerschner
This year looked a little bit different for the Celestial Seasonings B Strong ride. It was my second year riding with team Rocky Mountain Cancer Centers (RMCC) and unlike last year I wasn't surrounded by other cyclists and co-workers. There was no excitement at the start line, no cheering during the ride, nor was there a celebratory finish at the end. Rather than occurring on one day, organizers allowed participants to complete the course over two weeks to allow for social distancing and to avoid any large gatherings. This year that was especially beneficial due to the influx of smoke from wildfires across the state that varied from day to day in its intensity.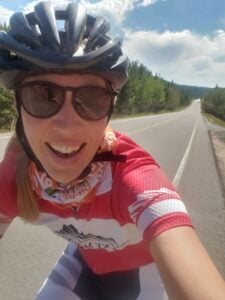 On August 8th, from the Celestial Seasonings headquarters in Boulder, I set off for a solo 68-mile ride. I set my sights on finishing and pushing myself just like many of the patients I work with every day do. My drive to endure a physical challenge pales in comparison to what so many of them experience every day, but I acknowledge bringing awareness to this cause contributes to a much larger picture.
Over the last ten years, the B Strong Ride has raised over $3.2 million and an exponential number of supporters. The ride aims to fund a year of cancer care at the Center for Integrative Care at Boulder Community Health and supports the George Karl Foundation. The services both organizations provide aim to improve patient outcomes and celebrate the accomplishment of overcoming cancer. Not only are conventional treatment methods employed, but they also aim to address the emotional toll a cancer diagnosis can bring. Rocky Mountain Cancer Centers has been a dedicated supporter for many years and each year attracts a team of more than 20 dedicated employees and family members to attempt a 24, 31, or 68-mile ride.
The 24- mile Countryside Loop and 31-mile Red Zinger Loop climbs an elevation change of more than 1100 ft. and follows a route through north Boulder and Lyons farmland. On clear days the mountain views unique to the front range of Colorado are on full display and visible for miles. The backroads on the map see low travel and slower speed limits making for an enjoyable and safe cycling experience for everyone.
The 68-mile Morning Thunder Mountain Loop is not for the faint of heart as it travels up Lefthand Canyon to the town of Ward. A long grueling 25-mile ascent up more than 5,300 ft. approaches grades of 12% and tops out at an elevation of 9,250 ft. After stopping for a cookie and water refill at Jackleggers, the road climbs just a bit further before descending via the Peak to Peak Hwy. and Hwy 7. Once exiting the canyon that parallels Middle Saint Vrain Creek there are still 13 more miles of rolling farms and ranches to tackle before finishing back at the Celestial Seasonings headquarters.
Some events in 2020 have been canceled altogether and some have adapted to the changes and challenges we all face this year. Despite the individuality of the ride in 2020, the message was still the same – and to date over 250 riders have dedicated their time to this important cause this year.
At Rocky Mountain Cancer Centers, my role is primarily in the laboratory, drawing and processing bloodwork for patients to help establish a diagnosis, monitor treatment, or give an overall health picture for the clinical team to interpret. The interconnected orchestra of staff strives on a daily basis to provide the best care possible and optimal outcomes.
Even in difficult times when facing the unknown, patients are greeted with a smiling and uplifting positivity. Working in an environment like this is unique because we are taught to weather the storms as they come, knowing on the other side we will come out stronger. Exuding that level of optimism often translates to the patients and can be uplifting and encouraging to their overall wellbeing while being seen at our facilities.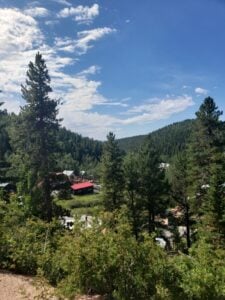 When I signed up for the ride in 2019, I had only been road biking for 3 months and knew this would be one of the most challenging rides I would do all year. Having that sense of accomplishment was the drive to complete it. I ride to help improve outcomes for the many people faced with a cancer diagnosis. If dedicating a few hours of my time leads to an extra year for someone or a healthier tomorrow, the benefit far outweighs the investment.
By practicing the same level of resiliency I see in patients every day, I can embrace a few hours of discomfort and lung-busting exercise to provide awareness and funding, leading to a better standard of cancer care. Being able to celebrate the survivors that come out and ride instills the motivation that started the history of the B Strong ride and helps supporters return year after year for each ride.
While I hope the ride returns in 2021 to a celebratory event highlighting the advancements made in cancer care and acknowledging the accomplishments of survivors, I still plan on showing up regardless. Each year and each dollar earned helps our local and global community inch closer to a cure and improve the lives of those living with cancer.