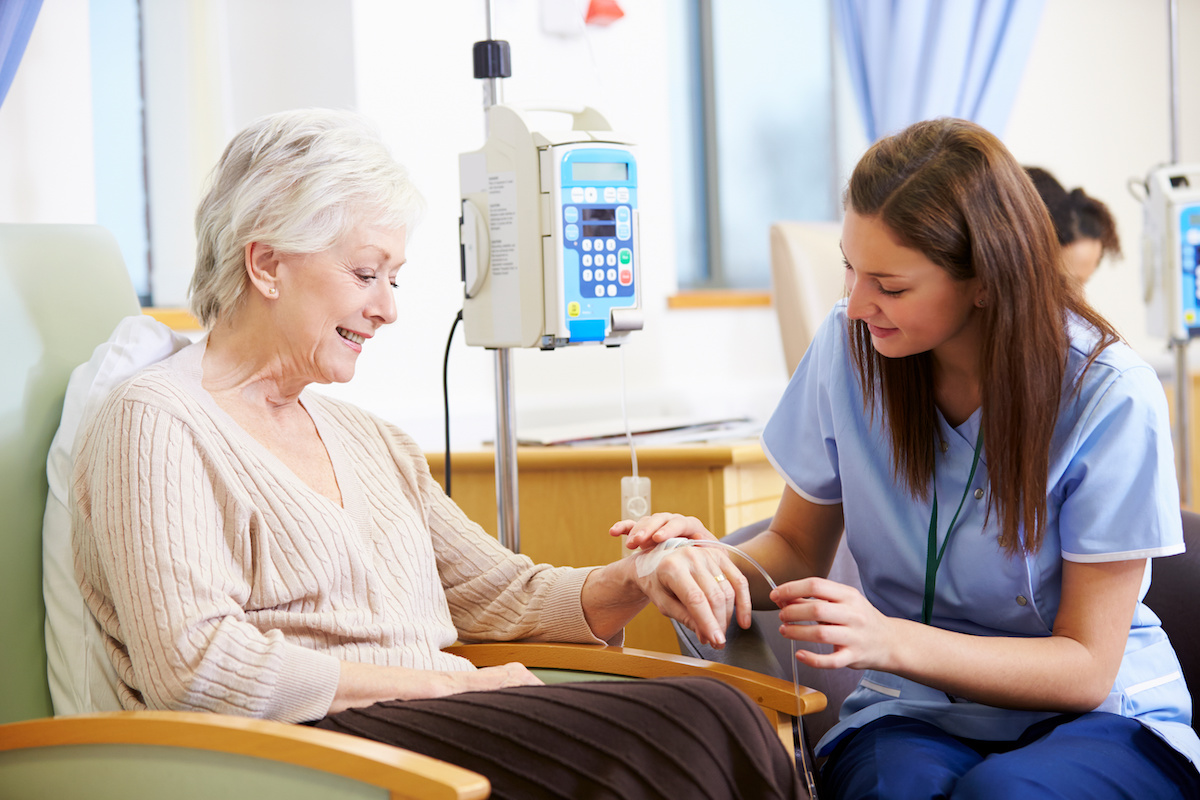 A few decades ago lung cancer was harder to treat. We didn't understand as much about it as we do today which has opened up a whole new set of treatment options for many patients. Clinical research, including trials made available to patients in Colorado through our research program, has introduced several new therapies in recent years that changed how we approach lung cancer treatments.
Immunotherapy Treatments Help Immune System Target Lung Cancer Cells
One such advancement in lung cancer treatment is immunotherapy, a type of biologic therapy that uses drugs to boost your immune system to fight cancer. For several years now, there have been multiple advancements in immunotherapy, resulting in better outcomes for patients diagnosed with all types of lung cancer, including small cell and non-small cell lung cancer.
Immunotherapy drugs work by activating your immune system to seek out cancer cells that can often remain undetectable to your body's natural defense system. It does this by targeting specific proteins on the surface of the cancer cells. Tests are run to determine which type of protein is fueling the cancer's growth and then a corresponding immunotherapy drug is used.
Checkpoint Inhibitors for Lung Cancer
Cancer cells are often able to "hide" as healthy cells. Checkpoint inhibitors stop cancer cells from hiding from your immune system which means the cancer treatments can effectively work against the cancer cells. These drugs vary based on the type of protein identified on the surface of the cancer cells.
PD-1 Protein Inhibitors:
pembrolizumab (Keytruda®)
nivolumab (Opdivo®)
cemiplimab-rwlc (Libtayo®)
PD-L1 Protein Inhibitors:
durvalumab (Imfinzi®)
atezolizumab (Tecentriq®)
CTLA-4 Protein inhibitor
Monoclonal Antibodies for Non-Small Cell Lung Cancer
Sometimes also referred to as a targeted therapy, these man-made antibodies can mimic immune system proteins, attaching to antigens in cancer cells and restricting the growth of blood vessels which results in the death of the cancer cells. These drugs are used primarily for non-small cell lung cancer patients at this time.
bevacizumab (Avastin®)
ramucirumab (Cyramza®)
How Immunotherapy is Used for Lung Cancer and Side Effects
Immunotherapy drugs have shown to be effective alone and when used in combination with other lung cancer treatments, such as chemotherapy and radiation therapy.
While immunotherapy is often more tolerable for patients, it does not mean that it comes without side effects. Different types of immunotherapy can cause different types of side effects, which are dependent upon a variety of factors.
A key issue with immunotherapies is deciding which patients are most likely to benefit. Your RMCC cancer care team can help you determine whether immunotherapy is right for you and what to expect while receiving this type of treatment.
Read more about How Immunotherapy is Shaping the Future of Cancer Treatment.
Targeted Therapies Reach Cancer Cells While Avoiding Healthy Cells
Targeted therapies is yet another rather new treatment category for lung cancer that has made positive strides. In recent years, many targeted therapies have become available for advanced non-small cell lung cancer and more are in development. Sometimes called precision medicine, targeted therapy drugs are designed to single out cancer cells and attack the genetic molecules, or proteins, that allow them to multiply and spread through the body.
Through biomarker or molecular testing, doctors are able to see if you have any genetic abnormalities within the tumor. If the results come back showing that a mutation, addition, deletion, or rearrangement in the DNA of the tumor has been identified, a treatment may be available to target your specific subtype of lung cancer.
Unlike chemotherapy which affects both cancer and healthy cells, the precision of targeted therapy helps leave healthy, normal cells alone. This also means fewer side effects than traditional chemotherapy.
There are currently FDA-approved targeted therapies for non-small cell lung cancer tumors showing gene mutations in any of the following areas:
EGFR
ALK
ROS-1
NTRK
MET
RET
BRAF V600E
Targeted therapy can be used by itself, or in combination with other treatments. For non-small cell lung cancer patients, it's not typically the first line of treatment, but in time this may be the case.
If the biomarker testing did not show a mutation in one of these genes, other treatments are available to kill the lung cancer cells including chemotherapy and radiation.
Clinical Trials Study New and Effective Ways to Treat Lung Cancer
At Rocky Mountain Cancer Centers, we strive to keep up with the latest in all types of lung cancer treatments, including those used for lung cancer patients. The good news is that lung cancer research is constantly evolving due to ongoing clinical trials.
Clinical trials can provide patients with the opportunity for a better outcome and quality of life while playing a vital role in the development of treatments for lung cancer. As clinical trial research is gathered, current treatments can be improved and/or new treatments can become available. In cases where clinical trials show that a new treatment is better than the standard treatment, the new treatment may become the new standard.
RMCC recognizes the importance of cancer research and has played a role in more than 100 FDA-approved cancer therapies that have helped lung cancer patients, as well as other types of cancer patients here in Colorado and across the nation. We currently have several clinical trials open for lung cancer patients who are at various stages of the disease.
If one of our lung cancer specialists discusses a clinical trial as a treatment option, you will have the choice to participate. While clinical trials are often only available in major hospital systems in large cities, Rocky Mountain Cancer Centers is able to offer them right here at our local cancer center in Colorado. We are proud to offer these leading-edge treatments close to home where it's most convenient for our patients as well as their support system of family and friends.
Talk with your RMCC cancer care team to see what clinical trials we have available and if participating in one is right for you.
Call Rocky Mountain Cancer Centers for Information on Lung Cancer Treatments & Clinical Trials
The lung cancer specialists at Rocky Mountain Cancer Centers are happy to work with you in order to create a personalized treatment plan to treat your specific type of lung cancer. If you or a loved one has received a lung cancer diagnosis, find the Rocky Mountain Cancer Centers location that is the most convenient for you and schedule an appointment. We are also available to provide second opinions on a treatment recommendation. Our team is here for you.