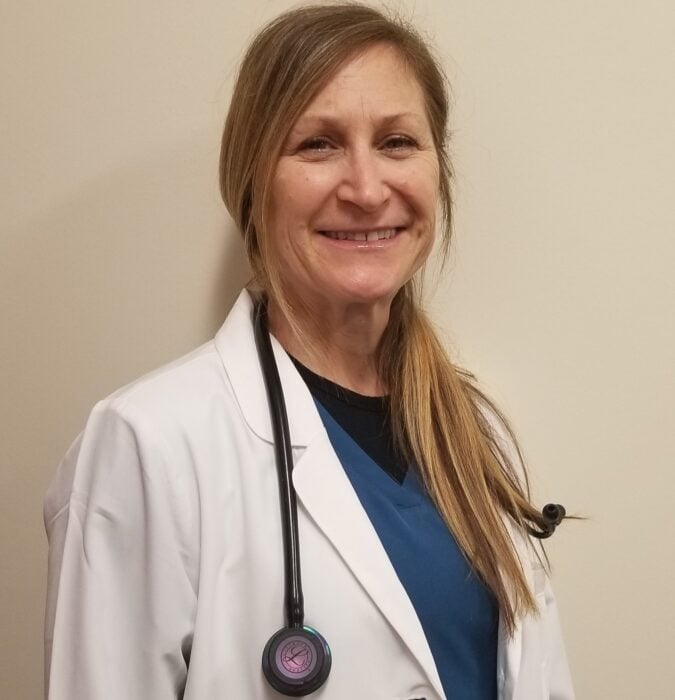 You've come to terms with your cancer diagnosis (sort of). And you're taking the steps you need to begin cancer treatment: You've found a great cancer specialist, an oncologist who seems up to date on all the recent advances in cancer treatments. Maybe you've even begun your own research: What is the best breast cancer treatment? How do you treat colon cancer? What are the side effects of chemotherapy?
One expert piece of advice when it comes to making decisions about cancer treatment and addressing possible side effects of chemotherapy: look at the bigger picture. You want your cancer treatment to take into account the entire picture of your health – both today and years from now when you're a cancer survivor.
"As providers, it is essential we broaden our lens," says Katherine Albert, a nurse practitioner at Rocky Mountain Cancer Centers who recently completed a Doctor of Nursing Practice with an emphasis on quality improvement and leadership. The focus of her capstone project was cardio-oncology.
What Albert is referring to is a quality improvement project she recently spearheaded at three of Rocky Mountain Cancer Centers' clinics to more proactively address one side effect of chemotherapy: cardiac toxicity.
What Is Cardiac Toxicity?
Cardiac toxicity (or cardiotoxicity) is a possible side effect of chemotherapy treatment in which the heart muscles are damaged. Cardiotoxicity can manifest in different ways and may have a delayed onset of up to 20 years. But not all chemotherapy drugs cause cardiotoxicity. The most common ones are anthracyclines.
Cardiac toxicity in chemotherapy treatment is not inevitable, however. And that's where Albert and other cancer treatment specialists in cardio oncology come in.
Cardio Oncology is a relatively new field – a subspecialty of cardiology – that focuses on the detection, monitoring and treatment of cardiac side effects that can occur as a result of chemotherapy.
In general, cardio oncology is not as complicated – or as scary – as it sounds. The goal is to balance the cancer prognosis with the risk of developing cardio toxicity, while also taking steps to prevent any cardiac side effects from chemotherapy.
"When a patient walks into our cancer clinic we need to be aware, as providers, what their other health issues are," Albert points out. "Even if they don't have other issues, we don't want to increase the risk of future complications."
Albert is extremely passionate about cardio oncology and optimistic about its potential to improve the quality of life in cancer survivors long after cancer treatment is completed.
Some cardiotoxicity risk factors that Albert considers during chemotherapy treatment include hypertension, advanced age, diabetes and smoking, among others.
How Do You Prevent Cardiotoxicity from Chemotherapy?
At Rocky Mountain Cancer Centers' clinics, Albert instituted an educational quality improvement project that focused on increasing oncology providers' knowledge and cardiac screening frequency in cancer patients who received anthracyclines. This included a four-step process to help prevent cardiotoxicity from chemotherapy. For every patient that comes in, the cancer treatment team performs:
A thorough health assessment and stratifies cardiac risk from low-to-high, using the American Society of Clinical Oncology Clinical Practice Guidelines as well as the National Comprehensive Cancer Network's guidelines. (This will determine whether the risks of chemotherapy outweigh the risks of cardiac toxicity in your situation.) Stratifying allows providers to establish the degree of risk of developing cardiotoxicities.
A pre-treatment screening with a variety of blood tests, including a metabolic panel, a cholesterol panel and any indicated cardiac tests such as an Echocardiogram or EKG. (These tests establish a baseline for comparison in the future, for continuity of care along the cancer survivorship continuum.)
Prevention steps during chemotherapy to address cardiotoxicity. (Examples of prevention include prescribing anti-hypertension medications prophylactically during cancer treatment or – less frequently – administering lower doses of chemo at greater frequencies or alternate therapies that can be used to minimize risk of cardiotoxicities.
Ensures post-treatment continuity of care. (The cancer care team, cardio oncologists, and patient's primary care provider work together to establish ongoing monitoring for delayed onset of cardio toxicity throughout the continuum of recovery.)
Am I at Risk of Cardiotoxicity?
The most accurate answer to that question is: It depends on your health and the chemotherapy drugs you're receiving. In short, that is a question that can only be evaluated by a cancer treatment team that takes a broad, all-inclusive view of your treatment over the long term.
The risk of cardiotoxicity does not automatically preclude chemotherapy. "It is vital we are mindful of co-existing medical issues and the cardiac implications of cancer treatment," Albert says. With this new focus on cardio oncology, Albert – and Rocky Mountain Cancer Centers – aims to do just that, and reduce the risk of cardiotoxicity in all RMCC's cancer patients.
This article is based on the Quality Improvement Study completed by Katherine Albert, DNP, FNP-BC, AOCNP, which will be published fall 2021 in the peer-reviewed Journal of the Advanced Practitioner of Oncology.