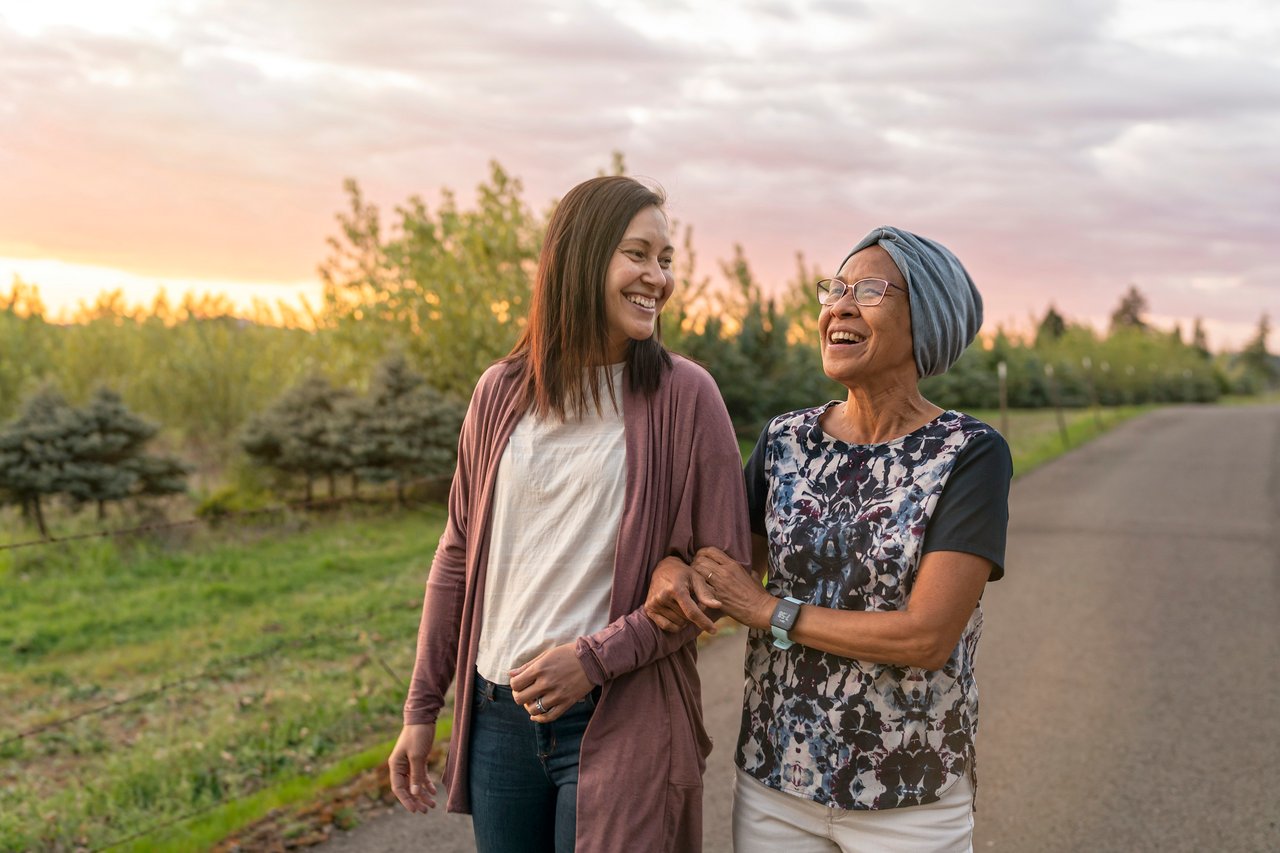 An estimated two in three Americans will experience having at least one family member face cancer at some point in life. Many of those people will also find themselves in a caregiving position – as a spouse, a child, a parent, or a sibling. And while caregiving may not have the same challenges as cancer treatment, that doesn't mean it's easy.
As the caregiver, you may feel as if you're expected to be the "strong" one – to manage medications, deal with complicated medical bills, change dressings, provide transportation to appointments, and serve nourishing meals. You also may be experiencing emotional stress just knowing that someone you love is suffering and facing a life-threatening illness. It's a lot for any person, and it's a lot for every family. But Rocky Mountain Cancer Centers (RMCC) offers the caregiver support you need during this difficult time. Your overall wellness will play a key role in your loved one's journey to better health.
Don't Neglect Your Physical Health
Research shows again and again that long-term caregivers have an increased risk of damaging their physical health. Many caregivers suffer from insomnia and fatigue; others may postpone needed medical care due to financial or logistical reasons. These challenges and habits may seem necessary on a temporary basis, but they can quickly snowball and begin to take a toll on your well-being. That is why it's important to take care of your own physical health.
Drink plenty of water. Too much caffeine or sugar will only make you feel worse.
Eat a healthy dinner. Chronic stress can cause inflammation and health issues. Eating a healthy diet full of fruits, vegetables, and whole grains can improve the way your body reacts to stress and can also support your immune system – something critical when you are caregiving for a cancer patient.
Go for a walk. Just 30 minutes in the sun provides all the vitamin D you need for the day, and it can also boost your levels of serotonin, which can improve your mood.
Hit the gym. Exercise is a great stress release. The more oxygen your muscles get, the less tension they will carry.
Practice yoga. Deep stretching can release tension in both your muscles and your mind. It can also help with emotional balance, according to physicians who have studied the topic.
Take a nap. Research shows lack of sleep can make you feel more stressed and irritable. A short 20-minute power nap can give you the energy boost you need to get through the rest of the day.
Talk to your primary care provider. Putting off your annual checkups or medication refills could land you in the position of needing a caregiver yourself.
Protect Your Mental Health
Many caregivers struggle with anxiety, depression, or feelings of helplessness, but they prioritize the care of their loved one with cancer instead of themselves. If you feel yourself getting burned out, take a step back to try to reduce your stress.
Ask a friend to stay with your loved one or your kids and take yourself out to dinner and a movie.
Call a friend when you are feeling overwhelmed. Talk about things that are causing you stress and anxiety.
Do something to pamper yourself, such as getting a manicure, buying fresh flowers, or taking an afternoon to play golf or go fishing.
Meditate.
Practice deep breathing. Shallow breathing can stimulate anxiety, while deep breathing can calm you.
Read a book or watch a funny television show.
Soak in a hot bath. Add aromatherapy, like lavender, to enhance the relaxing experience.
Talk to a spiritual or religious leader. They can help you focus on the big picture and how to face your immediate challenges with faith and peace.
Talk to a therapist. A licensed professional will help you get through this.
Dealing With Changes in Family Roles
Caregiving can lead to changes in family roles, including interdependence and differing interactions. If you are taking care of your spouse or romantic partner, you may resent feeling more like a parent. If you are taking care of a parent, they may resent you "bossing" them around, even though they know it's coming from a place of love.
Developing decent communication habits during this time is crucial to managing stress. If you need help improving communication, family or couples therapy may be able to help.
Facing Financial and Logistical Challenges
It can be hard to stay organized as a caregiver as bills pile up and you juggle legal and financial worries. Fortunately, the Supportive Care Program at RMCC has licensed oncology social workers and financial counselors to help you manage these challenges and more.
This interdisciplinary team can help you cope with the impact of your loved one's cancer diagnosis and all the changes it brings to your life. We can teach you how to manage stress, navigate insurance plans, figure out advanced care directives, learn about financial options that may be available to you, manage transportation issues, and find out how to get respite care so you can take a break from caregiving. Most meetings with our clinical social workers are available at no cost. We can also help connect you with other local resources that can help you manage financial and logistical challenges, including additional caregiving.
You Are Not Alone
It may feel awkward to ask for help, but caregiving can be too much for just one person. Often, many people who want to help you during this difficult time aren't sure what to do.
When you feel most overwhelmed, ask a close friend or family member to serve as a point person. That individual can delegate helpful tasks to other friends and family, getting one person to run errands, another to coordinate a meal train, a third to come over and vacuum, etc.
Joining a support group for caregivers is another great way to feel less alone. RMCC offers multiple options for you to discuss your challenges and worries with other caregivers. The Colorado Cancer Coalition also provides an up-to-date list of support groups, many of which meet online.
If you're caring for someone with cancer, RMCC can help. Find out more about our caregiver support services today.