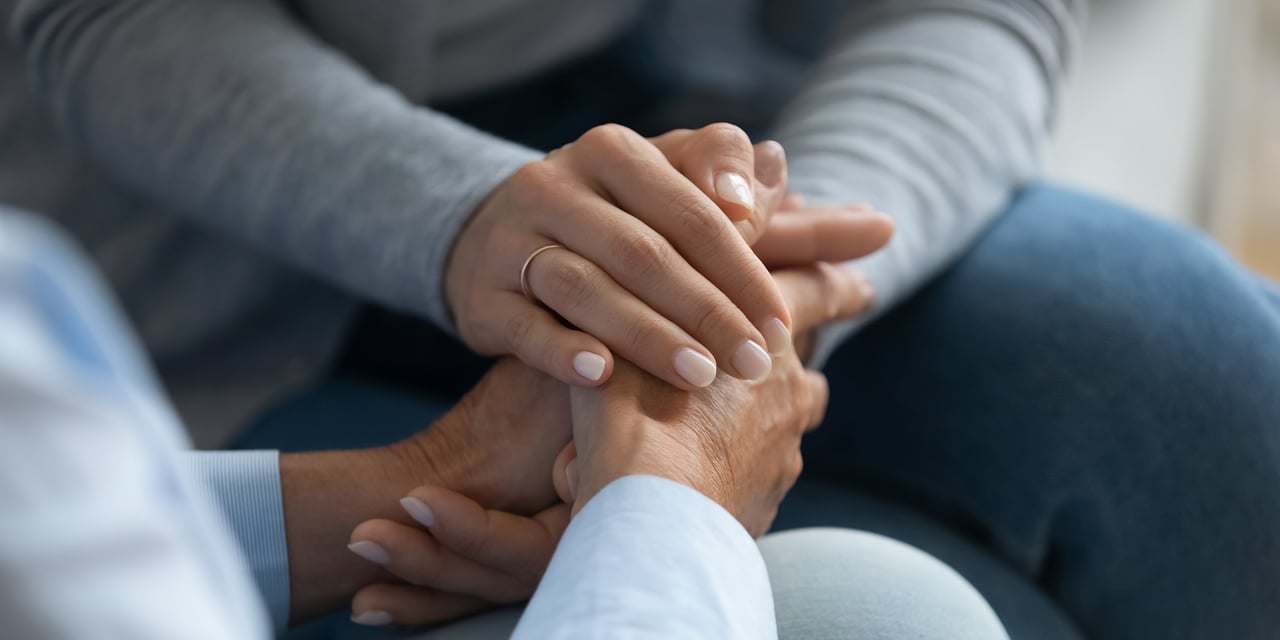 As a caregiver, you may feel overwhelmed and unsure of how to best support your loved one on this journey. While we recognize that each caregiver is as unique as each patient, here are some valuable ways you can support your loved one (and yourself) on both a practical and emotional level.
Learn to "Speak Cancer"
Learning to speak the unique language of cancer empowers you to be part of the conversations with medical providers. You will be a stronger companion and champion for the patient if you understand the terms used when symptoms, treatments, and scans are discussed. At medical appointments, you can ask more educated questions and better understand what the doctor is telling you.
Engage Your Network
You are not alone. Utilize communication and organization tools to involve others in circles of care. Organize volunteers to help with meals, rides to treatment, errands, child care, pet care, and more. Access resources on financial issues, health insurance, treatment options, clinical trials, diagnoses, nutrition, and much more.
Find a Balance Between Doing and Being
Instead of asking "How do you feel today?" you might consider asking your loved one "How can I help you today?" in order to proactively and collaboratively engage in care. Though you naturally want to ease the patient's pain and suffering, sometimes the only—and best—gift you can give him or her is to be a comforting presence and simply be still and listen.
Preserve Your Own Identity and Boundaries
It hurts to see your loved one in pain, but the patient's suffering is distinct and different from yours. It's OK to empathize, but immersing yourself in pain will not ease the patient's suffering. It will only make you a less effective caregiver. Instead, work on supporting your emotional, social, and spiritual wellbeing.
Support Your Emotional, Social, and Spiritual Wellbeing
Caring for a loved one battling cancer takes energy, emotional balance, and at times physical strength. You may be wondering how to best support your partner, parent, or friend while still maintaining a sense of self. The following links provide select resources recommended by our team. If you don't find what you are looking for, please contact one of our RMCC social workers who will be happy to provide further assistance.
Emotional Support
Being a caregiver can sometimes leave you feeling isolated and emotionally depleted. The following resources can provide you support and ideas for fostering a healthy emotional balance for all you do while caring for your loved one.
American Cancer Society: Cancer information, answers, and hope.
Caregiving.com: An online newsletter offering various resources such as help selecting professional care services, advice for your latest challenge, or simply words of support from someone who's been there.
Online cancer support groups: CancerCare.org,

Cancer Hope Network
National Crisis Hotline: 1-800-273-TALK (8255)
Social Support
Connecting with others and acquiring time for yourself may seem impossible. Getting help with practical things can provide you the gift of time. The following resources can assist you in this aspect of your caregiving journey.
Spiritual Support
Spirituality has different meanings for everyone, but what most people can agree with is that it can refer to the way an individual connects with and expresses meaning and purpose in one's life. Sometimes as a caregiver it is difficult to have time to reflect on what is nurturing to you. Please feel free to contact your RMCC social worker to get information on local resources in your area.
Some helpful interventions include: meditation, guided visualization, relaxation techniques, journaling, spending time in nature, or connecting with a spiritual care provider.
If you would like to connect with someone who provides spiritual counseling, often a good place to start is by contacting your local hospital and asking to speak to someone in pastoral care/chaplain services. They can connect you with a non-denominational chaplain who can assist you and/or connect you with support or someone in your area affiliated with an organization of your choice.
Remember to connect with a primary care provider and follow up with your own health care needs. For more ideas on additional help throughout this journey, please check out our cancer caregiver resources. If you need assistance with resources in your area, please contact your RMCC social worker.