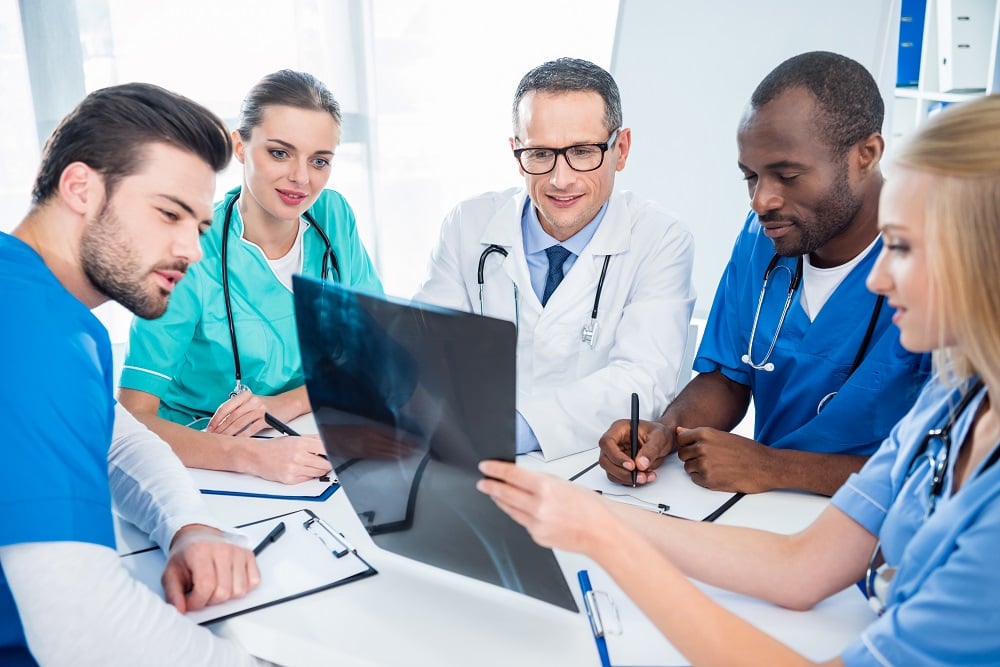 Patient-Centered Care that Combines Surgery, Medical Oncology, and Radiation Oncology Consultation in One Convenient Location
A breast cancer diagnosis can feel overwhelming. You may have questions about your next steps, lifestyle changes, and possible treatment options. Seeking out high-quality care often involves multiple physicians, appointments, and locations. Navigating the emotional and logistical aspects of breast cancer treatment can be difficult to manage.
See which types of providers are included in your breast cancer care team.
"It was a blur as my life became consumed with traveling from this visit to that visit," said Linda Meiers, breast cancer patient, reflecting on her initial thoughts. "I had a lot on my plate already with work and where I was living. I didn't know what the future would bring. That was really hard."
What is a Multidisciplinary Clinic?
A multidisciplinary clinic brings together cancer specialists to evaluate your case. They work together in one clinic and review your case before, during, and after your visit. Normally these consultations can take weeks to schedule – but we're able to do it in one visit, saving you time and letting your treatment start quickly.
During your consultation at our breast cancer care clinic, you will meet one-on-one with a medical oncologist, a radiation oncologist, and a breast surgeon, where they will complete an assessment, discuss treatment choices, and answer questions. Each of these doctors are specialists with specific interests in breast cancer care. The medical team will then meet to discuss your case and put together a personalized treatment plan.
In addition to the multidisciplinary consultation appointment, patients will also meet with our experienced nurse navigator from Sarah Cannon, Natalie Ebenhoch, who participates in guiding care at the clinic. As a nurse navigator, Natalie is able to journey alongside patients and work with the doctors to help coordinate all the studies and doctor visits.
Multidisciplinary Breast Cancer Clinic Provides Comprehensive Team Approach
By combining surgical, radiation, and medical oncology consultations into one comprehensive appointment, the multidisciplinary breast cancer clinic is able to create an environment that is centered around the patient.
"We want to provide the most optimal, efficient, educational, and comprehensive experience for our patients and their families," said Dr. Hafertepen, breast surgeon with SurgOne. "Our multidisciplinary management offers an extensive benefit as it allows the three providers to discuss each patient prior, during, and after their visit, ensuring that each person is receiving the most advanced and efficient care."
"The multidisciplinary breast cancer clinic is great for patients," added Natalie Ebenhoch. "I'm proud to meet with them and their families to provide information and cancer education."
With Natalie at the clinic, patients always have someone on-site and available to answer questions, provide resources, and follow them throughout their personal breast cancer treatment plan.
Optimizing Breast Cancer Care with Combined Multidisciplinary Expertise
By combining the expertise of multiple physicians, the breast cancer care clinic optimizes breast cancer care for their patients. This efficient model of care allows patients to start their treatment plan as quickly as possible without having to attend multiple appointments.
At the multidisciplinary breast clinic, patients are able to take control of their cancer journey in an easy-to-follow, efficient, and fully supported manner.
"Cancer is dangerous, but together we rise-up against it," said Dr. Dennis Carter. "In the breast cancer clinic, we join our hearts. We gather our collective minds and skill alongside the strength of our patients to face and overcome cancer. This is a great honor and a joy."
To make an appointment, please contact Natalie Ebenhoch at 303-437-1073.
Rocky Mountain Cancer Centers is Colorado's largest and most comprehensive provider of cancer care with 56 physicians in 17 communities across the state. All RMCC locations work to provide a coordinated, strategic approach to cancer care that promotes optimal patient outcomes and survivorship through evidence-based measures. Our cancer centers are also a part of the US Oncology Network, the nation's largest network of integrated community-based oncology practices dedicated to advancing high-quality, evidence-based patient care. This ensures that our patients are provided with the highest quality of cancer care in their backyard. The multidisciplinary breast cancer clinic at RMCC's Aurora location achieves this through providing high-quality, efficient, and holistic breast cancer care to Aurora and its surrounding communities.