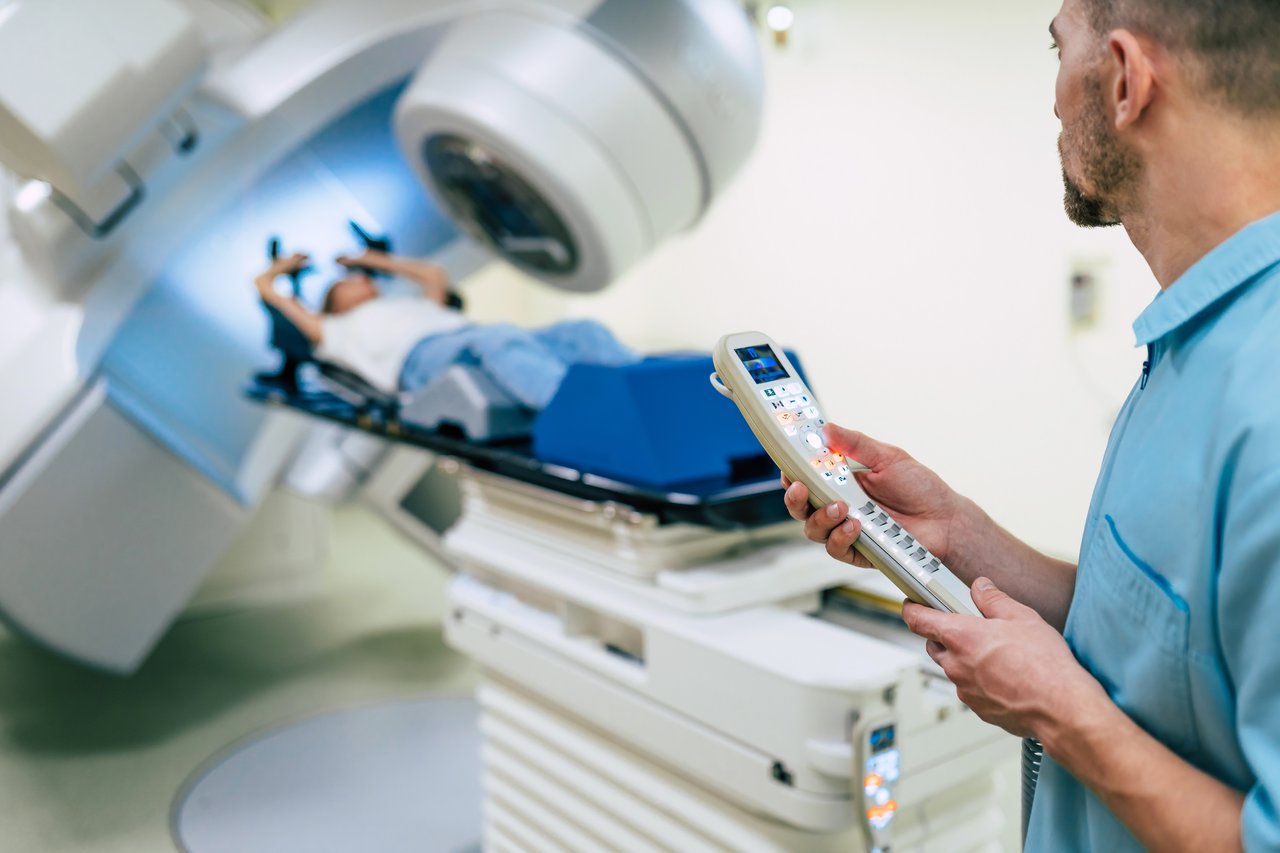 People who receive radiation therapy at Rocky Mountain Cancer Centers (RMCC) benefit from new, state-of-the-art radiation oncology technology used to help with the diagnosis and treatment of some common cancers. Other benefits of the new imaging technology are that they detect cancers with lower doses of radiation, deliver radiation treatment more precisely, and increase the speed and convenience of cancer care through shorter treatment courses.
Brand-New PET-CT Scanner
Staging cancer is an important step in the cancer diagnosis process because it helps determine whether cancer is localized or spread outside an area. To stage cancer, providers often use a positron emission tomography (PET) scan combined with a computed tomography (CT) scan, called a PET-CT.
A PET scan uses a radioactive substance called a tracer, which patients either swallow or receive through an IV. Then, the PET machine will show providers the structure of and blood flow to organs. A CT scan uses X-rays to create a 3D image of an area of the body. A PET-CT combines both scans and is used for staging many different cancers, including breast cancer, lung cancer, and prostate cancer.
RMCC invested in a brand-new PET-CT scanner that has been in use since the beginning of 2022.
"Some of the basic highlights of the scanner is that it has a very high spatial resolution, which is a measure of the smallest thing that can be detected by a sensor so that we can distinguish organs and cancer a little bit more clearly," said Dr. Patrick Richard, a board-certified radiation oncologist at RMCC. "The scanner also has a higher ability to detect the PET tracer that is emitted from the injection. More importantly, it has a reduced radiation dose compared to some of the older models."
The new PET-CT also has very sophisticated software that improves processing, quantitative accuracy, and image quality.
Prostate Cancer-Specific Tracer for PET Scans
Another diagnostic tool RMCC invested in is a prostate cancer-specific tracer for PET scans. Recently approved by the U.S. Food and Drug Administration, the Prostate-Specific Membrane Antigen (PSMA) PET scan is 27% more accurate than standard approaches based on its sensitivity and specificity, according to the National Cancer Institute.
Sensitivity measures how well a test can detect a specific disease or condition in a person.
Specificity refers to the ability of a test to confirm a person has a particular condition. The higher a test's specificity, the fewer false positives.
"This is really where the PSMA PET scan shines," Dr. Richard said. "The PSMA has the highest combination of sensitivity and specificity, and that's why we feel we finally have an advancement for staging men with prostate cancer."
In the PSMA PET scan, providers will give men a PSMA-specific tracer that helps stage prostate cancer with much greater accuracy. This tracer is specialized to bind to the PSMA protein that is often found on prostate cancer cells. According to Dr. Richard, the PSMA tracer was initially used in men who had recurrent cancer, but now it's being used to stage prostate cancer, which eliminates the need for standalone CT or bone scans. This means less exposure to radiation.
"This is the wave of the future where we can start off with a PSMA PET scan," Dr. Richard said. "One convenient scan, and we get all the information we need."
Rocky Mountain Cancer Centers has other cancer-specific tracers on hand to help diagnose cancers, including:
Breast cancer
Cervical cancer
Esophageal cancer
Head and neck cancer
Lung cancer
Neuroendocrine cancer
Pancreatic cancer
External Beam Radiation Therapy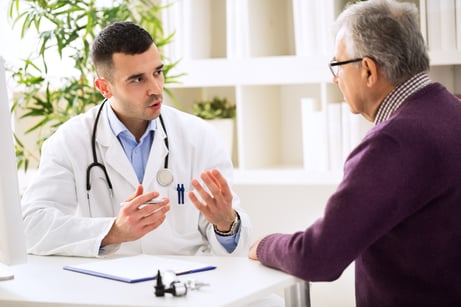 The goal of radiation therapy is to design a plan that is specific to an individual patient and their anatomy so that providers can minimize radiation exposure to any normal, healthy tissue that surrounds the cancer. However, in basic linear accelerators, radiation therapy often damages a large area of healthy tissue, which can lead to both short- and long-term side effects of radiation.
Fortunately, radiation oncology technology has made significant advancements in the form of external beam radiation therapy, which targets cancer from outside the body and spares healthy tissue. RMCC has invested in several approaches to external beam radiation therapy, including:
3D-conformal radiation therapy, which allows providers to shape the radiation beams to the size and shape of a cancer tumor.
"3D-conformal radiation therapy is the most simple radiation therapy plan design and how we used to treat patients in the past," said Dr. Dario Pasalic, a board-certified radiation oncologist at RMCC.
Intensity modulated radiation therapy (IMRT) uses a linear accelerator–high-energy X-rays–to deliver extremely precise radiation doses to target cancer tumors. IMRT allows for a high amount of radiation focused on the tumor target while reducing exposure to healthy surrounding tissue.
Volumetric modulated arc therapy (VMAT), an even more advanced form of IMRT, which provides greater conformality of radiation dose around the tumor target.
"VMAT allows us to be able to really shape the radiation dose around the target and minimize radiation to the surrounding tissue," Dr. Pasalic said. "We do that by simultaneously rotating the machine around the patient as the machine head metallic leaves change to shape the radiation dose."
Both IMRT and VMAT allow Rocky Mountain Cancer Centers' providers to reduce daily treatment time for patients afflicted with cancer.
More Radiation Therapy Options that Decrease Treatment Times
"With our new treatment technology, we've been able to do something called hypo-fractionated external beam radiation therapy," Dr. Pasalic said. "This type of radiation therapy allows us to use larger doses each day and condense a radiation treatment course into four to six weeks instead of six to nine weeks."
IMRT and VMAT also enable RMCC to offer stereotactic body radiation therapy (SBRT), which is a form of ultra-hypofractionated external beam radiation therapy. SBRT gives RMCC providers a much larger radiation dose per treatment, which allows treatment to finish in as short as one to two weeks.
Treatment Table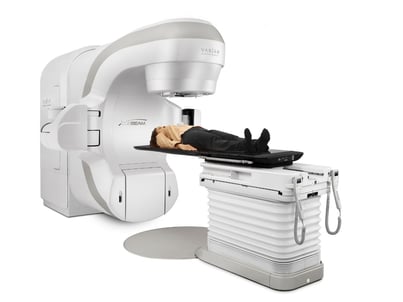 Patients who receive radiation therapy at RMCC benefit from the use of the TrueBeam six-degrees-of-freedom table. This table is the area that patients sit on for their radiation treatment.
"By having six degrees of freedom, we can move the table in any direction," Dr. Pasalic said. "This allows for small adjustments in anatomy that can offset certain things during treatment, which really allows us to accurately target the area while minimizing radiation to surrounding tissue."
With this new radiation technology, we can increase the speed of treatment delivery, which means less time on the table for our patients.
Rocky Mountain Cancer Centers offers services through its network of clinics across the Front Range. Find a clinic near you.