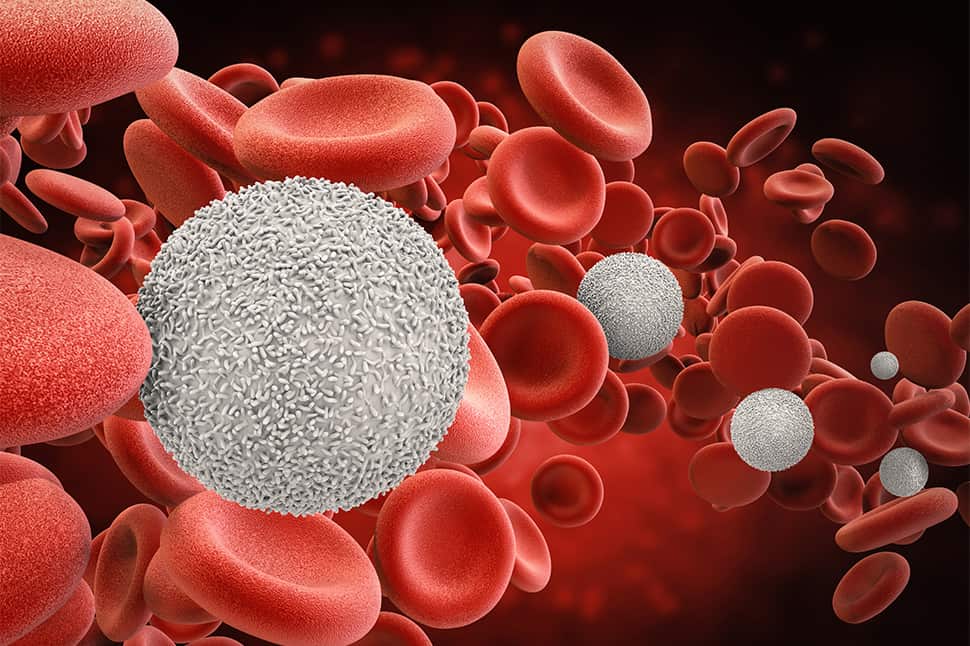 In honor of Blood Cancer Awareness Month, two blood cancer specialists talk about the latest treatments
Learn more about blood cancer from Rocky Mountain Cancer Center oncologists/hematologists, Dr. John Burke and Dr. Chris Benton, about the latest developments in the treatment of blood cancers – specifically lymphoma and leukemia. As true experts in the diseases, these two oncology specialists see thousands of patients each year while staying up-to-date on the ever-changing treatments and diving deep into research and clinical trials to help their patients.
New drug approvals for lymphomas
The most exciting development in the treatment of lymphomas has come in the form of new drug approvals this year, Dr. Burke said.
In January of 2020, the FDA granted accelerated approval to a new drug called tazemetostat to treat relapsed follicular lymphoma, a type of B-cell non-Hodgkin lymphoma that starts in the body's immune system. Follicular lymphoma symptoms sometimes include a lump in the armpit, neck, or groin due to cancerous immune cells that build up in the lymph nodes resulting in swelling. For people newly diagnosed with follicular lymphoma, the median survival rate is 20 years or more. For patients who relapse quickly, within two years of initial treatment, the median survival rate is four to five years. Tazemetostat helps many patients with relapsed follicular lymphoma with few side effects.
"About 20 percent of patients with follicular lymphoma have quick relapses, while the other 80 percent who don't relapse quickly have a very good prognosis —a survival rate that's pretty close to other people their age who don't have it and usually die from other things."
But for patients who have relapsed many times, their prognosis isn't as good.
"They need new treatments and that's where drugs like this will come in handy," Dr. Burke said. "It's a pill and it's really well-tolerated."
It's been difficult to treat patients suffering from relapsed diffuse large B-cell lymphoma, the most common subtype of lymphoma that carries a traditionally poor prognosis, Dr. Burke said.
Two years ago, CAR T-cell Therapy, a form of immunotherapy which uses the patient's own T cells, was approved, "offering hope where there was previously none," said Dr. Burke. "We saw good response rates, with a third of patients going into long term remission."
And this year, two additional drugs were approved to treat relapsed large B-cell lymphoma.
In June, the FDA approved selinexor for patients who have undergone at least two lines of systemic therapy. "They took a heavily pre-treated patient population and (selinexor) showed an overall response rate of 29 percent while 13 percent went into complete remission."
And then in August, the FDA approved another two-drug combination, tafasitamab plus lenalidomide. All patients had received prior treatment, had relapsed, and had received prior autologous stem cell transplant or were not candidates for stem cell transplant.
"Tafasitamab plus lenalidomide showed an overall response rate of 60 percent and complete remission in 40 percent of patients," Dr. Burke said.
The drug combination was relatively well tolerated and doctors are comfortable managing the side effects that do occur, Dr. Burke said, adding that the treatment should be readily available for patients now.
"To have these new options that we can string together for patients with relapsed large cell lymphoma is a great step forward," he said. "It begins us on the path of turning this disease into a chronic one instead of one that is rapidly fatal. We hope to provide more quality of life and length of life for these patients."
The latest leukemia treatments
When it comes to treating leukemia, several new treatments have been released in the last few years and there are more on the way, says Dr. Benton, who specializes in treating leukemia. He is most excited about new oral molecularly-targeted therapies available to patients.
Rather than patients having to sit in the infusion center for hours getting intensive chemotherapy via an IV, now they can take a pill a day at home for five days that works equally well, Dr. Benton said.
"For instance, patients with acute myeloid leukemia (AML) with certain gene mutations, can now take a pill as an outpatient. It's proving to be quite effective against some of the difficult-to-treat leukemias," Dr. Benton said.
Case in point, the FDA recently approved Inqovi, a new oral combination drug that just entered the drug supply this month. In the last two years, a slew of new drugs including gilteritinib, enasidenib, ivosidenib and midostaurin were approved as oral targeted therapies for AML, Dr. Benton said.
In acute lymphocytic leukemia (ALL), new antibody therapies approved in the last few years, like blinatumomab and inotuzumab, have helped patients live longer.
"It's quite useful in helping patients and has really altered prognoses significantly," he said.
"The bottom line is there has been an explosion of therapies to treat leukemia, and there is more on the way," Dr. Benton continued. "At RMCC, we're looking at opening more clinical trials in this landscape to make more therapies available for our patients who have these more challenging-to-treat blood cancers."