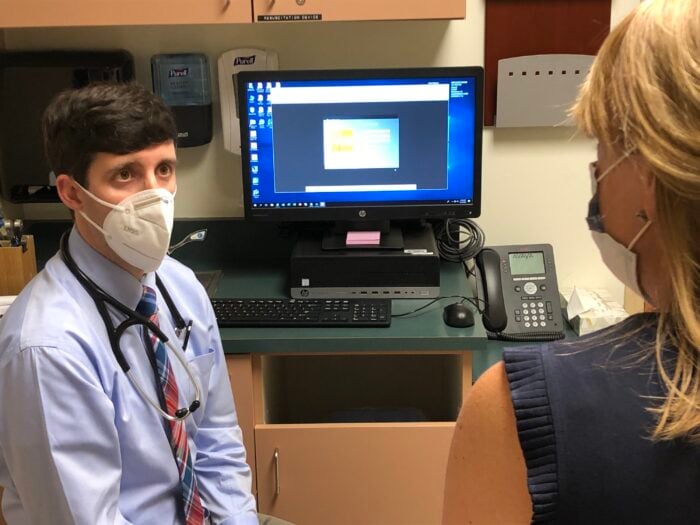 Patrick Eulitt, MD, was just a teenager when the seed for his career in medicine was planted. His father was diagnosed with stage IV head and neck cancer when Dr. Eulitt was just 16 years old.
Before knee surgery, his dad went into his primary care doctor for a pre-op physical. During the exam, his doctor noticed a swollen tonsil. "My dad didn't have any symptoms at the time," Dr. Eulitt said. "After a more thorough exam, he was found to have an enlarged lymph node in his neck. The cancer was diagnosed after a biopsy."
Not having come from a medical background of any sort and without anyone in their family who was in medicine, the Eulitts relied heavily on their medical team in Baltimore, Maryland, where they lived, to guide them. "His team shepherded him and our family through the diagnosis, treatment, and surveillance of his cancer," Dr. Eulitt said. Despite an initially poor prognosis, Dr. Eulitt's father is doing well and remains cancer-free. "I attribute the team approach as a big reason why he's still alive today, nearly two decades later," he said.
No doubt, the experience is what prompted Dr. Eulitt to pursue a career in medicine.
"It happened during a very impressionable time in my life," Dr. Eulitt said. "My goal is to guide other patients and families through a very difficult time in their lives."
Dr. Eulitt attended medical school at Eastern Virginia Medical School and went on to complete his internal medicine residency at The Ohio State University Wexner Medical Center. After completing his fellowship in hematology/oncology at the University of North Carolina, Dr. Eulitt joined the Rocky Mountain Cancer Centers (RMCC) team in July where he's a board-eligible medical oncologist and hematologist.
Currently, Dr. Eulitt sees patients suffering from all types of cancers and blood disorders and maintains a strong interest in genitourinary oncology, which includes prostate, kidney, and bladder cancer. "Prostate cancer is the most commonly diagnosed cancer in men and often affects older men," he said. "Due to its prevalence and my prior research in the field, it's always been an area of interest of mine."
Before medical school, Dr. Eulitt researched new drug combinations for kidney cancer. During his fellowship, he explored new imaging techniques in bladder cancer and was involved in cancer clinical trials. "We've made rapid advances in cancer treatment in the past decade, and patient involvement in clinical trials will continue to improve cancer therapy," he said.
Compassionate Cancer Care
Nearly 20 years later, Dr. Eulitt's experience as a teenager still informs his daily interactions with patients today, he said. "Having been at both sides of the exam table, as a family member of someone and now as a treating physician, it gives me a unique perspective into the fears, concerns, and thought processes that patients go through," Dr. Eulitt said.
Dr. Eulitt's care philosophy is simple:
"To provide patients with cancer and blood disorders with compassionate and up-to-date care," he said. "That starts from the minute I meet the patient. I make sure they understand what's in front of them, what's still unknown, and what's to come. A lot of time treatments are tailored to a patient's individual goals, preferences, and values."
It's particularly important to know what trials are available through the US Oncology Network, of which RMCC is a partner, Dr. Eulitt said. "Making sure patients know what trials are available and might be a good fit for them is an important part of coming up with a treatment plan," Dr. Eulitt said. "Only by getting to know patients and their values, can a truly effective treatment plan be developed. Without understanding where a patient is coming from, it's hard to lead them where they're going."
One thing is for certain — Dr. Eulitt takes the trust his patients put in him very seriously.
"Having been involved in the care of my father as a family member, I consider it to be a privilege to be entrusted with people's care during this incredibly difficult time in their life," he said.
When Dr. Eulitt isn't treating patients, he enjoys spending time outside with his wife and their three young children — age 4, 2, and 10 months.
"The mountains were a big draw for us to come here and we're looking forward to exploring everything that Colorado has to offer," he said.