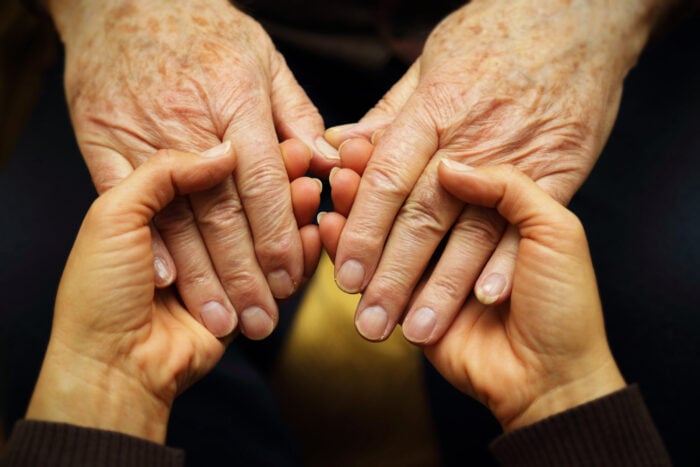 As a child, Rocky Mountain Cancer Centers' oncologist/hematologist Dr. Alonso Pacheco loved spending time with his elderly grandmother who lived within walking distance in their small community in San Luis, CO.
Along with cable TV, she had an impressive magazine collection, and spending time there felt akin to spending time at the local library. "I got really comfortable being with her at that stage of life and my interest in older folks never left me," said Dr. Pacheco who finds joys in taking care of the over-65 population and their families.
We recently had an opportunity to talk with Dr. Pacheco and ask him some questions about geriatric cancer care and what patients and their families need to know. Here's the conversation:
Q: Why is tailored cancer care for older patients important?
Alonso Pacheco, M.D.: I think it gives us an opportunity to address where the patient is in their life span and why they've been diagnosed with cancer at this stage of their life. The older we get, the more likely we are to be diagnosed with cancer. Not only that, you have to take into account how functional a patient is, what their goals of care are, and if they would ever want to approve aggressive therapy or life-prolonging care. If they do, it's important to understand what that means for their quality of life. Could it improve it? Could it allow them to meet goals they've set or certain milestones? There are a lot of different things older cancer patients need to take into account.
Q: What are some special issues that the elderly face regarding cancer treatment?
AP: The first thing that comes to mind is their reliance on their support system in order to receive good high-quality care and follow-up. And how they understand their cancer care is going to affect their caregivers and family, whether it's time or resources and even taking into account how an individual's cancer care can affect the family's situation as well.
It might affect them financially, as a caregiver might have to take time off from work to continue to support them in their cancer care and finding the balance in all of that.
Sometimes older folks are very independent and some of them have made it a point to never ask for help but they have family members who want to help.
Some patients may have difficulty with communication – their hearing might not be that good, for instance. Especially in the era of masks, that can be another barrier. They might also have difficulty wearing a mask and communicating.
As a doctor, I've gotten better at reading emotions from the nose and brow up; I've gotten better at it, I can understand what's going on emotionally with the patient but they might not have that mask-time experience. It really requires clear communication during this time so that the patient understands what's going on.
Q: Is there anything you've found that helps with the communication aspect?
AP: One thing I do is I use a whiteboard to draw pictures and describe where the cancer is at, also to describe how the therapy is going to go; I use that additional form of communication to aid and speed up understanding. For many of us who are visual learners, that helps as well.
Q: What should older patients know about cancer treatment/clinical trials?
AP: There are specific cancer clinical trials available for older people. Many of these diseases, like chronic lymphocytic leukemia or CLL, for example, occur predominantly in older people and the treatment is designed for their age group.
For patients who are candidates for a trial, I recommend they should be open to the idea of taking part in a clinical trial as part of their treatment. It's important that even standard of care therapies are also studied in the elderly population as well, and their participation in the trial is important for new therapies to understand how our older patients are affected by new emerging experimental therapies.
While there's not a trial available for every patient, it's important for every patient to be considered for a possible trial if it's available. At the same time, even if there is a trial, it's OK for the patient not to pursue it, if their goals don't align.
Q: What kind of advice, in general, do you give to older people with cancer?
AP: I recommend that patients are open to hearing about all of their options and not be afraid to say what they want. It's important for them to write down any questions they have and expect that their cancer care provider answers all those questions for them. That way they don't have to remember them on the spot. That's good advice for anyone, really. Show the doctor the list so that they get those questions answered. Ask for handouts on any therapy that's being offered so they can think it over at home.
Sometimes it's important to make a decision because it'll affect how well they do. But it's OK to go home and schedule a follow-up by phone or telemedicine to make the next step. They shouldn't feel pressured to pursue treatment. But instead, they should feel supported to take the time they need to make the decision for themselves.
Q: Any last thoughts?
It's important to remind geriatric cancer patients that they can change their minds too. Sometimes the therapy doesn't go as expected and you can say 'let's do something different.' Or 'I don't want to do that again, my quality of life suffered too much.'
One of the most valuable decisions we make, after educating patients about the disease and the possible treatments is comparing that to the option of pursuing no active treatment but doing everything we can to keep them comfortable.
If their goal is to pursue comfort care alone, to participate in that decision with them and support them in that decision so they feel that's the right choice for them and you support that decision after going through that process is called shared decision making. If that happens, that's a very valuable decision for the patient and their family. I tell patients 'I like fighting cancer, and it's an important part of what I do, but I also believe you can fight it in other ways, by fighting the symptoms. And if you have good control of the symptoms that can lead to a better, longer life than if you have less than optimal control of symptoms with active cancer.