What is the TrueBeam Radiotherapy System?
As one of the latest technologies in radiation therapy, the TrueBeam linear accelerator system is able to deliver radiation in a highly focused way that was not previously available. Targeting tumors through beam shaping measured in millimeters, TrueBeam is a technological leap forward that is redefining external beam radiation therapy. One application of the TrueBeam technology is the capability to deliver a potent treatment called stereotactic body radiation therapy (SBRT), stereotactic ablative radiation therapy (SABR), stereotactic radiosurgery (SRS), or stereotactic spinal radiosurgery (SSRS). Stereotactic treatments often result in less dose to normal tissue surrounding the cancer and an overall course that can be completed in one to five sessions. Advancements in stereotactic treatment have improved localized control of tumors, offering many patients an alternative to surgery.
The unique sophistication of TrueBeam makes it possible to deliver radiation doses from nearly any angle, accurately and precisely targeting tumors with great speed while sparing surrounding normal tissue. This advanced speed, power, and precision opens the door to new possibilities for the treatment of many types of cancer including those of the head and neck, prostate cancer, lung cancer, breast cancer, colorectal cancer, and a variety of metastatic cancers. These cancers are not only complex, but often located in sensitive areas or in areas that are normally hard to reach.
How TrueBeam Delivers Radiation
The TrueBeam system is a combination of imaging, beam delivery, and sophisticated motion management that accurately and precisely targets tumors. To do this, a machine rotates around you to deliver a prescribed radiation dose from nearly any angle, also known as intensity-modulated radiation therapy (IMRT) or volumetric-modulated arc therapy (VMAT). An accessory called a multileaf collimator (or MLC) shapes the beam to match the 3-D shape of the tumor. The metallic "fingers" of the MLC can move and change during treatment to target the tumor and minimize the dose of radiation to the surrounding healthy tissue. This, combined with cone-beam CT imaging and an adjustable table with 6 degrees-of-freedom, allows physicians to position patients and adjust for changes in anatomy.
Advantages of TrueBeam for Cancer Treatment
The sophistication of the TrueBeam offers several advantages that include:
Faster Treatments
The TrueBeam system delivers radiation at a faster dose rate than traditional technologies. For patients, this means shorter and more convenient treatment times. In general, treatment times can be cut in half, with most taking under a half-hour.
Precision Beam Shaping and Targeting
The precision of the TrueBeam system is measured in millimeters. Because of this, nearby vital organs and healthy tissue surrounding the tumor are able to be better protected through highly conformal dose distribution and beam shaping.
Personalized Care
TrueBeam makes it possible for the RMCC radiation oncologists to tailor your treatment plan using a variety of methods, such as respiratory gating, real-time tracking, imaging, and more.
Visibility
The TrueBeam system produces 3-D CT images that ensure appropriate daily targeting of the tumor and adjustment for changes in anatomy.
Comfort
Patients can feel less stress due to the quiet operation and shorter treatment time of the TrueBeam system.
Faster Recovery
With a reduction in daily and overall treatment time, many patients can return to normal activities more quickly than usual.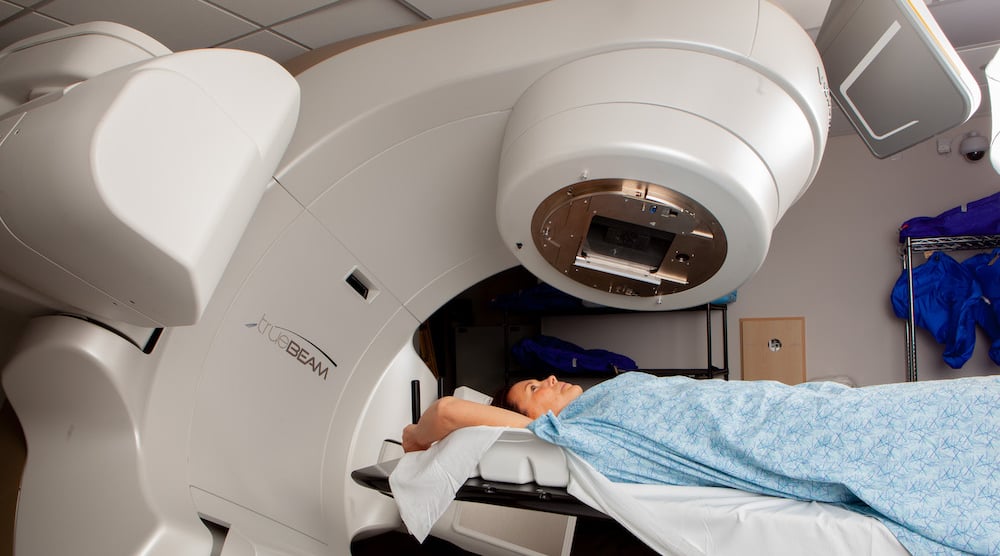 Combination Treatments With TrueBeam
Radiation therapy remains an important component of cancer treatment. However, there are times when TrueBeam may be used in combination with other effective cancer treatments.
Depending on the type of cancer, some patients may receive radiotherapy instead of surgery, while others receive it before or after surgery. Delivering radiotherapy after surgery is done to eradicate any cancer cells that might remain in the area.
TrueBeam radiotherapy may also be used in combination with chemotherapy. This combination of radiation therapy and chemotherapy drugs is often referred to as chemoradiation or chemoradiotherapy. Chemoradiation may be given in different ways and at different times. You may receive it concurrently (radiation and chemo together) or you may receive it sequentially (one treatment after the other). Depending on your type of cancer, you may receive it as your main treatment, before surgery (called neoadjuvant treatment), or after surgery (adjuvant treatment).
Although chemoradiotherapy is not recommended for all types of cancer, patients with certain types of cancer may benefit from this treatment approach. Another promising combination is radiotherapy and immunotherapy.
Who Is Eligible For TrueBeam Radiation Therapy?
The radiation oncologists at Rocky Mountain Cancer Centers will help you understand your specific type of cancer and determine whether you could benefit from this type of radiotherapy approach. The radiation oncologist goes into more detail on how radiation therapy will be delivered for you.
To find out if you are a candidate for TrueBeam radiotherapy, request an appointment with one of our cancer specialists in Colorado including Boulder, Denver, Colorado Springs, and throughout the Front Range.
Radiation Therapy for Breast Cancer