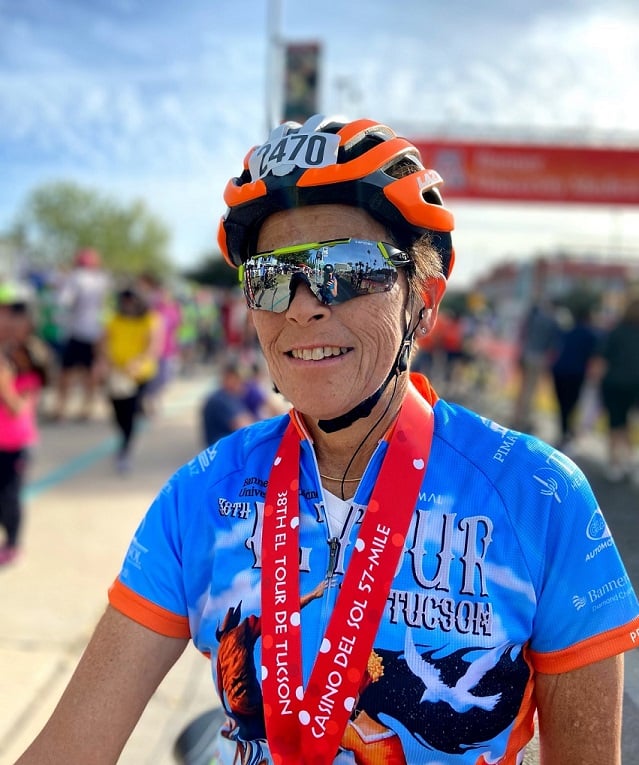 A competitive athlete was given a 10% chance of surviving surgery for advanced cancer – a year later she ran the Honolulu Marathon
By the time Arlene, a competitive athlete from Castle Rock, Colorado, was diagnosed with incurable cancer, the tumor was already a 15-centimeter mass that required a major emergency surgery. Arlene's surgeon removed her uterus, appendix, vectum (the area between the anus and vagina), and part of her colon. After surgery, the surgeon spoke with Arlene's adult son and shared Arlene had a 10% chance of surviving the surgery. Yet, in a reversal that was both miraculous and true to Arlene's indomitable character, she not only survived but returned to a life of athletic competitions and backcountry snowboarding. However, she now has a new goal: "To show others cancer doesn't have to defeat you."
Looking back at her 52-year-old self, Arlene thinks she had symptoms of what would ultimately be diagnosed as stage 4 metastatic ovarian cancer at least six months before she sought treatment. But denial, coupled with negative past experiences with doctors, kept her from seeking medical care. As a competitive endurance athlete, she had been able to manage the pain in her pelvis until finally, the swelling in her abdomen became so bad that she couldn't bend over to buckle her snowboard. Then, her feet started to swell with fluid. And finally, on Jan. 1, 2017, she went to the ER.
Make Sure Cancer Doesn't Defeat You by Changing Your Mindset: Cancer is 'My Longest Marathon'
Arlene's reckoning with cancer was necessarily accelerated, yet it still came in stages. First, the diagnosis of the mass in her ovaries and the "debulking," which is the removal of everything in her abdominal cavity in contact with the tumor. Then, two days after surgery, Rocky Mountain Cancer Centers (RMCC) oncologist Dr. Michele Basche found cancer in her lymph nodes. The tumor biopsy and other tests indicated the type of cancer: Invasive Epithelial Ovarian Cancer. Then came the understanding that the cancer was incurable. However, treatments were available to help her feel better and live longer.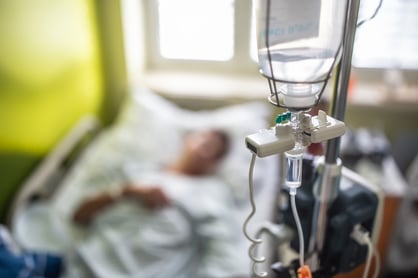 Initially, after the debulking surgery, Arlene received chemo infusions once a week. Now, almost five years later, she receives it every three weeks. Her oncologist changes her drugs frequently depending on what medications are proving most effective at slowing the cancer growth. Because of the aggressive nature of Arlene's cancer, she undergoes a CT scan every two months. "Typically, ovarian cancer likes to go to the liver and abdominal areas. But, since it's stage 4, I've been treated systemically because it's everywhere. We've also tried some targeted treatments," Arlene said.
While her body was being taken on a journey of epic proportions, Arlene's mental state was also undergoing transformation. "The big thing is that everyone is going to process what they're going through differently," Arlene said. "I literally was throwing in the towel, saying 'this is it. I'm done. I can't do anything anymore.'"
"You've got to change your mindset, that's number one," Arlene said. "I was a competitor. I had to change my mindset to, 'now I'm going to be on my longest marathon.' It's a chronic disease, I battle it every day. But I don't want it to control my life."
Part of taking on her incurable cancer – just like an athletic opponent or any other challenge she's faced – was becoming an expert on her own disease.
"I feel like I challenge them (RMCC) every time I go in. I come in with a notebook and ask questions because that's my job – and that's their job. Knowledge is power. The more you know, the more you can control your treatment and life," Arlene said.
In the process, Arlene has gone from being distrustful of doctors to considering her oncologist a friend. "I have had such an incredible team. With Dr. Basche, it's more than a typical doctor-patient relationship. I consider her a good friend. When I go in, I don't see it as a 'trip to a doctor.' My infusion nurses, they're my family. I see RMCC as a big family."
Physical Activity Is Healing Too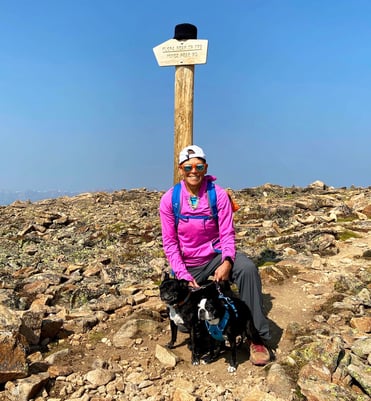 When Arlene awoke after having a large portion of her abdominal organs removed, her two dogs were on the floor of her hospital room, smuggled in by her son to cheer her up. But it was one of the few things Arlene had to smile about for many, many days.
"How hard it was after the surgery, I can't even begin to describe," Arlene said. "I walked like an old lady. I had to see an oncology physical therapist, and she got me to where I can walk again. She was a big part of my recovery. I gave her a goal: I want to be back on the mountain (snowboarding) by the end of the season. She was a little reluctant because of all the torso twisting. But I did it 15 weeks after surgery."
And, almost exactly a year after that major surgery, Arlene celebrated her father's birthday with him in Honolulu – by competing in the Honolulu Marathon.
Arlene had quit her job of 17 years in August of 2016 with the plan of taking six months off to "figure out what I want to do when I grow up." After she received her cancer diagnosis in January and recovered from surgery, she opted not to return to the workforce. Instead, she chose to focus on her athletics. Even so, her attitude about winning has changed, and she chooses her competitions based on what sounds fun or camaraderie with friends, instead of what is most promising for her performance stats.
"I go and always give it my all in my races and am pleasantly surprised if I end up on the podium," Arlene said, explaining that these days her goal is not about beating other racers.
"My goal is to show others that cancer doesn't have to defeat you. If you put your mind to it, you can achieve it."
While high-level athletics may not be an advisable goal for all cancer patients, Arlene feels exercise has helped her fight cancer and even improves the efficacy of her chemo. Indeed, she has four-plus years not only of survival, but of impressive physical performance and high quality of life to prove it.
"I know a lot of people with cancer who had sedentary lives, and I think increasing physical activity, even starting with 15 minutes and slowly increasing it, will improve not just their physical health but mental health, too."
A Time to Talk About Death
Despite her success in both athletics and in battling cancer – or perhaps because of it – Arlene acknowledges that she has incurable cancer and will probably be fighting it the rest of her life.
"Later on, and I don't know when it will be, it's different for everyone going through this journey, there's a time to talk about death," she said. She described a book that was recommended to her, "Being Mortal: Medicine and What Matters in the End," by Atul Gawande. "Medicine can give you a little longer in life but ultimately we're all mortal" Arlene said. "At some point, all good things come to an end, and how far do you want to continue it? The goal of medicine should be to preserve a high quality of life, not postpone death, which is inevitable."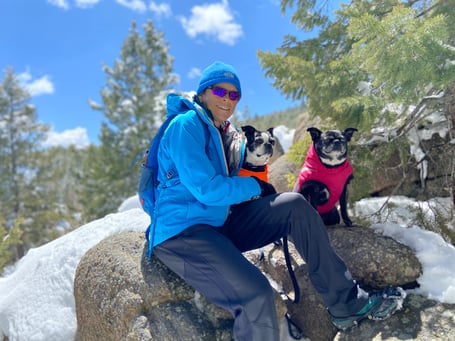 "It's been an amazing journey, and if I had to do it all over again, I wouldn't change anything," Arlene said. "I want to show people: don't give up."
Whether in athletics or in facing incurable cancer, Arlene's philosophy serves her well: "As a competitor, I go out there and race and say, 'just do the best you can, do your own pace and feel good.' I don't try to make it to the podium. You're going to have days that you're not feeling that great, for whatever reason, that's ok. Give your body grace. It's ok to feel that way. And then it will change, then you'll feel better."
In addition to exercise and cultivating a positive mindset, eating well is one thing cancer patients have control over that can improve their recovery. Learn more about eating, cooking and food shopping during cancer treatment.