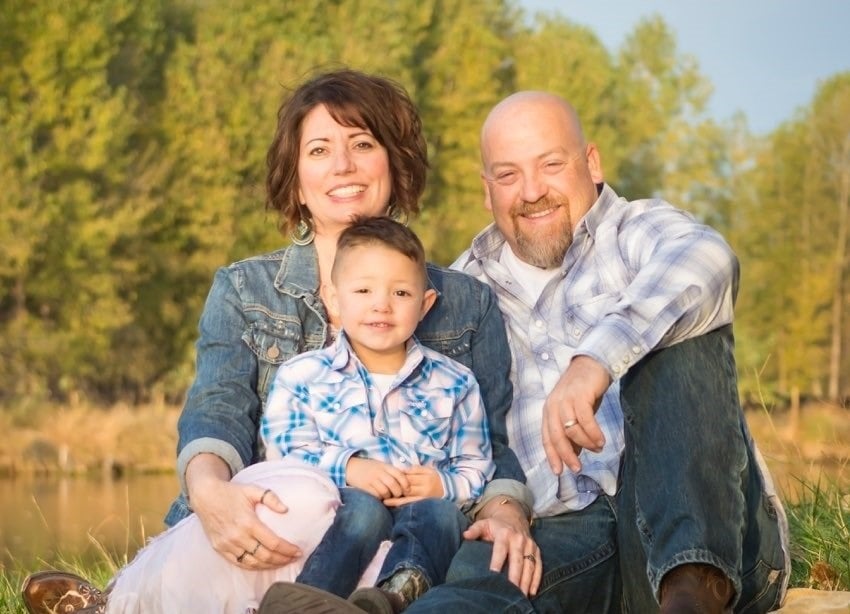 Growing Closer Through Their Challenges: Marva and David Amerine supported each other during struggles throughout their marriage, but when they both faced cancer, it challenged them like never before.
Finding the Miracles: A Birthday Cancer Diagnosis Becomes the 'Best Birthday Present'
In 2017, on her 47th birthday, Marva received horrifying news: she had breast cancer. Motivated by the recent young breast cancer diagnosis of her cousin, Marva had opted for a 3D mammogram at her annual screening, unlike the year before. It was a decision that saved her life. Because of her early screening and the advanced imaging, her doctors discovered the tumor while it was very small. This was especially fortunate because a later biopsy identified it as invasive ductal carcinoma with the potential to metastasize to the lymph nodes and other parts of the body.
While her initial emotional response to the birthday news was negative, within days Marva was able to re-frame the distressing diagnosis in a more positive light: if it had been caught later, she would have had less of a chance of survival.
"So, in a way, it was actually the best birthday present: a chance for a longer life," Marva said.
Thus began a "whirlwind" of decisions and surgeries for Marva. She was thankful that the complex process was streamlined by the long-standing, collaborative relationship between her different providers, including her breast surgeon, Dr. Gerlinde Tynan, who is now at Rocky Mountain Cancer Centers (RMCC), her reconstructive plastic surgeon Dr. Justin Maxhimer, at Boulder Plastic Surgery, and Dr. Mark Barnett, her oncologist at RMCC.
"You always have choices in treatment, and I chose some pretty extreme surgeries," said Marva who opted for a bi-lateral mastectomy, followed by a breast reconstruction.
When the mastectomy was completed, doctors determined that her cancer had not spread, which allowed her to avoid more drastic cancer treatments like chemotherapy infusions or radiation therapy. However, she will continue to take a daily oral chemotherapy drug for many years. With the double mastectomy completed in January of 2018, Marva had three more surgeries before the year was over to complete the reconstruction process.
'It Takes a Village to Raise a Child' – and Get Through Cancer Treatment
Because the surgeries and respective recoveries were so intense, Marva leaned heavily on her husband, David, as well as enlisting daily help from her mother and support from a strong network of friends.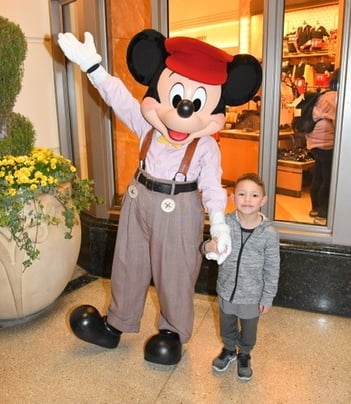 "The physical aspects of my journey were uglier than I expected, and Dave dealt with them beautifully," she said. "Draining the tubes, helping me bathe, managing a spreadsheet of my medications, a long recovery. And he was there every step of the way and working full-time. And we had our son, too."
David, in turn, credits the amount of support the family received. "It's just unfathomable the number of people who were there for us," he said.
"Some of it was financial – gift cards for groceries – or their time to help us out at home," Marva said. "They say 'it takes a village to raise a child.' It's totally true. It's amazing the community that came together to help us. But, I think a big part of what got us through was our faith, knowing that there was a bigger plan for us, that – even when we were alone – we were never alone."
Back-to-Back Cancer Diagnoses: 'When We've Gone Through Challenges, They've Brought Us Closer Together'
Like most couples, Marva and David faced difficulties in their shared lives even before her breast cancer diagnosis, including their 20-year journey to become parents.
But then, in September of 2019, their lives were disrupted, yet again, by cancer. Concerned about a lump on his testicle, David was referred to a urologist by his primary care physician.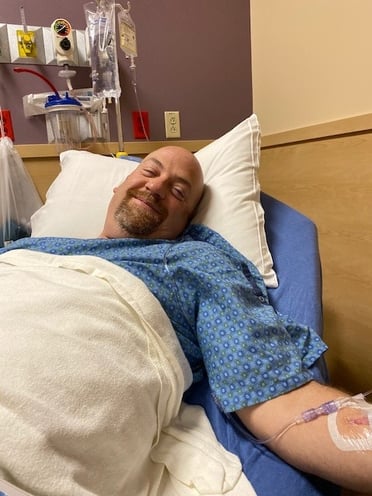 "He took one look and said 'you're having surgery in five days,'" David said. Once the lump was removed and biopsied, he too received a cancer diagnosis.
"It was scary," Marva said. "I had just been through my own cancer journey, and then to have him diagnosed. It was like 'why do we have to go through this again?' But, in the past, when we've gone through challenges, they've brought us closer together."
David was fortunate in that surgery removed his cancer completely, and it hadn't metastasized. Additionally, it was a curable type of cancer, with a single chemotherapy infusion reducing its chance of recurrence to only 2%. For David, who was 49, the primary side-effect – of infertility – was irrelevant. Though Dr. Barnett, who is also his oncologist, continues to follow up with David regularly, he believes David is cancer-free.
Because husband and wife share the same oncologist, they do their follow-up appointments together. They have a running joke with Dr. Barnett that they should get a "two-for-one deal" on their cancer treatment.
"It's nice because we've been able to have our follow-ups together, even through Covid (when families were restricted from patient appointments)," David said. "We're able to hear about each other's progress, not have to schedule separate appointments."
And, for David, keeping each other company in the daunting medical appointments and helping keep track of the huge amount of information, was one of the crucial ways they helped each other carry their respective cancer burdens – together.
Moving Forward Undaunted by Cancer
Though their lives today do not revolve around cancer or treatments, both Marva and David acknowledge that they have been changed by their experience.
"You kind of take things for granted sometimes, so this puts it in perspective. So, you think more about family and friends," David said.
And Marva agrees. "Your perspective is different. Things that might have seemed like a big deal before, are not so important when you look at the scheme of life. You think a little deeper about your purpose, even on a day-to-day basis," she said. "We are here for but a moment, in reality, so what do you want that to look like?"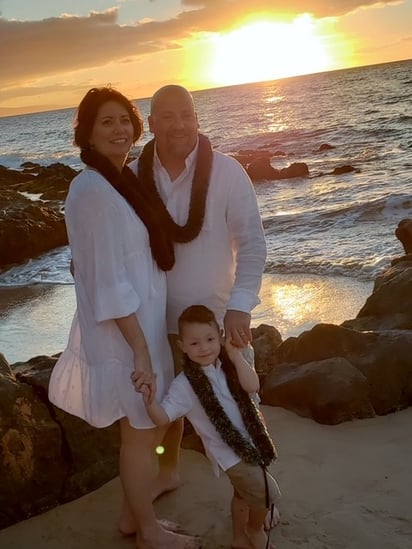 So, what does their day-to-day life look like these days? Obviously, both will continue regular follow-ups with RMCC, ever-vigilant about signs of cancer's return – and ready to take swift action. Additionally, though they always tried to be healthy, they've made a greater focus on preventing cancer recurrence with healthy lifestyle choices. Also, they've placed greater priority on fun and joy, from family weddings, to a surprise trip to Disneyland, to an early anniversary trip, to Hawaii in 2018. "We were going to go in 2021 for our 25th wedding anniversary but decided life is too short and unpredictable to put it off!" Marva said.
But, mostly their family life, which Marva calls "beautifully chaotic" revolves around their 6-year-old son, who just started kindergarten.
"It took us 20 years to become parents, but we now know why it took so long – and why it was worth the wait," Marva said. "I think there's an inner strength that we don't realize we have that surprises us as we face life's struggles."
Cancer takes a toll on the entire family, not just the patient. Find out about caregiver support and resources for patient families.