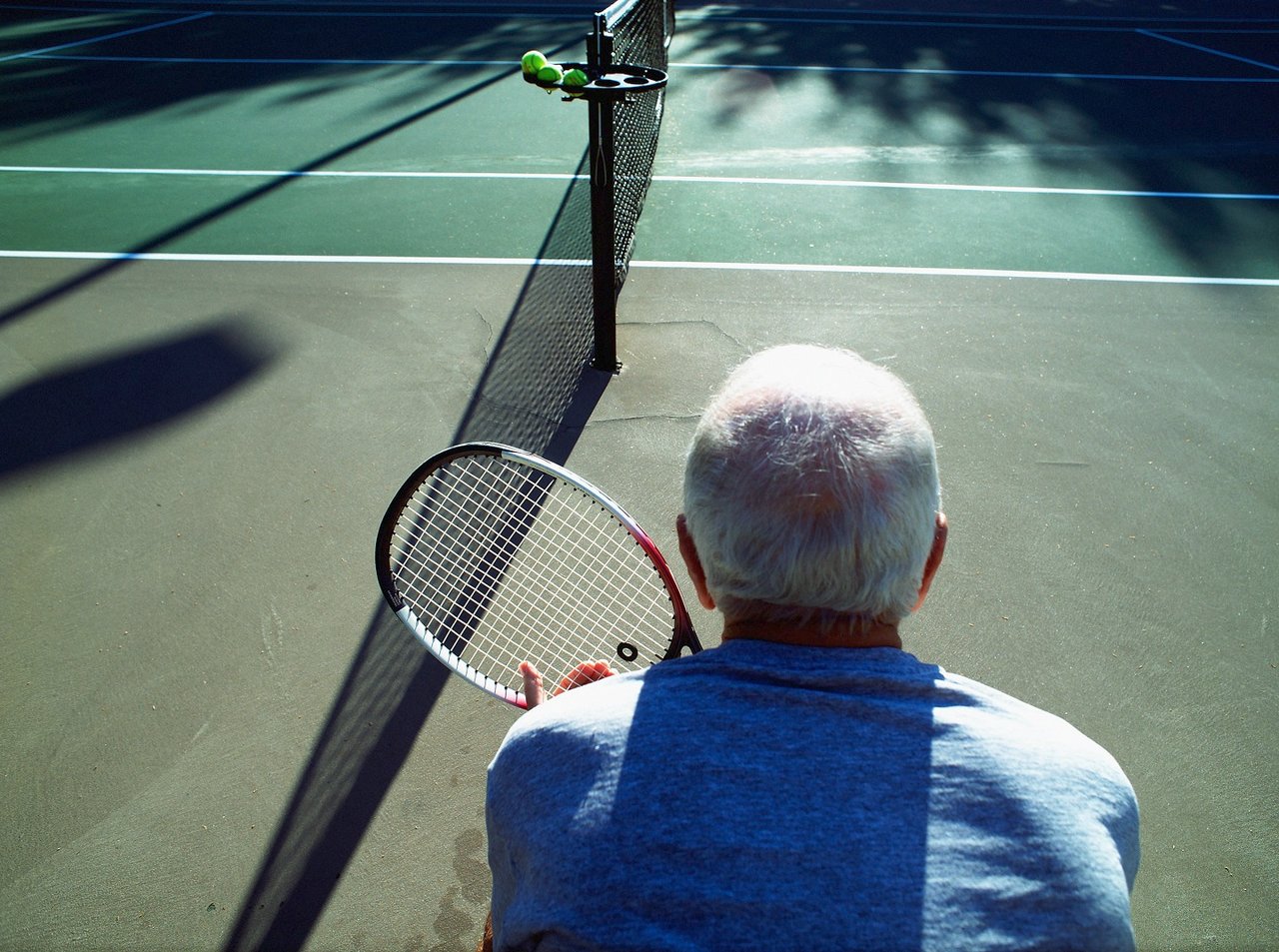 Retired air traffic controller Scott Richardson isn't one to stop moving or striving to get better. Despite having played tennis for 40 years, the 66-year-old Centennial, Colorado, resident still takes lessons. An unquenchable drive to improve and a dogged determination to care for his body served Scott well when he faced his toughest opponent – sarcoma.
More Than a Bump in the Road
In May 2020, Scott spotted something strange on his right leg.
"I noticed a tiny bump on the side of my calf muscle," he said. "I didn't think much about it, and it didn't affect anything I was doing. In the months that followed, the bump started to get bigger, but I still didn't give it much thought. On July 12, 2020, I climbed Pikes Peak, which was quite a day hike for me at 64. When I got home, I noticed the bump had gotten even bigger."
Scott saw his primary care physician through a telehealth visit, and the physician advised Scott to come into his office. An MRI revealed an approximately 3-inch tumor next to the soleus muscle. Scott saw a surgeon, who performed a biopsy. Three days later, stunning news arrived – Scott had cancer.
Scott would soon learn that the tumor was stage 3 sarcoma, a type of cancer that starts in muscles, connective tissues, bones, or blood vessels, among other locations. The place of origin distinguishes sarcoma from carcinoma, the most common type of cancer. Carcinomas develop in the skin or outer tissue of organs and glands, such as the lungs, colon, or thyroid.
As a group, sarcomas are rare. There are two major types of sarcoma – bone and soft tissue. Soft tissue sarcoma, which is what Scott had, is far more common than bone sarcoma (also known as bone cancer). In 2022, the American Cancer Society (ACS) estimates that new cases of soft tissue sarcoma will outnumber cases of bone sarcoma by more than 9,000 (about 13,190 to about 3,910).
Scott underwent surgery to remove the tumor, but the operation didn't clear all of the cancer from his body. He would need additional treatment.
Sarcoma Treatment Beyond Surgery
How aggressive sarcoma is – how fast it grows and spreads – varies from case to case. Soft tissue sarcoma is curable but only with surgery, according to the ACS. If cancer cells remain after surgery, as in Scott's case, additional forms of treatment will be necessary. In early August 2020, Scott met with Dr. Ioana Hinshaw, a medical oncologist/hematologist at Rocky Mountain Cancer Centers (RMCC), to determine a way forward. He was in good hands – Dr. Hinshaw possesses advanced subspecialty training in sarcoma and is an expert at treating patients with this type of cancer.
"I had stage 3 sarcoma, and it was unclear how fast it was going to spread," Scott said. "Dr. Hinshaw set me up with a regimen of six and a half weeks of radiation therapy, followed by chemotherapy."
Two months later, after his surgical wound had healed, Scott began visiting a suburban Denver medical center for radiation therapy. That part of his cancer journey ended during the last week of November, but the next part of treatment lay ahead. On Dec. 26, 2020, he started the first of three, one-week sessions of chemotherapy at the same medical center.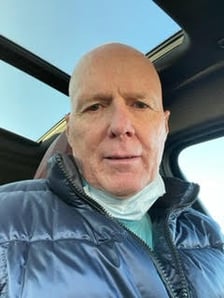 "I received chemotherapy for eight hours a day, five days a week," Scott said. "After each week of chemotherapy, I recovered for two weeks before the next round of treatment. My hair fell out. On my two or three good days before treatment was set to begin again, I would go to the tennis court with my buddies, but I was only able to play for 10 minutes before I'd have to rest."
While undergoing chemotherapy, Scott was determined to maintain his fitness.
"For the first two days of each round of chemotherapy, I would get up and run in place every 10 minutes," he said. "I didn't want to lose muscle during treatment, so I thought I'd do what I could to prevent it."
From Patient to Sarcoma Survivor
Overall, 65% of people with soft tissue sarcoma are alive five years after diagnosis, according to the ACS. However, the five-year survival rate is much higher – 81% for patients with sarcoma that did not spread beyond its point of origin. Individuals with cancer that spread to nearby structures have a five-year survival rate of 56%. The five-year survival rate stands at 15% for people with distant cancer spread.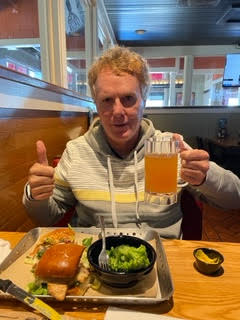 Less than two years after his diagnosis, Scott is doing well. After finishing chemotherapy in February 2021, he underwent physical therapy to rebuild the strength, flexibility, and range of motion in his right leg. The work has paid off – he's played in two major Colorado tennis tournaments since finishing sarcoma treatment, and he recently completed a tennis camp.
"My leg isn't as strong as it was before, but a buddy of mine told me that I'm not too far behind where I was before the sarcoma diagnosis," Scott said. "My hair has grown back, and it's big and curly now. I never had curly hair before. I have hair now that other 66-year-old guys would kill for!"
Full of Gratitude
Scott has a CT or MRI scan every three months to check for a recurrence of sarcoma in his leg and to see if it has spread to his chest or lungs.
"I've had five checks so far, and they haven't shown any cancer," Scott said. "Dr. Hinshaw says the chances of the sarcoma returning now are a lot less than if I hadn't been able to go through my treatment regimen. She calls me her star patient."
Scott appreciates Dr. Hinshaw's frankness and credits her with helping him move past feeling sorry for himself. She helped inspire him to pour all of his effort into beating and recovering from sarcoma.
"What do you say to someone who saved your life?" Scott said. "There's absolutely no question that Dr. Hinshaw's expertise saved my life."
At RMCC, our oncologists partner with a variety of specialists to create individualized sarcoma treatment plans for every patient. Find an RMCC oncologist who can help you move forward following a sarcoma diagnosis.