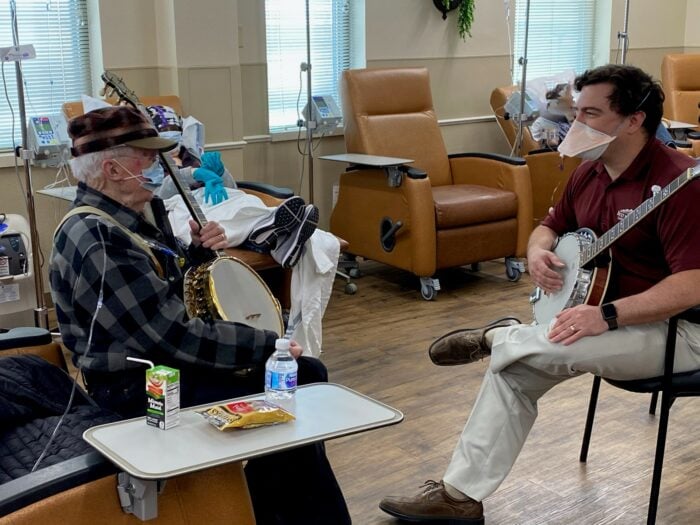 For Canon City resident Jared Miller, 84, the banjo has quite literally been his life. He first picked up the instrument when he was just 17 years old and living in Leadville, working at the Climax Mine. Eventually, the banjo became more than just a hobby and morphed into a career — Mr. Miller spent much of his life traveling around the country playing venues large and small. And so, at age 84, while sitting in his cancer doctor's office at Rocky Mountain Cancer Centers (RMCC) in Pueblo this past spring, he was thrilled to learn his doctor also played banjo. Dr. Travis Archuleta, an oncologist/hematologist at RMCC, plays the 5-string banjo, while Mr. Miller plays the 4-string.
"Dr. Archuleta said 'why don't you bring your banjo down and play them some songs?'" Mr. Miller said.
And so, at his next chemotherapy appointment, he did just that, even taking requests.
"I played for two hours solid for the other people (at RMCC) getting chemo," Mr. Miller said. "I was playing while I got my chemo. Two weeks later, I played for two hours again. I didn't even realize how long I played. I was enjoying it because they were enjoying it. I can play a lot of old songs they like."
Dr. Archuleta even joined him during his next appointment and the two played a few songs together.
"Dr. Archuleta is a very fun gentleman and he kept us pretty entertained. He keeps it lighthearted. It was good for Jared too, at that point," said Frieda Miller, Mr. Miller's wife of 35 years who has been with him every step of his cancer journey.
Mr. Miller first started seeing Dr. Archuleta in June 2019 after being diagnosed with mycosis fungoides, a rare form of T-cell lymphoma of the skin. For nearly a decade, he suffered from skin lesions that doctors struggled to diagnose. After visiting multiple dermatologists and undergoing biopsy after biopsy he got the correct diagnosis in April 2019.
"They thought I had dermatitis. And then eczema but then they found out I had cancer," Mr. Miller said.
"It looks like he has measles," Mrs. Miller said. "Big ulcer-like spots are all over his body. He kept having biopsies on different spots that would show up. Finally, it took three biopsies at the Mayo Clinic before they could even identify it."
After meeting with Dr. Archuleta, Mr. Miller soon started the first of two rounds of radiation.
"It was spreading faster than the radiation could control," Mrs. Miller said.
After a six-week course of oral Methotrexate in early 2020, Mr. Miller started romidepsin chemotherapy via infusion at RMCC in Pueblo in mid-March. That's when the two men realized their common love of the banjo and Mr. Miller had a chance to share his passion with the other patients undergoing treatment. The experience brought smiles all around.
"The care at Rocky Mountain Cancer Centers has been tremendous," Mrs. Miller said. "They've been so caring and very compassionate working with us. If we have any questions, we call and they give us an answer right away."
During Mr. Miller's second appointment, in early April, Mrs. Miller was unable to accompany him into the doctor's office due to COVID restrictions but Dr. Archuleta took the time to come to the open hall where she was waiting to update her and answer her questions, for which she was grateful.
"I felt very relieved," she said.
Currently, Mr. Miller is taking his third type of oral chemotherapy, called bexarotene, and will start radiation again soon.
"His cancer is one that will not go into remission. It's probably something he'll have to fight for the rest of his life and take different combinations of chemotherapy," Mrs. Miller said.
While Mr. Miller calls his cancer diagnosis a "rude awakening," he maintains a positive outlook.
"All my life I've been as healthy as a little ox; I've never had a sick day in my life," he said. "That's made it harder. But I'm a fighter and I'm going to stick with the program. I'm not giving up. I've had a really good life and I've really enjoyed my life, especially with the music. Making people happy has made me happy."
And Mr. Miller is grateful that RMCC, along with treating his cancer, has allowed him to continue to share his love of music.