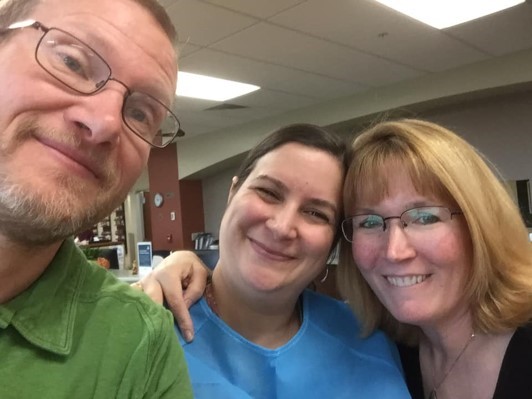 One of the symptoms of breast cancer is a change in the texture or appearance of the breast. So, when one of Rosanna Lindeman's breasts took on an "orange peel look," she scheduled her exam and mammogram, though she wasn't due for them yet. The Arvada mother of three had no breast cancer risk factors (like a family history of breast cancer or environmental exposure), and she was only 44 years old.
When both the exam and mammogram turned up nothing, and with no other symptoms of breast cancer, Rosanna attempted to go on with her life. But "something didn't feel right," she says, so she sought a second opinion. Yet, a second exam by a different physician also revealed no concerning lumps or other symptoms of breast cancer.
Related Read: Learn more about signs and symptoms of breast cancer.
While it might've been easier to push her worries aside and move on, Rosanna, a woman with a deep faith in God, says she felt "God's nudging" to pursue a diagnosis. So, Rosanna enthusiastically accepted the second physician's offer to order a diagnostic mammogram, which would be more in-depth than the breast cancer screening mammogram she'd already received.
Stage Four Breast Cancer
Lo and behold, a tumor was hidden behind her nipple, where it couldn't be felt during breast exams or seen in a standard mammogram.
Rosanna was diagnosed with stage 4 breast cancer that had already metastasized to her lungs. For her, Rosanna says, "the moral of the story is: If something doesn't seem right, keep seeking. Getting a second opinion is OK. Stage 4 cancer is a scary diagnosis."
Successful Breast Cancer Treatment at Rocky Mountain Cancer Centers
In another moment of God's guidance, a friend (and fellow cancer survivor) directed her to seek treatment from a cancer doctor with high success rates, Rocky Mountain Cancer Centers' Dr. Dev Paul. Her breast cancer treatment began immediately, with six rounds of chemotherapy to shrink the tumor, followed by a lumpectomy, then radiation.
Rosanna benefited from support from her church community and a local network of homeschool families throughout her cancer treatment. And she's quick to point out that "they supported the whole family because it wasn't just my cancer. It affected all of us."
Rosanna also began immunotherapy, one of the latest advancements in cancer treatment, which she'll very likely continue throughout her life. Nicknamed "go juice" by Rosanna, the immunotherapy treatment helps improve her own immune system's ability to destroy cancer cells. Though Rosanna does have to schedule vacations around the infusions every three weeks, she says it has minimal side effects. One year, Rosanna returned from a vacation to the beach with a gift for the RMCC staff: a bag of sand and tiny seashells with a family picture and a note of thanks that read "if it weren't for you, I wouldn't have made this memory."
Life with Breast Cancer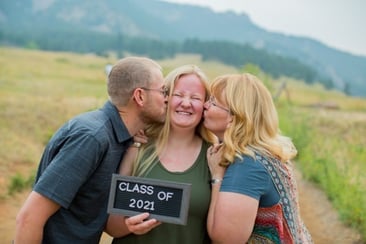 Though Rosanna has now been cancer-free for four and a half years, "I don't take it for granted at all," she says. "I have lost friends (who died) over that time… 'There but for the grace of God, go I.' This life is a gift. I know my days are numbered. I prayed for more days to watch my babies grow up. Now, my daughter just graduated high school, and we're having a big party. I'm so aware that not everybody gets to do this, whether it's cancer or something else (that takes them)."
Despite success in reaching remission for her breast cancer, Rosanna's life is forever changed. She'll continue to have scans every six months indefinitely and to receive immunotherapy treatment every three weeks – either for the rest of her life or until medical developments can consider her "cured." But some changes are more exciting than others. Certified by the state of Colorado in Elementary Education, Rosanna homeschools her three kids and tutors dyslexic students. Now that one daughter has graduated and her two other teenaged children don't require in-depth instruction, Rosanna is enthused to devote more to her business, Eureka Tutoring, which has been doing great. From her good health to her business success to an upcoming family vacation, Rosanna has much to look forward to. "I couldn't be more thrilled."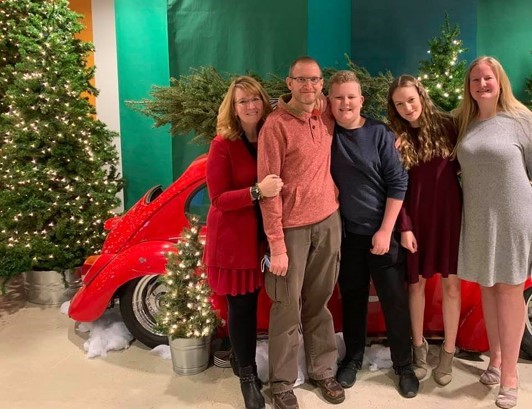 Getting a second opinion and the best breast cancer treatment in Colorado saved Rosanna's life.