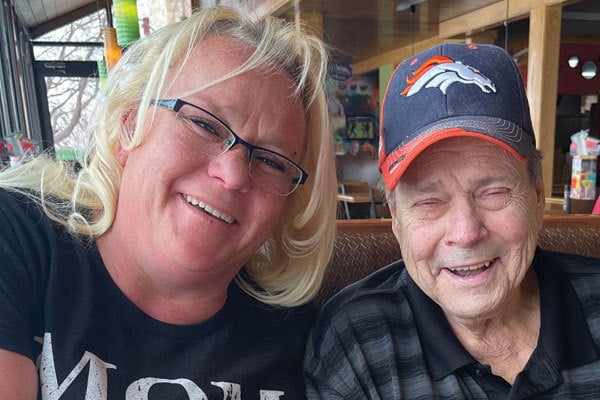 After retiring from his job in Colorado, Larry Riedesel, 76, and his wife, Mary, decided to move to Oklahoma. The couple's large family – five daughters and several grandchildren – is very close. They vowed the new distance between them wouldn't change that bond, so Larry and Mary frequently traveled back to Colorado to visit.
In March 2020, Larry's diagnosis of pancreatic cancer was the reason he headed back to Colorado for good, and a year later he and his daughter, Stacy Kenkel, 41, shared the same doctor at Rocky Mountain Cancer Centers (RMCC).
An Unexpected Chain of Events
Prior to his diagnosis, Larry and Mary were in Denver for an early holiday celebration with the family when he needed treatment for a bowel blockage. The doctor ordered a CT scan of his abdomen, which revealed an abnormal area in his pancreas. With the doctor's OK, he returned to Oklahoma and scheduled a follow-up scan of his pancreas in December, after finishing a scheduled knee surgery in November.
"I got another CT scan in Oklahoma and they said, 'You've got to go see a doctor,'" Larry said. "The thing on my pancreas had grown, and it was not looking good. I decided we were going to pack up and move back to Colorado. I knew I had cancer and was going to need my family's help."
Larry was diagnosed with stage 2 pancreatic cancer, and he and his wife moved in with their daughter Jamie and her family in Thornton.
The next immediate step was to search for an oncologist, which he did with the help of his primary care physician. While looking at the list of recommended oncologists, without hesitation, Larry chose Dr. Eiko Browning, board-certified medical oncologist and hematologist at RMCC.
"Dr. Browning is really serious about her patients," Larry said. "I think that was the first thing that drew me to her. Also, I'm a big University of Michigan Wolverines fan, and she graduated from there along with the University of Colorado. So I thought, well, she can't be half bad if she's a Colorado and a Michigan graduate."
Larry had surgery on April 8, 2020, to remove a third of his pancreas, his spleen, and several lymph nodes. A few weeks later he began an 18-week course of chemotherapy at RMCC.
Surviving Treatment as a Family
Larry's treatment came with some extremely challenging side effects.
"The chemo really took a toll on my body," he said. "It made me so weak. The taste in my mouth was terrible. I didn't eat, and I didn't drink, so I lost a ton of weight. Dr. Browning tried to keep me eating, but everything I ate just tasted like tin."
Although Larry never experienced pain or nausea, his inability to eat was debilitating. He had to use a wheelchair and needed assistance for bathing and dressing. At times, Larry wondered if he would make it through. By the time he finished chemotherapy, he had gone from 248 pounds to 156.
"I was too weak to sit up to get out of bed," Larry said. "Once I laid down, I couldn't sit up. I had to have somebody pull me up. If I had to move somewhere in the bed, my daughter Jamie would put a sheet or a pad under me and then pull me to where I needed to go."
Thankfully, through it all, Larry was never alone. Everyone in the family jumped in to help. His daughter Stacy, trained in massage, would regularly come to help loosen Larry's leg muscles which became stiff from inactivity.
"It was very hard to watch how weak he got because that's not my dad," Stacy said. "My dad's strong. He's done everything for us his entire life. Of course, I would do anything I could for my dad in a heartbeat. It was just very hard seeing him weak and not himself."
A Turning Point
After completing chemotherapy, Larry went to physical therapy to build muscle and strength he'd lost. Then, a follow-up CT scan of Larry's pancreas in September 2020 brought new concerns: a possible cancer recurrence. Dr. Browning ordered a positron emission tomography (PET) scan to get a better look at the pancreas. Fortunately, the PET scan revealed the area of concern was scar tissue, not cancer. Still, Larry's recovery was just beginning.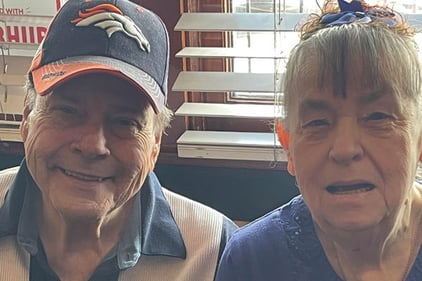 Larry continued his physical therapy at home, his appetite started to return, and life was getting better. It took hard work and dedication, but by March 2021, Larry had regained his strength and could walk and take care of himself independently. He also returned to a healthy weight of 190 pounds.
Larry and Mary were grateful for the support they received from their family. Living in Colorado once again, they were able to return the favor.
Chronic Health Conditions and New Questions
Their daughter Stacy didn't have cancer but is no stranger to regular visits with doctors and medical treatments for chronic health conditions. Still, she stays active with her husband and two children and was glad to be able to support her dad during his cancer treatment. In 2022, she'd need his support.
Stacy has had a high white blood cell count for several years, but when it got extremely low back in 2018, she went to RMCC and was tested for leukemia, a type of blood cancer. The results were negative, but her providers were still unable to determine the cause of her low blood count — until four years later.
While driving with her kids in the car, Stacy suddenly blacked out. Luckily, the spell was very brief and she was able to get the car safely to the side of the road.
Solving the Mystery
Bloodwork found that Stacy's platelet count was also extremely low. Platelets are blood cells that stop bleeding and help with wound healing. Her low platelet count put her at risk of severe bleeding, including brain and gastrointestinal tract bleeding.
Stacy was prescribed a corticosteroid to help increase her platelet count, which it did. It also provided a good clue about what was happening.
"They said I needed to see a hematologist," Stacy said. "I picked Dr. Browning because she saved my dad, and I knew that she'd take care of me."
Stacy was diagnosed with immune thrombocytopenic purpura (ITP), a rare, chronic, and potentially life-threatening blood disorder that causes the immune system to attack healthy platelets as if they were invaders in the body.
While the corticosteroids helped raise Stacy's platelet count, it's not a long-term solution, so Dr. Browning prescribed another medication. That didn't work well, so they kept trying.
Dr. Browning suggested an antibody infusion once a week for six weeks. The treatment works by suppressing the immune system so it doesn't attack as many platelets.
"I think getting infusions for ITP brought me and my dad a little bit closer," Stacy said. "I understand now what my dad went through sitting there in the chairs and getting the infusions and all that. It's hard because you think you're alone and feel like the only one with this disease or cancer."
The infusions were a success. Stacy will need to manage ITP for the rest of her life, but she's relieved to finally have answers and glad to be working with Dr. Browning.
You Are Not Alone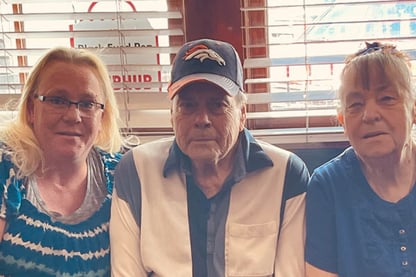 Though their journeys have been far from easy, Larry and Stacy are grateful for the care and support they continue to receive from their family, which now includes their RMCC care team.
"Walking into RMCC, it's like, I know this is tough, but we can talk and have fun and everybody's there to support you," Stacy said. "They're a very good support system."
Her father couldn't agree more.
"Besides Dr. Browning, all the nurses who help you with the chemo and all the people you meet there are like family," Larry said. "You get to know them, and RMCC is a good place. Not only is Dr. Browning a great doctor, but she's also become a really good friend."
The experts at RMCC offer compassionate support alongside leading-edge oncology and hematology care. Find a specialist or choose an RMCC location to get started on a treatment plan for your unique needs.