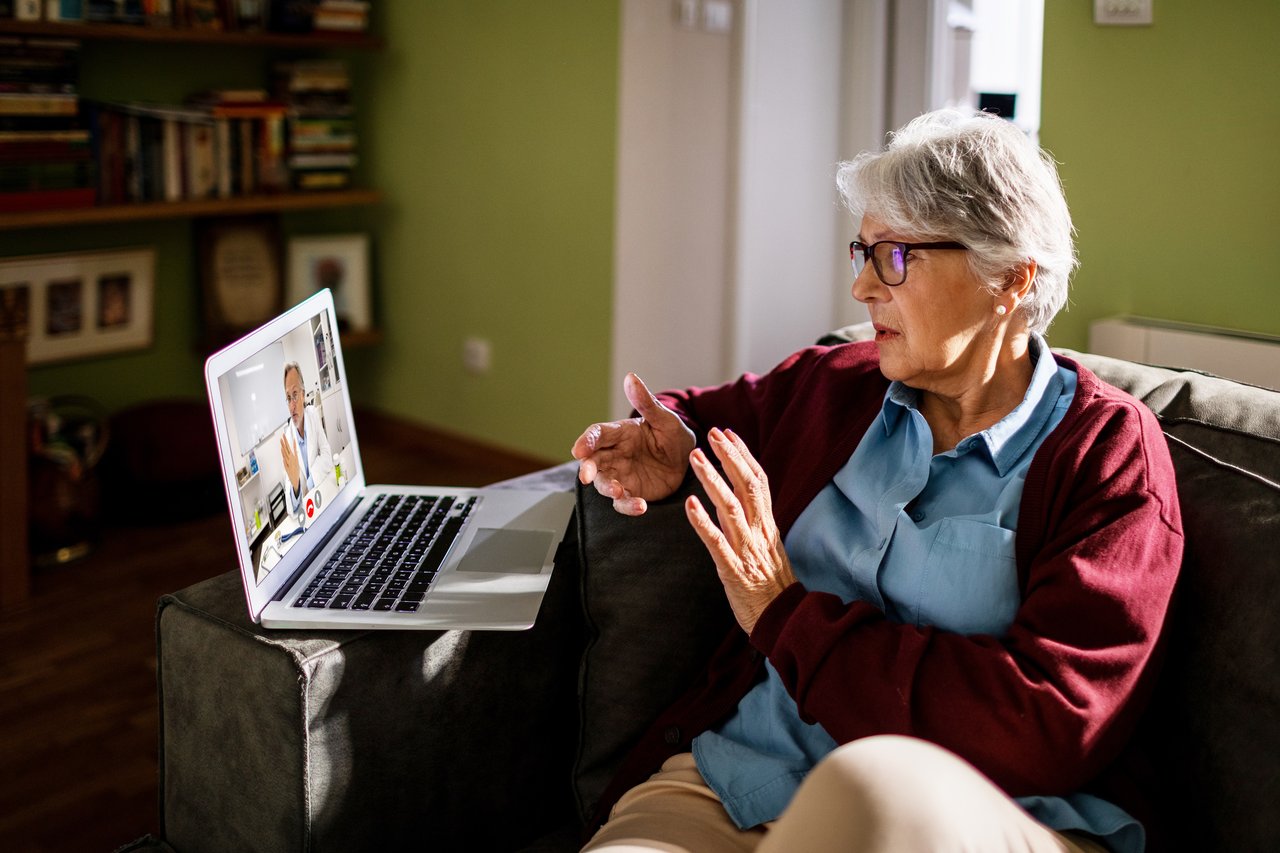 When the first COVID-19 cases in the U.S. appeared in late January 2020, no one could have predicted that healthcare delivery would change in significant ways. As the medical community grappled with the need to limit in-person contact, we developed strategies for interacting with our patients and delivering care that may, paradoxically, bring us closer together than ever. The effects have rippled out through just about every specialty, including oncology and cancer centers.
A Global Pandemic Disrupts Health Care
COVID-19 spread like rapid fire, leading the Centers for Disease Control and Prevention (CDC) to issue national guidelines to minimize exposure to the virus. Because of these guidelines, some states issued shelter-in-place orders to reduce transmission risk. In addition, cancer patients – considered at high risk for COVID-19 infection – were advised to stay home and avoid potential virus exposure.
Health systems postponed elective surgeries, patients delayed nonemergency cancer screenings, and providers encouraged telehealth appointments to reduce transmission risk. In addition, the Food and Drug Administration approved changes to some treatments by lengthening prescribing dosages to limit the number of visits a patient needs for follow-ups and refills.
Adjusting the Balance
While many of these changes helped protect immunocompromised, high-risk cancer patients, this level of caution led to delayed or missed cancer screenings, cancer care visits, and essential treatments including surgeries, infusions, and radiation therapy. The delays in cancer diagnosis and treatment will have lasting effects for many years to come.
For example, an analysis of Medicare data for patients receiving cancer care between March and July 2020 showed that the number of mastectomies, colectomies, and prostatectomies dropped consistently from April to July. Patient visits for cancer evaluation and management dropped anywhere from 60% to 74%.
Because patients had fewer chances to meet with providers for support and guidance during their diagnosis and treatment, their mental health also suffered. Almost half of all patients with cancer reported mental health effects, while nearly two-thirds expressed some form of stress or anxiety.
Faced with these challenges – how to promptly and safely treat cancer, care for patients' mental well-being, and protect them from COVID-19 infection – cancer centers have adapted to provide innovative care measures while learning to coexist with an ongoing pandemic.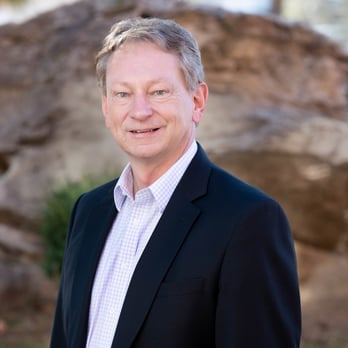 Glenn Balasky, executive director of Rocky Mountain Cancer Centers (RMCC), is keenly aware of the demands being put on patients with cancer and oncology providers alike. He believes the adaptations RMCC has made are for the better.
"COVID-19 demonstrated that we can conduct team-based care in a virtual setting," he said. "Virtual communication allows patients to remain connected to their providers when in the past they would have needed to attend an in-person visit. We have also adapted our processes so we can promptly onboard patients whose cancer may have been discovered later than it would have been before the pandemic."
Cancer Centers Shift to Telehealth
The pandemic forced cancer centers to revamp how they delivered standard cancer care. Remote visits via telehealth allowed providers to connect with patients in their homes, alleviating some isolation the pandemic caused. Oncologists at RMCC also used telehealth to conduct follow-ups after treatment while monitoring and managing a patient's care.
"We quickly shifted to telehealth visits to maintain follow-up care and mental health screenings for our patients," Balasky said. "It's an adjustment we've all had to make. Not only was it necessary, but patients have seen that we are still providing great care through virtual visits."
Building Relationships – Online
Unlike some specialties where patients are treated for a limited time and then discharged to their family care providers, oncologists often develop lifelong relationships with patients. When those relationships are disrupted, a patient's mental health can suffer.
"At RMCC, we foster long-lasting relationships with our patients," Balasky said. "That's a distinguishing quality of what we do as a cancer center. During the pandemic, we've become even more keenly aware of just how important those relationships are. We've thought deeply about the processes that can facilitate long-term, personal relationships when in-person conversations aren't an option."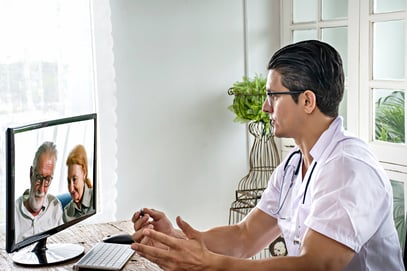 Having a cancer diagnosis at any point can be isolating, but as we learned, it becomes even more so during a pandemic. In addition to managing treatments, cancer centers will need to prioritize mental health concerns for cancer survivors. RMCC has always provided support groups for patients, but has increased participation via virtual support groups. As stress during the pandemic has increased, we have increased the use of and frequency of Distress Screening with our patients to help those with acute needs. While telehealth cannot replace the warmth of in-person contact, in many ways, it can be as effective as face-to-face care and is often more convenient for patients.
For physician-to-physician contact, RMCC also adopted telehealth to assess patient progress and develop treatment plans. Oncologists discussed ongoing management and care during virtual conversations.
In sum, telehealth has proved to be a valuable tool for both patients and providers. It allows patients access to care faster, reduces the risk of getting sick, and limits the further spread of COVID-19.
"Both providers and patients have adapted well to the virtual model, and we will continue to use telehealth to deliver care and improve the patient experience," Balasky said. "Providers now tell patients early in their treatment journey how telehealth will fit into their overall care plan. Patients appreciate the care and support we provide – both in-person and virtually."
Cancer Centers Make Structural Changes to Streamline Delivery
The transition to telehealth was just one of many course changes oncologists adopted following the COVID-19 pandemic. At RMCC, we've also revamped our care teams and patient onboarding processes to ensure patients diagnosed at any stage of cancer immediately begin receiving the support and treatment they need.
Any delays in cancer screenings translate into identifying cancer at later stages. At RMCC, we have always strived to connect patients immediately with the appropriate support teams as soon as they receive a diagnosis. We have streamlined processes to efficiently treat patients who present with advanced-stage cancer. Team-based care is central to these changes.
"We have always embraced team-based care," Balasky said. "However, the pandemic forced our care teams to become more interdependent than ever before. As a result, RMCC has evolved to having an almost 1-to-1 ratio of medical oncologists to advanced practice providers to expedite care for patients when they need us the most."
RMCC prioritizes open communication with our referrers. Having everyone on the same page enables continuity of care between providers and care settings. Community physicians who refer patients to RMCC may interact with multiple team members, but you can rest assured that we're all on the same page about your patient's care.
COVID-19 has changed the way cancer centers interact – internally, with patients, and with community providers. However, our goal remains the same: delivering the absolute best care possible to your patients with a cancer diagnosis.
RMCC's clinical oncology teams provide care in a range of specialties. Refer a patient today to learn how we can help.