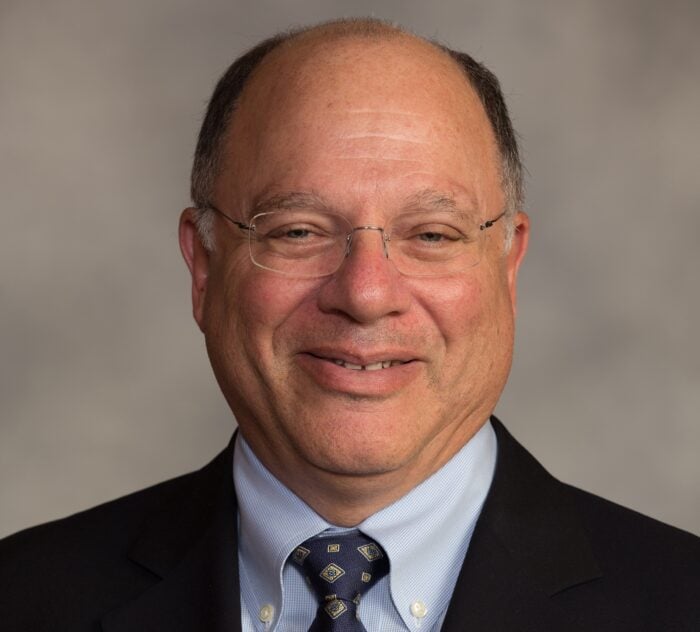 The Thrill of Discovery AND Better Patient Outcomes:
Dr. Robert Rifkin and Recent Advancements in Cancer Treatment via the American Society of Hematology Annual Meeting
For Dr. Robert Rifkin, a Rocky Mountain Cancer Centers oncologist specializing in hematology and blood cancers, helping patients win their fight against cancer is rewarding. But the discovery of new cancer treatments – and making them accessible to his patients – is what he finds most thrilling.
"The thrill of discovery AND better outcomes for my patients, that's what really gets me excited," says Rifkin. A graduate of University of Colorado School of Medicine, Dr. Rifkin has spent most of his career treating patients in Colorado, aside from a stint at the University of Arizona Health Sciences Center in Tucson for his hematology and oncology fellowship.
"I've always made a priority of staying on top of the latest developments in cancer treatment," says Dr. Rifkin. "But medical advancements are useless if they don't make it out of clinical trials research and into treatment rooms. So, I'm continually bringing those cancer treatment breakthroughs to my patients, when appropriate."
It helps motivate Dr. Rifkin's diverse efforts in ongoing professional development, such as attending the American Society of Hematology (ASH) Annual Meeting and Exposition every year. The organization is the world's largest professional society concerned with the causes and treatments of blood disorders, and the annual event offers educational and scientific meetings and workshops on the latest treatments for cancers like leukemia, lymphoma and multiple myeloma, of particular interest to Dr. Rifkin. The most recent event – which took place in December 2020 – was held virtually due to the COVID-19 pandemic.
Dr. Rifkin also serves as medical director of biosimilars for McKesson and associate chair of hematology research and myeloma disease lead for US Oncology Research in addition to his work as a hematologist for Rocky Mountain Cancer Centers. He also presented at the 2020 ASH event. He co-authored "The Phase 3 TOURMALINE-MM2 Trial: Oral Ixazomib, Lenalidomide, and Dexamethasone (IRd) Vs Placebo-Rd for Transplant-Ineligible Patients With Newly Diagnosed Multiple Myeloma (NDMM)," a project which he hopes will "pave the way for future innovation on behalf of the multiple myeloma community."
At the event, Dr. Rifkin also presented a trial-in-progress poster, "DREAMM-7: A Phase III Study of the Efficacy and Safety of Belantamab Mafodotin (Belamaf) With Bortezomib, and Dexamethasone (B-Vd) in Patients with Relapsed/Refractory Multiple Myeloma (RRMM)."
The 62nd annual ASH event, like past hematology conferences, focused on worldwide developments in understanding and treating blood diseases, including blood cancers. It offered scientific workshops, presentations by the field's most renowned experts, virtual poster sessions by researchers, educational Q&A's and other activities. It covered subjects, both broad and specialized, to help physicians improve outcomes for patients with blood disorders.
Unlike previous years, however, the 2020 event also addressed the two biggest subject matter themes of the year overall:
The role of race in blood disorders (both in the presentation of blood diseases and race-related barriers to medical treatment) and
The appearance of COVID-19 or SARS-Co-V-2 and its impacts on patients with cancer or blood disorders, as well as how oncologists and hematologists need to address COVID-19 risks.
The 2020 ASH event included 20 oral sessions pertaining to COVID as well as a "Fireside Chat" with Dr. Anthony Fauci, Director of the National Institute of Allergy and Infectious Diseases (NIAID) and the country's most recognized authority on the novel coronavirus.
"There are additional factors we need to learn about and incorporate as far as risks and treatment for cancer patients who contract COVID," Dr. Rifkin says. For example, Dr. Rifkin points out that blood clots – which are an increased risk for cancer patients – are also one of the possible complications of COVID-19 infection. "Cancer doctors need to be aware of the latest information, so we can take steps to prevent complications like thrombosis."
"It sounds strange, but the emergence of COVID sort of brought renewed interest to hematology research," Dr. Rifkin says. COVID-19 can cause coagulation-related complications, and that's led to increased research opportunities into clotting, blood disorders and medications. "This year's conference, though digital, had a special energy and motivation."
Dr. Rifkin's additional publication/presentation credits with ASH include: