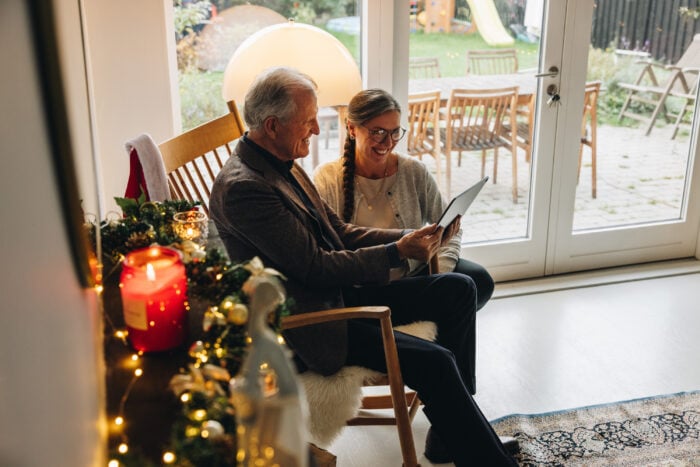 The holiday season, while joyful, can also be a challenging time for some people — especially those who are navigating cancer treatment personally or helping a friend or loved one through the process. Add in the compounding factor of COVID-19 and all the change that 2020 has brought and its clear mental health support is more important than ever.
"All of it together can be a lot to endure in the time frame of one year," says Lindsay Chisholm, a licensed clinical social worker (LCSW) at Rocky Mountain Cancer Centers (RMCC).
Thankfully there are some steps you can take beyond the usual eat-healthy/get-more-sleep/exercise-more type of advice that frankly can feel trite when life feels so heavy.
As you prepare for the holidays, consider the following recommendations and keep one thought top of mind: "Remember, even in the midst of an extremely challenging year that included not only a global pandemic but a cancer diagnosis as well, it is still possible to experience moments of joy," Chisholm says.
1. Recognize Ambiguous Loss and Embrace Your Plan B
Ambiguous loss is defined as a loss without certainty, clarity, or closure. And because this type of loss is often not validated or recognized as a loss, it can lead to grieving in isolation and something called "grief limbo." The pandemic has brought a slew of loss with it — loss of social interaction, loss of what the holidays traditionally might have looked like, and more. Add into that our tendency to compare our situations to others on social media, expectations we may have of ourselves, and the energy we're likely expending trying to ignore or avoid difficult thoughts and emotions and it's easy to understand why it's such an intense time for many people right now.
"We're so quick to fight all of the difficult emotions and there is a fatigue with it," says Ami Gorsky, LCSW at the RMCC in Pueblo. "But we're human. How do we give ourselves permission to recognize these are human emotions and we are going to experience them?"
It's important to note that we can experience difficult emotions and still have balance in our lives.
2. Seek Out Support
Oftentimes people are quick to offer grace to other people but not to themselves.
"We tell other people it's OK to ask for help and we offer that so freely from a very authentic place but we're much harder on ourselves," Chisholm says.
Visiting a counselor or therapist can be very helpful. And all RMCC patients are encouraged to utilize social workers like Chisholm and Gorsky who are on staff and trained to help.
"All of our RMCC locations offer virtual support classes right now; some have a more education jive to them while others are just purely about support. It's important to reach out and connect with others who are going through similar things. It helps you to feel supported to know you're not alone," Gorsky says.
Another piece of advice is to skip going to social media for validation.
"So many times we do that but then we start comparing our story to the best part of other people's stories and coming up with unrealistic expectations of how we should feel. It can lead to a spiral of shame and feeling inadequate," Gorsky says.
3. Find Time To Pause
Taking the time to acknowledge difficult thoughts and emotions is key. It's important to remember that emotions are temporary. We can observe them and allow them in order to keep moving forward. Ask yourself, what do I give myself permission to do, think, feel, or say today? How do I welcome curiosity rather than judgment?
"Even though things are so different and there are so many 'hards' right now, we can't get lost in the 'hards.' We have to work now more than ever on our mindfulness and finding time to pause," Gorsky says.
Using an app like Headspace or another similar meditation tool can allow you to take a step away from your anxiety and stress. By naming and recognizing the emotion, it becomes less suffocating, Chisholm says.
"It then opens you up to be able to have moments of joy which you might not have noticed otherwise when you were so intertwined with your grief and anxiety," she says.
4. Support Someone Else Who is Struggling
Reaching out and helping someone else who is struggling is a great way to take the focus off of our own struggle, Gorsky says.
"I'm amazed by what people are doing this year," Chisholm says, noting a cancer patient undergoing treatment at the Pueblo RMCC location who has been using his downtime to fix up bikes for children.
"It gives me hope," Gorsky says. "Since he's been sick, he's given bikes to 40 children who didn't have one. There are those stories all over the place if we'll just slow down and listen."
Some people are writing letters to elderly folks who are shut-in and struggling. A group of women recently dropped off little blessing bags filled with Kleenex, Hershey Kisses, and mini hand sanitizers for cancer patients undergoing chemotherapy.
"Taking the focus off of you and re-centering it on the good is a very tangible, doable step," Gorsky says. "Sometimes we feel helpless but it's empowering to remember you still have the power to do things for others, too."