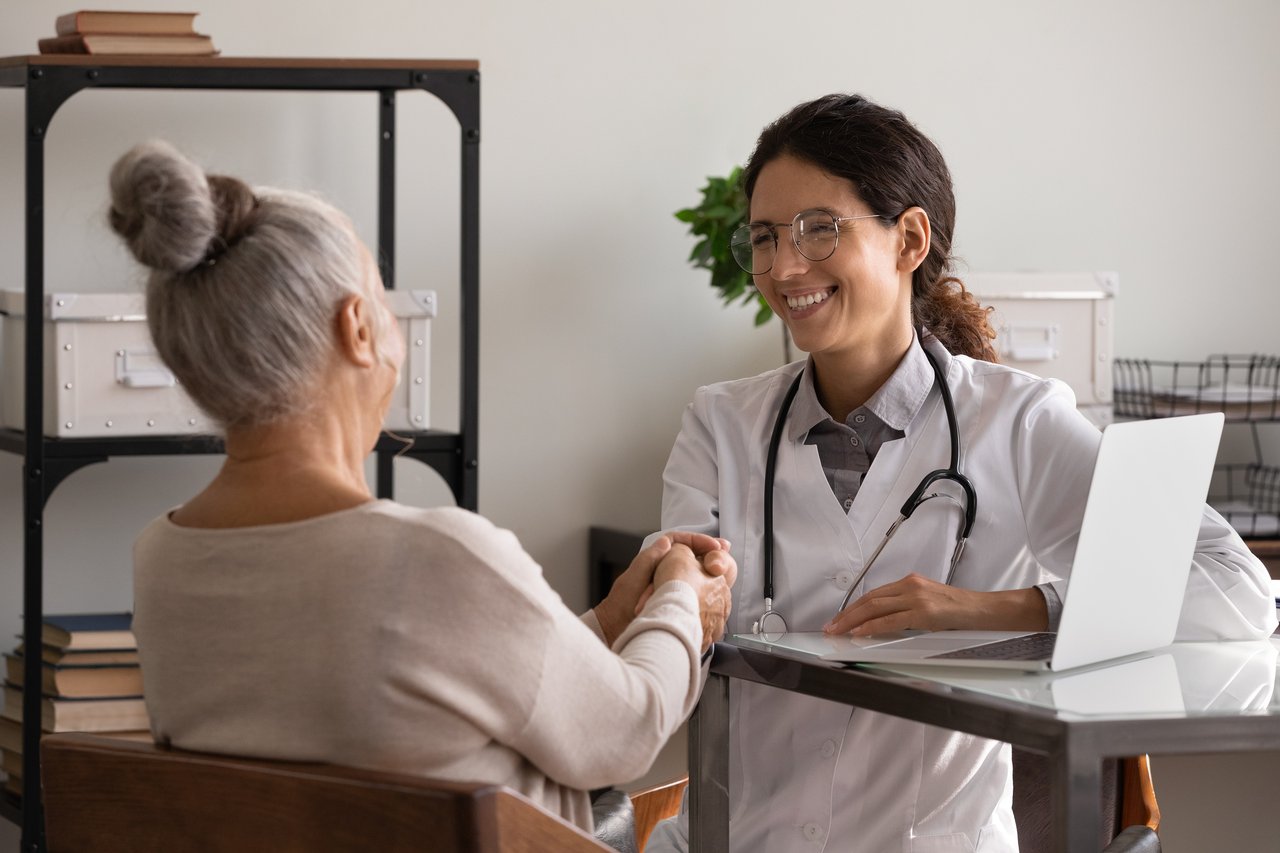 One of the most important parts of your cancer journey is finding the right oncologist to meet your treatment needs. News of a cancer diagnosis can be overwhelming, and you will need guidance to help you make decisions about the best course of action.
"It's so hard in those first moments after you learn you have cancer," said Rebekah Layton, breast cancer patient from Highlands Ranch, Colorado, treated at Rocky Mountain Cancer Centers (RMCC). "You feel an urgency to pick the first oncologist you see and start treatment, but I recommend people take the time to find the right doctor and right care for them. Take a week, take two weeks, to see multiple doctors. You're going to feel like it's a whirlwind, and it's going to feel like a full-time job, but you will be so glad that you met multiple doctors and heard about different treatment regimens to treat your cancer."
The Types of Oncologists
Oncologists are physicians who treat and provide medical care for people who have cancer. There are four main types of oncologists:
Medical oncologists. These physicians treat solid tumor cancers such as breast, colon, and lung using medications, including chemotherapy, immunotherapy, and targeted therapy.
Hematologic oncologists. These physicians treat leukemia, lymphoma, and other cancers of the blood.
Radiation oncologists. These providers are trained to treat cancer with radiation therapy, which uses high-energy X-rays to damage cancer cells.
Surgical oncologists.

These physicians perform surgery to treat cancer, including the removal of tumors or affected tissues. These surgeons may also conduct biopsies to help in the diagnosis of cancer.
Choosing an Oncologist
Your search for a cancer specialist will usually begin with a primary care provider who refers you to a medical or hematologic oncologist. This oncologist will then direct your care and connect you with a multidisciplinary team who will collaborate to provide you with comprehensive care.
"Not all centers are going to have the same regimens and not all oncologists are going to have the same approach," Rebekah said. "So I looked at four centers and five oncologists in the area who had great ratings and were reputable and had good reviews."
When you're choosing an oncology provider, it's helpful to consider a few key points.
Ask about approach. No two oncologists are alike. Be sure to ask how your physician would approach your specific cancer diagnosis. Find out how they would approach treating your cancer.
Certification matters. Board-certified experts have additional training in their area of expertise. The American Society of Clinical Oncology (ASCO) offers a free, worldwide database of member oncology practices. At Rocky Mountain Cancer Centers (RMCC), all our providers are board-certified in their field.
Check communication style. Each physician has a different way of delivering information. In initial meetings with an oncologist, pay attention to how they communicate with you. Does it make you uncomfortable or put you at ease? Be as open and honest as you can about any thoughts and feelings you're having. This is important to ensure you receive the most individualized care possible.
Explore clinical trials. Ask your doctor if you would qualify for a clinical trial – a research study to test new, advanced cancer treatments. Your doctor will let you know how a clinical trial would benefit you, especially if you have been diagnosed with a rare or advanced form of cancer.
Find the right specialty. While all oncologists are trained to treat and diagnose cancer, not all will have experience with your particular type of cancer. Before your first appointment with an oncologist, ask about the physician's experience in treating your type of cancer. During your initial consultation, ask how they would approach treatment.
Search for services. An oncology clinic will ideally connect you with patient programs and support groups that can guide you during and after your treatment.
Understand the financials.

If you find an oncologist who works closely with

financial counseling services

and insurance providers, you can get answers about how to cover treatment costs.
What Does an Oncologist Do?
An oncologist has several roles, but their primary job is to manage the course of your care throughout diagnosis and treatment. They will also:
Explain a cancer diagnosis, including the stage and type.
Discuss all treatment options in detail to ensure you understand the treatment you've chosen.
Manage symptoms and side effects before, during, and after treatment.
Choose a Team that Works as a Multidisciplinary Care Team
Once you have chosen an oncologist, you'll ideally work with a multidisciplinary cancer care team with physicians from many disciplines collaborating at the same time. Without a multidisciplinary team, you would have to wait weeks for appointments and decisions from specialists at several different locations.
With multidisciplinary care at RMCC, for example, your medical oncologist, radiation oncologist, and surgeon discuss your care together before, during, and after your visit. This keeps the team on the same page, saving time and moving your treatment along more quickly.
Look for Support
Cancer care goes beyond the treatment itself. It will have lasting effects on both you and your family. It's best when an oncology clinic can provide a wide range of support services that help you learn about life during and after cancer and connect you with other survivors.
At RMCC, we provide the following support options:
Cancer education. These programs offer information and support groups for a variety of cancer-related topics, including survivorship. They can also provide wellness programs, such as exercise and meditation.
Caregiver resources. Caregivers play a vital role in the lives of cancer survivors. RMCC offers support groups and resources for caregivers.
Nutritional support. Proper nutrition before, during, and after a cancer diagnosis helps your body heal more effectively. RMCC offers several nutritional classes and support groups to help design a healthy diet specific to your needs.
Social workers.

Our licensed

oncology-trained social workers

provide support resources for cancer patients and their families. Social workers help manage barriers to care, connect patients with resources and medical treatment, and offer mental health and support services.
Clinical Trials at RMCC
Clinical trials are research studies that connect patients with new therapies as they're being tested. If you are accepted into a clinical trial, you will have access to the newest, most advanced cancer treatments available, often at a cost comparable to mainstream treatments. Clinical trials are developed by physicians and researchers with extensive experience treating cancer.
RMCC participates in national research initiatives to give patients access to emerging treatments. Our extensive network of oncologists has experience treating a wide range of cancer types with specialty training in Phases I-IV of oncology clinical trials.
"Ask the oncologist which regimen they would recommend and what their recommendation is based upon," Rebekah said. "Be very specific. I had assumed that an academic center would be the most cutting edge, using the most up-to-date technologies, but that wasn't actually the case. At RMCC, I had the opportunity to receive a therapy that was not offered by other providers, and that drug is now the FDA-approved gold standard to treat the type of cancer that I had."
The benefits of participating in a clinical trial include:
Becoming an active part of your treatment by expanding your treatment options
Giving back to the greater patient population by contributing to treatment research
Receiving quality medical care throughout the duration of the trial
Using effective treatment options that can be less harmful to your body than traditional methods
Speak with your oncologist for more information about clinical trial options and which ones you may qualify for.
Questions to Ask an Oncologist
When you first meet an oncologist, it's helpful to have a list of questions prepared so you can be sure to get the information you need.
Communication barriers and emotional stress can interfere with an open dialogue about your treatment. This makes it especially important for you to prepare for your conversation by writing down questions in advance. If you are not a native English speaker, check your physician's bio page on the cancer clinic's website to see if your appointments can be conducted in your primary language.
Don't be intimidated when you encounter medical terminology. If you don't understand something, ask your oncologist to rephrase it in more familiar terms.
"Ask the oncologist, 'Can you walk me through this journey?'" Rebekah said. "Obviously, no person can do this perfectly. In every situation, there will be things that happen that weren't foreseen but take time to ask if they can help you understand the big picture of treatment. Ask for some of the key decisions you'll face and what the oncologist or other patients have found helpful in navigating those decisions."
Here's a list of questions to ask your oncologist:
What stage of cancer do I have? Can you explain what this stage means to me?
How experienced are you in treating this type and stage of cancer?
Are you a board-certified provider?
Should I get a second opinion? How do I go about that?
What are my treatment options? How soon do I need to begin treatments?
What clinical trial options do I qualify for? Who can help me learn more about those options?
What is the goal of these treatments? Will they cure my cancer?
What other providers will I need to work with?
How long will my treatment last? Where will I go for treatment? Who will administer treatment to me?
How will treatment affect my job, family, and daily life?
What can I do to manage symptoms and side effects during treatment?
What financial support services are available to help me pay for treatment and understand insurance costs?
The American Cancer Society has a more detailed downloadable checklist of questions organized into stages of treatment.
Find out why so many patients have made Rocky Mountain Cancer Centers their first choice for cancer treatment.