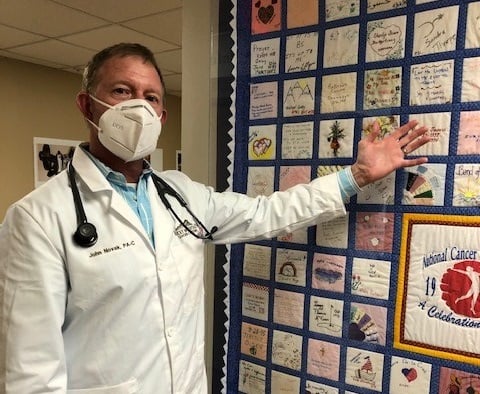 Rocky Mountain Cancer Centers' John Novak Explains How Advanced Practice Providers 'Optimize the Patient Experience'
John Novak is not a physician. He's not a medical doctor (MD) or a cancer doctor. He's a Physician Assistant (PA) at Rocky Mountain Cancer Centers and, contrary to popular belief, he's not an "assistant to the physician." A PA or P.A.-C is a nationally-certified, state-licensed medical professional with many of the same capabilities as an MD. Meanwhile, John plays a valuable and rewarding role in treating cancer patients – both for successful cancer treatment and in optimizing quality of life during treatment.
John is an Advanced Practice Provider (APP). Working with Dr. Sujatha Nallapareddy, the majority of John's patients have ovarian cancer, breast cancer, or gastrointestinal cancers. "APPs play such a big role in providing much of the hands-on, direct patient care," he explains. "For the most part, patients are very pleased with the care they get from their PA."
His view is confirmed by speaking with his patients. Colorado breast cancer survivor, Carla Clark says: "I feel like I'm in great hands with John Novak. He is always so patient and always gives me a hug afterwards. He always shows up and never ever drops a ball - and I have a long list!"
So, what makes the efforts of John – and other Advanced Practice Providers – different from what Colorado cancer doctors provide?
APPs Have More Time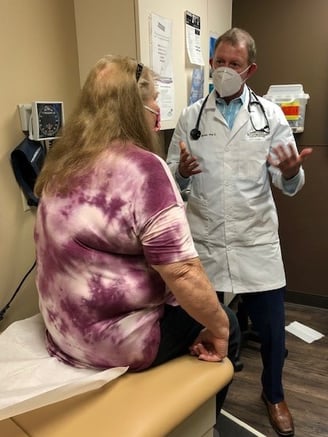 While a physician might have 30 patients on their schedule in a workday, a PA like John only has 12. "The nice thing about being an APP is I have more time for each patient," John says. "I can spend 45 minutes with each patient, if needed."
John uses the extra time with his patients to educate them about sometimes complex or emotionally overwhelming concepts.
"What I love as an APP is educating patients," he says. "I love explaining things to them so they understand exactly what we're doing and why. Also, if I'm passionate about what I'm recommending, they have a tendency to do better."
He also has the time to build trust with his patients.
"It's so overwhelming (for the patient)," he describes. "Someone gets diagnosed with cancer, that's all they can think about. They've heard these horror stories - not just about cancer but about treatment… You try to slow things down for them, get them more comfortable, establish trust. You build trust with open communication and transparency. I always ask 'are you comfortable with this?'"
What's the Different Between a Physician Assistant and an MD?
Startlingly, a physician assistant is not an assistant. It's actually part of a job categorization that covers non-physician, direct care providers called "Advanced Practice Providers" (APP). So, the term "Advanced Practice Provider" can refer to a number of different high-level medical providers including not just Physician Assistants like John, but nurse practitioners, nurse anesthetists, and midwives.
Though the path to become a PA is challenging and includes many years of post-secondary training, it's less time-consuming than for an MD (roughly three months less academic instruction) and does not require a residency. After receiving a Bachelor of Science degree in Biology, John completed a three year post-graduate program at the University of Colorado. Once he passed the state board exam, he became a medical provider licensed to practice medicine and do all the same things physicians do under direct or indirect supervision of a physician.
In providing cancer treatment at RMCC, John says he has a "collaborative relationship with the physicians. I have more autonomy and practice more independently. I do the vast majority of problem-solving and decision making for patients."
To demonstrate how PAs and MDs collaborate to provide excellent cancer care at Rocky Mountain Cancer Centers, John explains that new patients will always see the oncologist first and have a plan established. "The APP plays a very important role managing patients after their first visit," John says. Once patients are in the active treatment phase, the majority of their direct care will come from their PA.
APP Expertise: 'Tumor Biology Drives Cancer Prognosis and Treatment'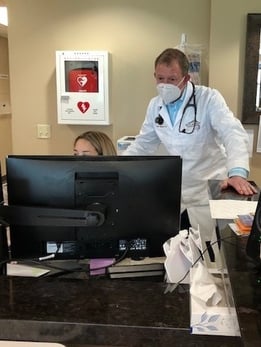 While many functions performed by Physician Assistants seem standard – taking medical histories, conducting physical exams, and ordering lab tests and x-rays – others require advanced expertise and creative problem solving. For an Advanced Practice Provider with a longtime passion for molecular testing, John focuses on tumor biology to provide targeted treatments for his patients.
"In this day and age, tumor biology drives prognosis and treatment not only in metastatic disease but in early-stage disease as well," John says.
"Twenty years ago, when someone was diagnosed with cancer, the only way we treated them was chemo," John recounts. The exception, he says, was breast cancer that was driven by estrogen and could benefit from targeted therapy. But now, the practice of using specific tumor biology to determine targeted cancer treatment is proving effective at fighting other types of cancer, as well.
Between earning his bachelor's degree and enrolling in the University of Colorado physician assistant program, John worked for four years as an Oncology Research Associate. Many of the subjects he researched years ago are now being put to practical use with new FDA-approved cancer treatments or clinical drug trials. "I did a lot of research on some of these molecular markers that we're now targeting," he says.
When treating patients with metastatic cancer at RMCC, John begins with testing and analyzing their tumor biopsies. Extensive molecular analysis can identify mutations in the tumor's genes, many of which can be exploited to halt or slow cancer growth. "We're figuring out where the mutation is within the cancer cell. Then, we can target that mutation and shut it down. It's all driven by tumor biology," John says.
Some cancers respond better to targeted treatment than to more traditional chemotherapy. Plus, many targeted therapies can be administered in oral medications taken at home instead of time-consuming infusions in a clinical setting. An additional benefit of targeted treatment is reduced side effects. "Sometimes you don't lose your hair," John elaborates. "Sometimes you don't even feel like you have cancer."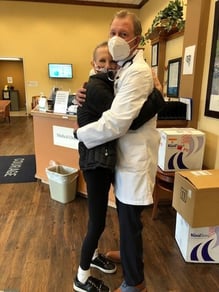 The specialized expertise of an Advanced Practice Provider, the extra time PA's have to spend with cancer patients, and the effort John puts into building trust and educating patients are all things patients appreciate and help them achieve cancer remission. Still, John says he has one priority: "My number one goal is optimizing the patient experience."