Making a Difference to Another Cancer Patient
---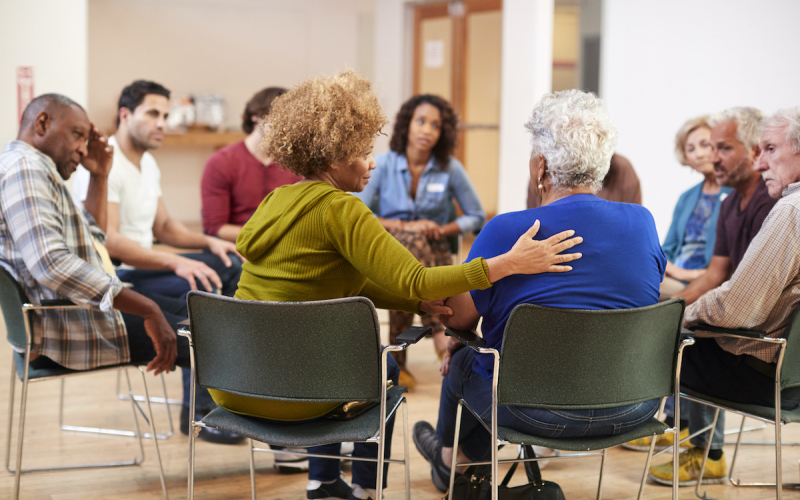 As a cancer survivor, you can help cancer patients immensely. After all, you have literally "walked a mile in their shoes." You've reached the end of a difficult journey that others are just starting, you've experienced ups and downs, and it's likely that you've gleaned some wisdom along the way. At Rocky Mountain Cancer Centers, we believe you are living proof that an active life can exist after cancer.
You might be wondering what you can do now that cancer treatment has ended. During your cancer treatment, it's possible that you experienced help from a cancer survivor— help that you would like to pay forward to someone else. This is the perfect time to make that happen! By investing a little bit of time volunteering, you can make a difference in the lives of patients undergoing cancer treatment.
How Cancer Survivors Can Help Patients
The good news is that there are a number of ways you can brighten the lives of people being treated for cancer. Whether you are an introvert or an extrovert, there are many volunteer opportunities that will suit your personality. If you'd like to work directly with cancer patients, consider volunteering for one of the many programs or support groups that allow you to do so. Or, if you prefer a more indirect position, those opportunities are available, too. Whichever method of volunteering makes you the most comfortable, the first step is to decide how much time you're able to devote and then start looking for a volunteer position to fill.
If working one-on-one with cancer patients suits you best, depending on where you live, you may find programs that give you the opportunity to:
Drive patients to and from their doctor appointments.
Help cancer patients at home by doing their grocery shopping, getting them meals, or taking care of their pets.
Brighten a patient's day by visiting them at the hospital while they're recuperating from surgery.
Lead, co-lead, or be an active participant in a cancer support group.
Go with a patient to their doctor appointments and take notes for them.
Share your cancer experience with patients being treated for the cancer you experienced. Every patient's experience is different, but hearing about your personal treatment journey will provide valuable insight in regards to what they can expect. We love for RMCC patients to share their story with us; you can email us at patientengagement@usoncology.com.
Volunteer your expertise to benefit cancer patients. Are you a cosmetologist? Masseuse? Home improvement contractor? Financial planner? Certain skills you have could help patients feel better physically or address things they aren't able to due to cancer.
If you prefer to have a more behind-the-scenes role, consider:
Teaming up with a local organization (or starting your own group) to create and distribute care packages to patients undergoing cancer treatment.
Volunteering at a cancer-information hotline.
Volunteering to help with administrative tasks at a local cancer charity.
Donating money to a cancer charity or launching your own fundraising drive.
Finding an Opportunity to Volunteer
There are several ways to get started if you are interested in helping cancer patients. One way is to reach out and offer assistance to anyone you know who is being treated for cancer. Sometimes, people can be reluctant to accept help even when they desperately want to. Because of this, it's important to be specific and proactive. Instead of saying, "Please call me if I can help in any way!" say, "If it's OK with you, I will stop by around noon on Wednesday to pick up your shopping list (or walk your dog, mow your lawn, etc.).
If you'd like to be matched with a patient in need of support, the following programs can help you:
Keep in mind that volunteering doesn't just benefit the patient, it can benefit you as well. Not only does the time you invest help ease cancer patients' physical and emotional burdens, but it will also probably lift your spirits to know you've had a positive impact on someone during a difficult time in their life. Remember, you're a survivor — and your success story makes you incredibly qualified to help cancer patients during their time of need.