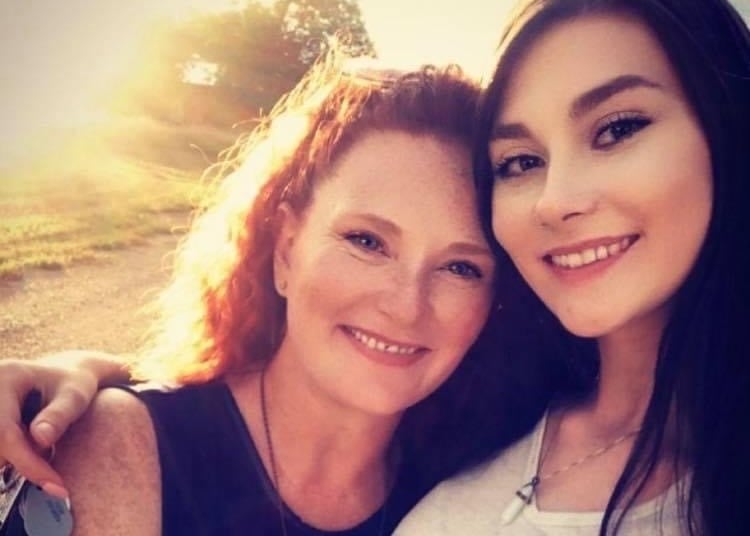 Stephanie Dennis, 44, has been grateful for her job at Rocky Mountain Cancers (RMCC), her employer for nearly a decade now, but never more so than this past year.
At Thanksgiving 2019, Stephanie's mom, Diana Davies, was coughing. She went to urgent care a few times where doctors prescribed her antibiotics and sent her home. But the medications didn't help and the cough persisted. Just two months later, she went to the hospital because her oxygen dipped down to 76.
Receiving a Stage 4 Cancer Diagnosis
"They did a CAT scan of her chest and saw the top part of her abdomen had omental caking, which is a sign of metastatic ovarian cancer," Stephanie said.
Soon after, her mom's official diagnoses came back: stage 4 ovarian cancer and stage 4 breast cancer.
"She had two primary cancers — both metastasized (spread to different parts of the body)," Stephanie said. She was just 62 years old. "We didn't have any family history of hereditary cancers in our family."
Family Receives Cancer Genetic Testing and Counseling
Diana's genetic testing came back BRCA2 positive, a mutation on one of the breast cancer genes that raises a carrier's risk of developing breast cancer by 45 to 70 percent and ovarian cancer by 15 to 20 percent, according to The US Oncology Network, of which RMCC is a member.
After her mother was diagnosed, Stephanie underwent genetic testing with the counselors at RMCC to see if she carried the same mutation.
Read More About Genetic Testing and Counseling
Davies chose to see providers close to where she lived not in the RMCC network. Stephanie helped her mom navigate the doctor's appointments and her cancer treatment plan, which didn't get very far.
"I pulled up to the hospital on a Friday morning thinking I could hang out with my mom for that day and instead, I took her off life support," Stephanie said. "Day one of chemotherapy and her body just couldn't handle it."
Receiving a BRCA2 Positive Result
The following Monday, Stephanie returned to the Boulder RMCC where she works as the office manager and received her genetic counseling results: BRCA2 positive.
It was devastating.
"It's a choice if you want to do preventative screenings every six months or if you have preventative surgeries," Stephanie said.
Her mother had had her annual exam and mammogram — both clear — just eight months before she was diagnosed. For Stephanie, the choice was clear.
"With screenings every six months you're hoping to catch it early and I didn't want to catch it at all," Stephanie said. "I just wanted to do everything in my power to not have my daughter go through what I went through with my mom."
Decision to Have Preventative Surgeries to Reduce Cancer Risk
In early June, once the COVID-19 restrictions on preventative surgeries eased, Stephanie underwent a complete hysterectomy with RMCC surgeon Dr. Daniel Donato at Rose Medical Center. In August, Dr. Gerlinde Tynan performed a full mastectomy with reconstruction on Stephanie at RMCC at Longmont United Hospital. Come December, she'll have her final surgery to finish her breast reconstruction.
"RMCC has been a huge blessing through all of this; being able to talk to my doctors when my mom got sick and to have advice from someone I trust. Then having genetic counseling on-site, and then for my surgeries, I could go to people I knew, people I was confident in. It was wonderful."
Most of Stephanie's family has undergone genetic counseling. One of her three aunts is also BRCA2 positive, as is her brother, two of her cousins, and her 22-year-old daughter, Kalli Kerns. Stephanie's sister will undergo testing in late September.
"I feel like I was led to work at RMCC to help my family through what we're going through," Stephanie said. "It's such a blessing. When you get diagnosed with cancer or you have a genetic disorder, people start talking to you like you know what it is, and if you don't have someone there to help you navigate, it can be hard. My mom told me 'You just come in and take over and you know what they're talking about.'"
Like Stephanie, her family has largely chosen the preventative surgical route. Her aunt had her uterus removed and is having a complete mastectomy. Her cousin is having surgery in December. Stephanie's daughter, who also works for RMCC as a COVID screener, will start having mammograms every 6 months starting at age 25 and is leaning toward surgery when she's older.
"My mom really will save so many lives," Stephanie said.
Through it all, she retains a spirit of thankfulness.
"I just couldn't be more grateful to RMCC — they really lifted me up as a family and helped me get through this, with work and then both personally and mentally," Stephanie said. "I found all of these hidden blessings."