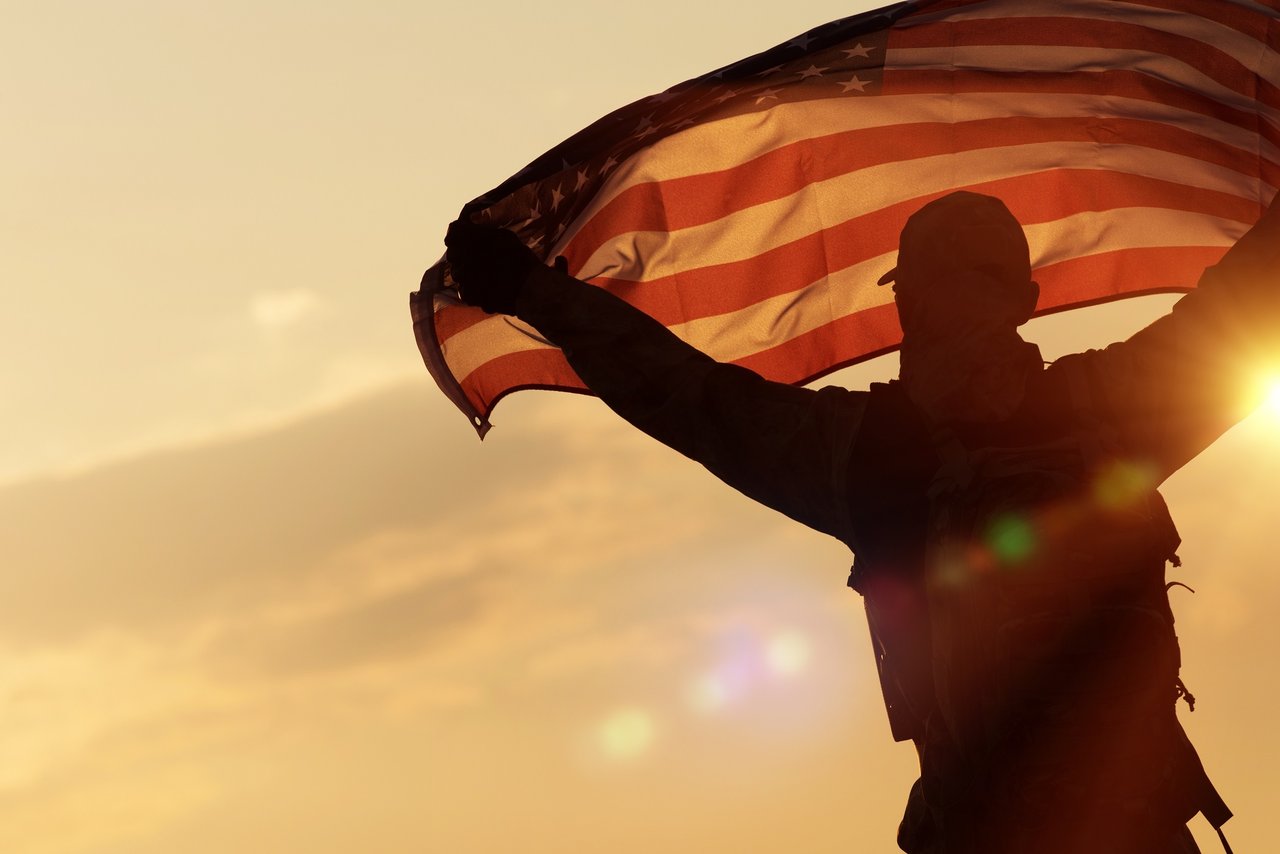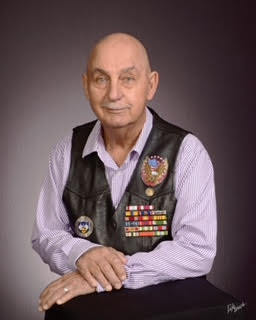 Cancer teaches many lessons. Larry Daub, an 81-year-old Centennial, Colorado, retiree and Air Force veteran, learned that joy didn't have to disappear after his multiple myeloma diagnosis.
"Good days can happen with cancer, with the help of family, friends, and the right doctor and support staff," Larry said. "You have to be positive and have the right attitude."
Larry's faith, a robust support system, a skilled and caring team at Rocky Mountain Cancer Centers (RMCC), and a healthy dose of gratitude – these are what Larry leans on. He returns his gratitude with regular deliveries of sweet and savory treats to the medical providers he considers to be like family.
Stunning News
To say that cancer took Larry by surprise would be an understatement. In 2015, lab results from a physical exam showed abnormal creatinine levels. This byproduct of muscle function normally passes out of the body in urine. Too much creatinine in the blood can indicate a problem.
"My primary care provider said, 'This is serious,'" Larry said. "She said we needed to find out what was going on."
Months passed as Larry searched for a cancer specialist, acting on his provider's advice. When Larry finally saw a specialist, he received an unexpected diagnosis: multiple myeloma. He believes the disease is linked to his exposure to the chemical Agent Orange during the Vietnam War.
"I was devastated, scared, and unsure of the future," he said. "I struggled with how to share this news with my family, especially my three sons and my grandchildren."
The cancer specialist who made the diagnosis wasn't a good fit for Larry. Family friends suggested that Larry see Dr. Robert Rifkin, medical oncologist and hematologist at RMCC. That advice changed the course of his cancer journey.
From Smoldering to Flaming
Multiple myeloma affects plasma cells, which are the white blood cells that help power your immune system. Relatively rare, multiple myeloma tends to develop in people older than 65, with men having a slightly higher risk than women. Other risk factors include obesity, a family history of multiple myeloma, and being African American.
Multiple myeloma can cause bone pain, fatigue, and other symptoms. Before his diagnosis, however, Larry had no clue anything was wrong. When he first saw Dr. Rifkin, the primary goal was to determine the stage of the disease.
After performing blood and imaging tests, and a bone biopsy of Larry's hip, Dr. Rifkin determined Larry had smoldering multiple myeloma. This is an early stage of the disease in which no symptoms occur. It's common for people with the smoldering form of the disease to develop active multiple myeloma. That's precisely what happened to Larry.
"Dr. Rifkin said, 'I want you to come back in three months,'" Larry said. "In three months, the disease spiked."
When he returned to see Dr. Rifkin, Larry had full-blown multiple myeloma. He needed treatment.
Steadfast Support
Dr. Rifkin recommended treating Larry with chemotherapy. Larry received weekly injections at RMCC's Denver – Midtown location for months. He also took oral chemotherapy medications and steroids. Like many patients, he experienced side effects from treatment. His wife of 32 years, Vicky, was essential in helping him cope with every challenge.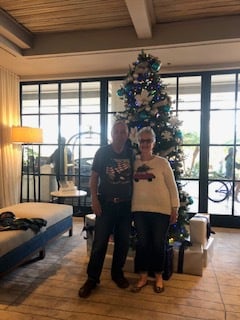 "Vicky has always been by my side," Larry said. "She's my savior. She's helped me through this whole transition and been to almost every doctor's appointment with me."
The steroid treatment, in particular, was difficult for Larry.
"I experienced weight gain, nervousness, sleeplessness, and depression," he said. "I managed these side effects with support from Vicky and Dr. Rifkin and his staff."
Larry developed a deep appreciation for caregivers after seeing Vicky's dedication to managing his diet and being there for him through ups and downs.
"Vicky has been so strong through this," he said. "The caregivers who deal with people like me, they're the ones who have to be tough. I give a lot of credit to Vicky. I can understand why some people might give up if they don't have a caregiver or someone trying to help them day in and day out."
Tasty Thanks
Larry is quick to credit Dr. Rifkin and his team for their role in his treatment and survivorship.
"I'm blessed beyond my wildest dreams to have Dr. Rifkin caring for me," Larry said. "He's kept me alive."
A person who values honesty and transparency in his interactions with others, Larry appreciates how Dr. Rifkin's staff always tells it like it is.
"The people who work with Dr. Rifkin, the physician associates and others, they're phenomenal," Larry said. "They give me a lot of encouragement. I'm a no-BS guy. I don't want to play word games. The staff at RMCC have always been truthful with me."
Years ago, when Larry began treatment, he and Vicky started a tradition special to them and the medical providers who mean so much to them. Every visit to RMCC, they bring baked goods made by Vicky or pizza from Big Bill's New York Pizza a few times each year.
"It makes no difference what we bring – everyone is very happy," Larry said. "The biggest hit is the pizza."
Bringing goodies is Vicky and Larry's way of, hopefully, making the RMCC staff feel as special as Larry feels during every visit.
"When we walk in, I feel like I'm the most important person there," he said. "I feel like that's how they treat everyone."
There's no one else Larry would rather trust with his care.
"I know I'm in the best hands I could be with Dr. Rifkin and his staff," Larry said. "Honestly, some of these folks feel like part of our family, we've been seeing them for so long. They're outstanding."
Making the Most of Every Moment
Larry sees Dr. Rifkin for monthly assessments and describes the status of the multiple myeloma as stable. He devotes himself to his passions, including helping Vicky, a minister, with her nonprofit, which aids military veterans. Larry also loves spending time in his yard. A Master Gardener, he works mainly with perennials, including roses and ornamental grasses.
"I feel probably as good in life as I could be because I know where I've been, and not just with cancer," Larry said. "I feel that, if you're a believer in God, cancer makes you a stronger believer. Vicky and I are living day to day, week to week, and month to month. We're in the moment, and we're not looking outside of it."
Dr. Rifkin advised Larry against traveling during the height of the COVID-19 pandemic. However, with the pandemic more manageable, Larry and Vicky are looking forward to visiting one of their favorite places: Coronado Island near San Diego. Larry tries to follow some advice that one of his former RMCC nurses gave him when he doubted his ability to continue with treatment.
"She said, 'We have patients come in who may have six months to live. They take a turn for the worse, and then they ask us if we can help them have another month, another week,'" Larry said. "'So don't sit there and give up, don't sit down until the time comes. You don't know what's going to happen.' I thought that was incredible advice."
At RMCC, we know outstanding cancer care requires leading-edge treatments and a compassionate team of providers – and we offer both. Find a cancer specialist to guide your care.