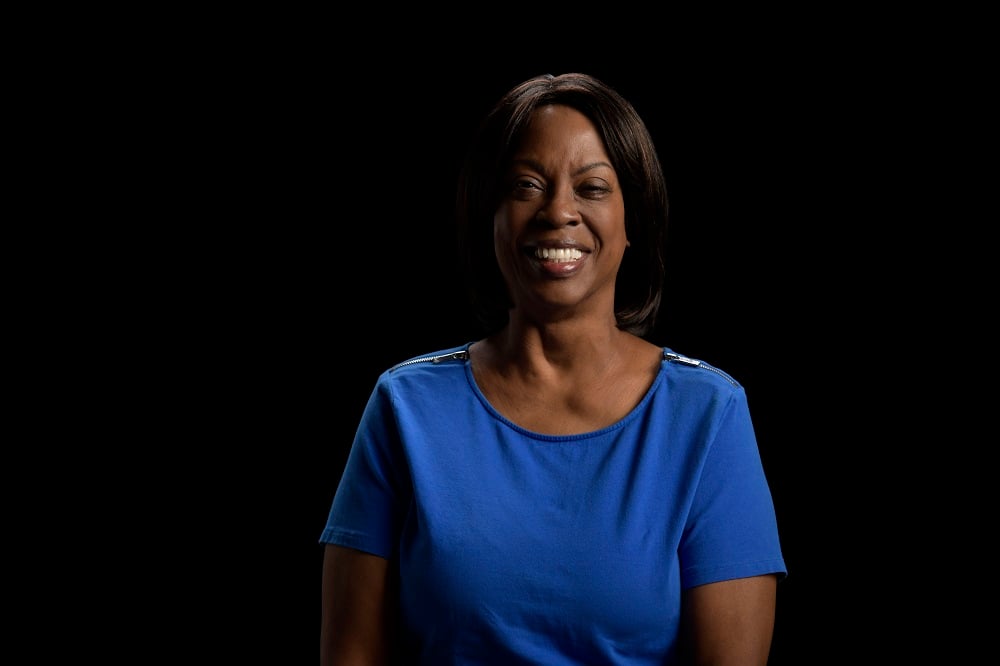 When Dominique Journet was told she had a tumor after a colonoscopy, she was convinced it couldn't be cancer. She was otherwise healthy with no known risk factors. However, after a biopsy, she was diagnosed with stage 3 colon cancer.
"When I was diagnosed," said Dominique, "my first thoughts were: Not me. I don't smoke. I don't drink. No one in my family has ever had cancer. I can't possibly have cancer."
Noticing the Early Symptoms of Colon Cancer
Four months prior to her diagnosis, Dominique had seen a doctor for gastrointestinal symptoms, but she felt unheard. After running a few tests, she was told she had an intestinal infection, but Dominique was convinced there was more going on, and sought out a second opinion.
"I searched for a five-star doctor for my new PCP," said Dominique. "And that was just the blessing of God. He immediately ordered a colonoscopy, and that's when they found the tumor."
Beginning Surgery and Chemotherapy Treatment For Colon Cancer
Dominique was referred to RMCC where she began treatment. Supported by her specialist Dr. Cohn and the experienced nursing team, Dominique immediately underwent surgery. Although surgery went well, waiting to go home and back to her life was a difficult experience.
"I was in the hospital for five days, which was a bummer," reflected Dominique. "I kept wanting to go home, but my specialist had to make certain there was no infection."
Struggling with Side Effects of Chemotherapy
After leaving the hospital, Dominique recovered at home for six weeks before starting chemotherapy. Dominique admits to having a rough time with her chemo treatments. She would undergo treatment every other Wednesday for around four hours and was given a pump for at home.
"I had three different types of medicine," said Dominique. "But before that, they had to put in a port to accept that type of chemical. My nurse told me the medicine was going to kill any cancer cells that were microscopic and may still be lingering inside or outside my colon. The funny thing is that the chemical that targeted the colon cancer had a really long name, but the short term for it was FU. FU-5. Once I heard that, I knew I could do this."
Dominique followed a routine where she would go in on Wednesday, take out the pump on Friday, and then feel exhausted for about five to six days. She also had trouble eating and dropped 18 pounds, and her throat was sore from some of the chemo treatment chemicals. Eventually, her care team started her on IV fluids.
Finding a Supportive Colon Cancer Care Team
For six and a half months, Dominique continued her difficult journey through chemotherapy. However, she was grateful for the support of the care team helping her along the way.
"I was blessed to get oncologist Dr. Cohn, the best of the best," said Dominique. "He's very serious, but I enjoyed when his sense of humor would pop through. And I couldn't have asked for a more caring and personable nurse than Zozo. She would hug me and help manage my pain, but she was also tough when she needed to be. She was almost like a sister to me, each of us arguing back and forth but then ending the day with kisses on the cheek."
A Community Within Rocky Mountain Cancer Centers
Dominique was able to build a community within RMCC's Denver-Midtown facility. She developed more than a great relationship with her care team and reception staff—she was able to connect with other patients undergoing similar treatment. She never felt like a number.
"Everyone was super," said Dominique. "There was food, drinks, TV—everything to make you feel good. They even brought in a dog and that lifted everyone up. One time I played cards with a young patient for 20 minutes, and after he went back, his mother hugged me. She said it was the calmest she'd ever seen him going in to chemo."
After months of chemotherapy, Dominique had completed her treatments. When she did, she was able to strike the gong, signaling the end of this part of the journey.
"When I hit the gong," Dominique said, "I hit it so hard that another nurse walked out to ask who finished treatment. I told her it was me. It was me."
"Honestly, I hated going through chemotherapy, but Rocky Mountain Cancer Centers has made the experience better. In fact, I had a friend also going through cancer treatment at another clinic, and when I told her stories about the support I'd gotten at my clinic from Dr. Cohn and the nurses, she decided she wanted to switch over to Rocky Mountain Cancer Centers too. And I told her, 'Yes. You need Dr. Cohn.'"
To schedule an appointment with one of our specialized oncologists, visit our website and find a location near you.