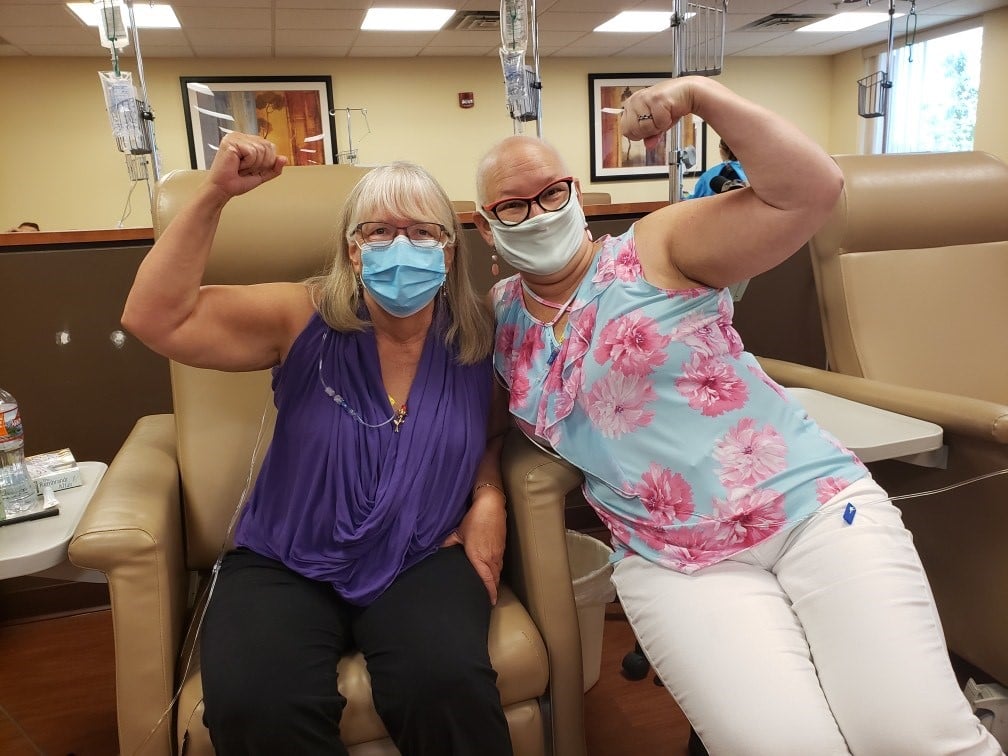 Two women who work in the same office building connect during cancer treatment at Rocky Mountain Cancer Centers
Two women who work at the same office building in Longmont, Colo. were diagnosed with different types of cancer the same month. They credit the support they've found in each other and the other patients at Rocky Mountain Cancer Centers (RMCC), as well as their friends and family, and the staff at RMCC in Longmont for helping them to maintain their upbeat and positive attitudes.
Following a mammogram in February 2020 that revealed a lump, Rebecca Pepin, 54, was diagnosed with triple-negative aggressive invasive ductal carcinoma (a type of breast cancer). She immediately called Rocky Mountain Cancer Centers and met with medical oncologist Sara Robinson, MD, and surgeon Gerlinde Tynan, MD, at the Longmont location to devise a treatment plan. Because it was the third lump found in Pepin's breasts, they suggested 16 rounds of chemotherapy followed by a bilateral mastectomy, which is scheduled for mid-August. After surgery, they will decide if Pepin needs radiation.
And so, instead of heading to Thailand in March with her family to spend time with elephants — "my dream," she says — Pepin began chemotherapy treatments in late February.
"Dr. Robinson explained to me how aggressive my tumor was, that regular breast tissue regenerates 5% at a time; the tumor was at a rate of 75%. It was much faster than time was allowing us."
Going through chemotherapy during the COVID-19 pandemic hasn't been without its challenges — aside from her first two treatments, Pepin wasn't allowed to have a support person at her chemotherapy appointments with her — but Pepin made the best of it.
"The doctors and staff [at Rocky Mountain Cancer Centers] are all superb," she said. "I feel very close to all of them. Going through this during COVID, I'm a touchy person, I'm usually able to hug people or get hugs, but you feel so taken of there you kind of feel virtual hugs. It's a comforting place to go because they get it. I don't want my husband to feel he needs to make it better. My friends are empathetic but they don't get it either. But I can go in there and even just in the waiting room, I can say, 'damn, I reached up to move my hair out of the way and I realized I don't have any.' Nobody needs to fix that statement; they're all just like 'yep, that's life today.' It's a very understanding crowd."
Sitting next to other patients hooked up to intravenous chemotherapy, Pepin would joke about doing IV aerobics, and check-in with people about how their week had gone. When a woman was shaking, Pepin requested warm blankets for her and when another gentleman didn't have a ride home, Pepin alerted the nurses who quickly set up transportation.
"I have a very strong maternal instinct," she said. "We all became each other's support."
Toward the end of Pepin's treatments, she began talking to another patient undergoing treatment, Linda Fitzsimmons.
Following an off-and-on cough that lasted a few months, Fitzsimmons, 67, asked her primary care doctor for a chest X-ray that revealed a suspicious spot on her lung. After two months of testing, Fitzsimmons was diagnosed with stage 2 lung adenocarcinoma — known as the non-smoker's lung cancer — in February 2020. Fitzsimmons underwent lung surgery in early March in which a surgeon removed the left lower lobe of her lung. In May, she started the first of four rounds of chemotherapy at Rocky Mountain Cancer Centers where she was treated by Mark Barnett, MD.
It was on her second lung cancer treatment that she put two and two together about a familiar face she'd seen during her previous treatment session.
"On the second visit, Rebecca was talking more and I looked over and I said 'I think I know you.' She said, 'My name is Rebecca.' And I said 'Rebecca from downstairs? I'm Linda from upstairs.'"
Fitzsimmons works for a CPA firm located in the same building where Pepin works as an attorney. Between the masks and Pepin's lack of hair, it had taken the women some time to recognize each other.
"It's so strange that we've worked in the same building and became friends over the years of seeing each other, coming and going from the parking lot, and then to find each other in the Cancer Center together," said Fitzsimmons who feels blessed to have such great support from family and friends through her cancer journey.
The two women would chat during their chemo sessions, with one of them getting the "wheelie chair" and coming closer to chat with each other and anyone else nearby.
"One gentleman with throat cancer was having a bad day," Pepin remembered. "He got on the wheelie chair and came over by us and was soon laughing with us. We all have different bad days — it's just important being there for each other."
Both women credit their positive outlook for helping them to get through the chemotherapy side effects they've encountered and the hard days they've both had during their respective cancer journeys.
"I have a very positive outlook — I always have — and Rebecca is very positive and uplifting as well," said Fitzsimmons who finished her final chemo treatment the same day as Pepin in mid-July. "The treatment we did in there was just fabulous. I can't speak highly enough of all the doctors and nurses who are so compassionate and caring and loving. It helps on this journey we're on, that we have each other, and the support of the people at Rocky Mountain Cancer Centers. It's a whole team effort."