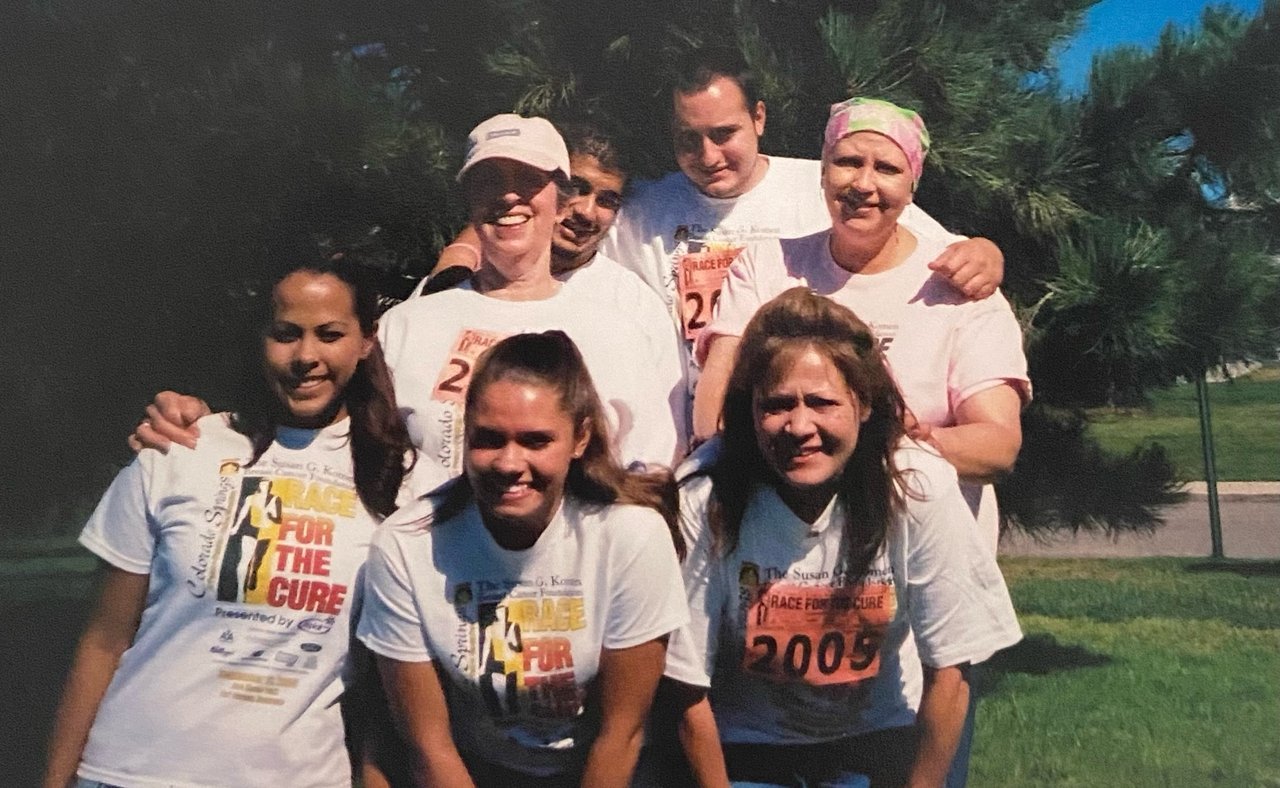 In April 2005, Colorado Springs resident Christy Sawina noticed a lump while performing a breast self-exam. Her last mammogram was years earlier, so she made an appointment immediately. The mammogram confirmed her suspicion: There was a large lump. She was referred for a diagnostic mammogram and needle biopsy. Three days later, Christy learned she had breast cancer. She was only 46 years old.
"I was young and in a transition period," Christy said. "My daughter was about to graduate from high school, and my son had just gotten out of the military. I wasn't going to let breast cancer beat me."
Christy's children didn't leave their mother to face cancer on her own. They stayed home to care for their mom, who'd raised them on her own while working at Walmart. With her children by her side, Christy considered treatment options.
A Bump in the Road
When diagnosed, Christy's breast cancer was at stage 3B, meaning it was an aggressive cancer that had already moved into the surrounding lymph nodes. Though it hadn't spread to nearby organs, doctors expected it to do so soon. If that happened, Christy's cancer would enter stage 4. According to the National Institutes of Health, the relative five-year survival at this stage is just 22%.
To stop her cancer from spreading, Christy had to act soon. She was willing to do whatever it took, including a double mastectomy, an operation to remove both breasts. At her age, her surgeon said a double mastectomy was unnecessary. Instead, she decided on a lumpectomy – surgery to remove only the cancerous tissue – of her right breast. Before surgery, Christy ended a 34-year habit.
Learn more in our blog: Lumpectomy vs. Mastectomy: Two Surgical Options for Breast Cancer Surgery
"My surgeon said if I quit smoking two weeks before surgery, my chances of healing well would increase by 50%," Christy said. "I quit exactly two weeks before surgery."
The operation took place on May 24, 2005, and was a success. Next up was chemotherapy, but there was just one problem. Christy's oncologist made her feel uneasy, so she canceled her appointments before the first session.
Unsure what to do next, Christy sought a second opinion. She knew a coworker who had completed cancer treatment, so Christy asked about her oncologist. Her coworker saw Dr. Hyun Sue Kim, board-certified medical oncologist and hematologist at Rocky Mountain Cancer Centers (RMCC). She encouraged Christy to do the same. Spurred on by her friend, Christy made an appointment with Dr. Kim.
"Because I put off chemotherapy for four weeks, it was probably very risky," Christy said, "But I immediately felt at ease with Dr. Kim. I credit her for saving my life."
A Good Fit: Finding the Right Breast Cancer Oncologist
In July 2005, Christy began her breast cancer treatment plan at RMCC – a month after her initial chemotherapy was supposed to start. She knew she'd made the right move from day one.
"Dr. Kim spoke to me in layman's terms: She told me what she was doing, how I would feel, what to expect, and what resources I had," Christy said. "It was like I was talking to a girlfriend but a girlfriend who's my oncologist. She's just a wonderful human being and a knowledgeable doctor."
Every two weeks, Christy headed to RMCC for another round of chemotherapy. Between sessions, she experienced typical side effects of chemotherapy. She felt tired and her hair fell out.
According to Christy, the hardest part wasn't the chemo. The hardest part happened the day after each session. On that day, she got a shot to pump up her white blood cells and strengthen her immune system. The treatment made her feel like she'd been "beaten up by a baseball bat." Fortunately, that usually came on a Friday, which gave her the weekend to recover.
Even with side effects, Christy didn't slow down. One Friday, she and her mother hopped on a plane and headed to Mexico after chemo treatment. There, Christy went on tours and boat rides. She soaked in the local culture and just relaxed – not what you expect to do after a chemo session.
At home, Christy worked as hard as usual. If she felt tired, she would clock out early. Most weeks, she put in around 35 hours a week. As strong as she was, Christy admits her journey to beating breast cancer wasn't easy. Much of the struggle was mental. When a holiday or birthday arrived, she asked the same question: Is this the last one? She told herself the same answer every time, "Nope — it's not going to be the last."
After five months, chemotherapy ended. A month later, treatment continued. For six weeks, she underwent radiation therapy five days a week. Though exhausting, the radiation therapy was effective, and Christy kept working through it all. She credits her positive attitude with helping her persevere.
Breast Cancer: A Family Affair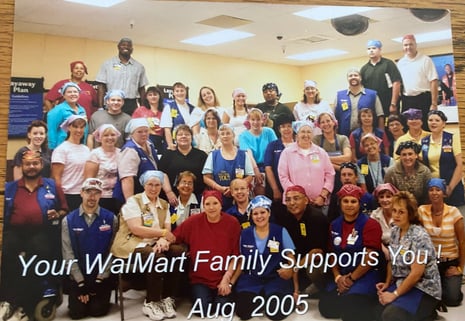 As Christy continued her breast cancer journey, she didn't take a single step alone. Wherever she was — at home, work, or RMCC — Christy was surrounded by people who cared for her and supported her along the way. Every time she came to RMCC for chemotherapy or radiation therapy, a loved one came with her. Often, one of her children came along. For other appointments, her mother or her best friend would accompany her.
As her treatment progressed, Christy told a few work girlfriends that she'd be totally bald the next week. When she arrived to work that Monday, she walked into a humbling surprise. All her coworkers wore bandanas to show their solidarity.
"They're amazing people," Christy said of her coworkers.
Life After Breast Cancer
A lot has changed since Christy's 2005 breast cancer journey began. Thanks to the encouragement of family and friends and the excellent care offered at RMCC, Christy has been cancer-free for 17 years. She no longer smokes cigarettes. Her children, who still live in Colorado Springs, have grown up. They both now have successful nursing careers.
While some things have changed, others have stayed the same. Christy still visits Dr. Kim every year to keep an eye on her breast health and ensure cancer doesn't return. She still considers her children the apple of her eye. And nearly two decades later, when Christy sees her oncology nurses around town, they still stop and chat.
Read more about follow up care after breast cancer treatment.
For Christy, the future looks similar. Some things will change, others will remain the same. After 30 years at Walmart, she's finally looking to retire but she doesn't plan on resting or slowing down. As usual, she plans to make the most of her time. In retirement, that means fulfilling a lifelong dream.
"There are no-kill, nonprofit animal shelters all over, and I would love to volunteer with one of them," she said. "I'm a big animal lover, and I want to help out wherever I'm needed."
Wherever the future takes Christy, she'll be sure to pack plenty of thankfulness. The American Cancer Society expects 670 Colorado women to die of breast cancer this year. Christy insists that without Dr. Kim and the breast cancer care team at RMCC, things could have turned out very differently for her in 2005.
"I can't believe it's been 17 years since I had cancer," she said. "I'm blessed to be here because I know how fragile life is. I can't sing the praises of Dr. Kim enough."