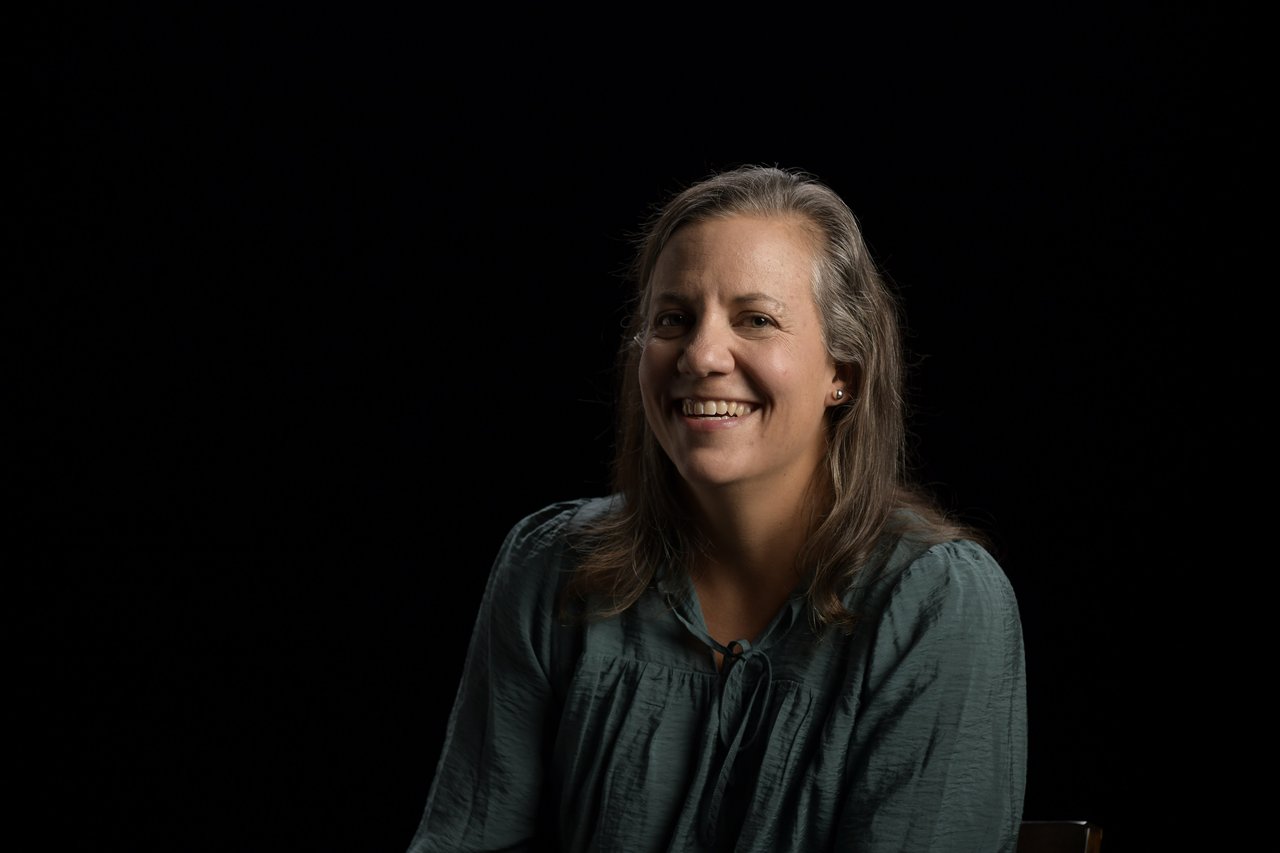 'Knowing That I Can Do It': AJ's Breast Cancer Journey
When AJ Benefield's mother was diagnosed with stage 4 breast cancer in March 2012 at age 60, AJ knew that diagnosis increased her risk of developing the disease. Still, she thought if it did ever happen, it would be later in life when she was in her 60s too.
Learn more about breast cancer cancer and genetics.
Then in early 2015, AJ felt a lump in her breast. Her primary care provider told her it was probably nothing – she was only 34, after all.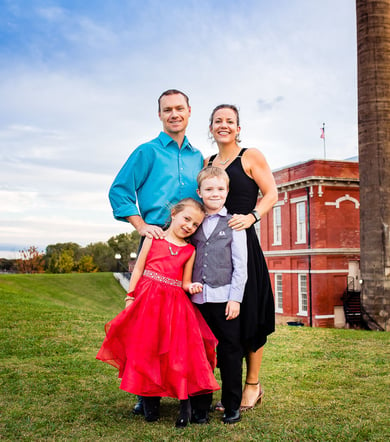 "But I remembered that before my mom was originally diagnosed, she knew something was wrong but had a hard time getting a doctor to take it seriously," AJ said. "Because of my mom's experience, I insisted on imaging, just to be on the safe side."
AJ's advocacy for her health might have been responsible for saving her life. The lump turned out to be mildly aggressive stage 2 breast cancer.
"My first thought was, 'OK, it's cancer. What do we do now?'" AJ said. "My kids were only 5 and 3 – I couldn't leave them. But when I called my husband, he said, 'We're going to get through it no matter what.'"
Coming Up With a Treatment Plan at Rocky Mountain Breast Specialists
In March 2015, AJ had a double mastectomy at St. Anthony Hospital in Denver, and her surgeon recommended continuing her treatment at Rocky Mountain Breast Specialists (RMBS). At the end of April, she continued her breast cancer treatment plan that included four months of chemotherapy, which was to be followed by two months of radiation. It did not start promisingly.
"I got really sick after my first chemo treatment – I was carrying a bucket around with me," AJ said.
When AJ showed up at RMBS the next day for a shot that would help with her white blood cell count, the staff took one look at her pale face and her bucket and told her something was wrong.
"I thought that this was what chemo was supposed to be like," AJ said. "But they immediately looked at my charts and gave me additional anti-nausea medication. Within 30 minutes, I felt a hundred times better. And I never got sick again."
Highs and Lows of Breast Cancer Treatment
From the beginning of her treatment until the end, AJ praises her breast cancer team at RMBS, saying they went above and beyond to support her and her family.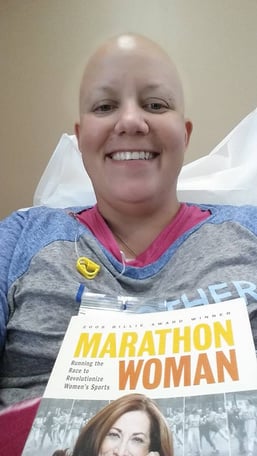 "I mean, it's the worst time in your life, and they were so great that I was happy to go see them," AJ said. "From the receptionist at the front desk to the chemo nurses in the back, to the techs who draw blood, I feel like they treat everyone like family."
RMCC oncologist Dr. Eiko Browning worked with AJ to ensure her chemotherapy was doing its job and they would adjust the protocol when needed.
"Dr. Browning was amazing, always erring on the side of caution, which I appreciated," AJ said. "She always involved us in the decisions, but I really did trust her opinion."
As the treatments continued, AJ struggled with both physical and emotional side effects.
"I did have bad days where I let the negativity get to me, and I didn't know if I could keep going through with it," AJ said. "But with the support of my husband, my kids, my family, and my friends, I ultimately knew it would turn out OK. I think the biggest part of my cancer journey was having the mindset of knowing that I can do it. And the staff at Rocky Mountain Breast Specialists helped that. If I had a question, or my husband had a question, or we couldn't remember something, the answer was just an email or a phone call away. They were incredibly responsive whenever we needed something."
Life After Breast Cancer
Recovering from chemotherapy and radiation isn't easy. Adjusting to your "new normal" and the fear that your cancer could possibly return can be, in some ways, harder. But AJ was determined to stay positive and make changes to lessen the chance of recurrence.
Learn more about post-treatment care plans for breast cancer.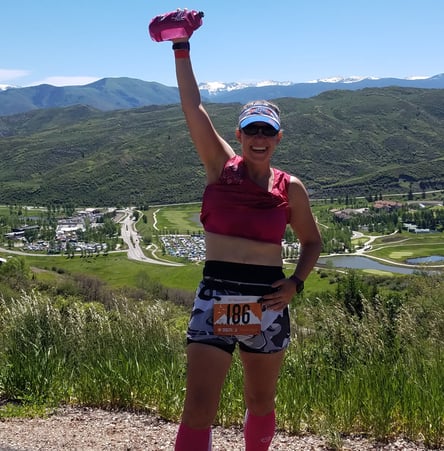 "I have made so many changes in the way I live life – being healthier, being active, eating better – everything I can do," AJ said.
Unlike many patients, AJ gained weight during chemotherapy. With her job at the time as a recreation coordinator for aquatics, supervising lifeguards and teaching swimming and diving, she knew she had to get back into shape.
"In 2017, I set a goal of running a marathon that raised money for breast cancer research, and I knew that I had to lose about 40 pounds to make that happen," AJ said.
She joined Weight Watchers, which was so successful she now works for the company as a coach to help others lose weight. And the marathon was successful too. AJ is now a full-time race director for 3W Races.
Continuing Follow-up Care After Breast Cancer Treatments
Seven years after her diagnosis, AJ remains cancer-free.
"So far, everything looks good," AJ said. "Every time I go in, they keep telling me how wonderful I'm doing."
AJ still takes a selective estrogen receptor modulator medication daily. Once a month, she returns to RMBS for shots of hormonal therapy.
"The nurse who gives me the shots is just amazing," AJ said. "She knows how to make it not painful. I know it's just a small thing, but that level of detail to care just makes these ongoing things I still have to do so much better."
Although AJ's prognosis remains good, she does not take anything for granted. Her mother passed away in 2019 after seven years of cancer treatment, so she knows the worst can happen. But with her husband, children, and RMCC by her side, she's ready for whatever happens next.
"My husband has been my constant companion through all my treatments," AJ said. "We are both so happy with the care RMCC continues to provide."
If you or a loved one has been diagnosed with breast cancer, the specialists at RMBS can provide the same level of care that AJ received.