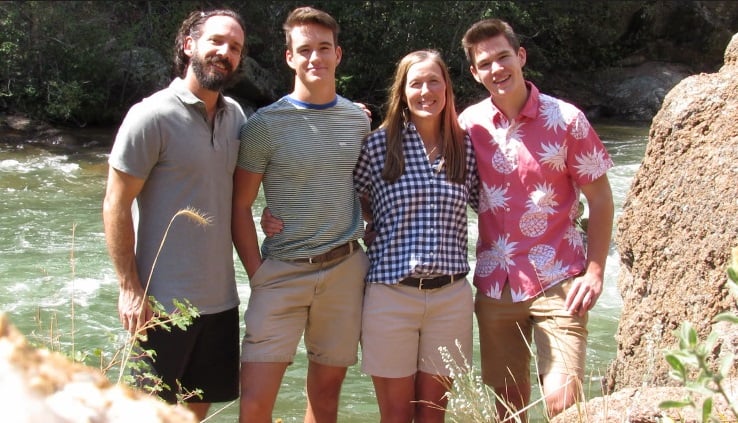 Early Detection, Family Support, and a Space Helmet: One Woman's Journey Through Triple-Negative Breast Cancer Treatment
"Life changed for me in one day and with one phone call."
Jan D. was only 53-years-old when an annual mammogram revealed a mass in her breast. The subsequent biopsy revealed it to be triple negative breast cancer, a highly aggressive form of breast cancer that makes up about 10-20% of breast cancer diagnoses. The "triple negative" refers to the cancer being negative for estrogen receptors, progesterone receptors and HER2 protein, meaning it's not responsive to hormone treatment.
A mother of two sons in high school, there was much that was hopeful within Jan's diagnosis. For starters, the routine screening had caught the cancer early, a particular blessing when dealing with a fast-growing cancer like triple negative breast cancer. Secondly, it appeared small – under five centimeters – suggesting she would not have to go through chemotherapy. Thirdly, the cancer hadn't spread to her lymph nodes (though she wouldn't learn this particular detail until later in her cancer recovery journey).
Still, her initial response – not surprisingly – was fear. From an early doctor's appointment where she had to rest her head on her knees to keep from passing out, to times when the fear was merely a nagging worry in the back of her thoughts, fear was a predominant theme in the early part of her breast cancer experience.
Making Decisions After a Triple-Negative Breast Cancer Diagnosis
Jan credits having strong family support, particularly her husband, and having a medical care team that inspired confidence with helping her overcome the sometimes paralyzing fear. "I knew I was well taken care of, which means everything in these situations," she says.
One of the vicissitudes of cancer is the enormous amount of information to take in and process, she wrote in a blog about her cancer journey. How does one slow down the onslaught of details, decisions, and choices? I attempted to go with the flow. I chose a plastic surgeon, had genetic testing, and waited for my surgery.
Choosing the Right Breast Cancer Specialist With the Support of Her Family
The surgery Jan spoke of was a double mastectomy with reconstruction, which took place smoothly and without any complications in the procedure or the recovery. She assumed the worst was behind her as she began rehabilitating from the surgery, performing her activities "like a T-Rex" since she was not supposed to lift her arms above chest-height.
But then the pathology report returned both good and bad news: the cancer hadn't spread to her lymph nodes, but the tumor was larger than previously believed. At 14 centimeters, it was within the 1B size category, and chemotherapy was recommended for "risk reduction."
My heart dropped to the pit of my stomach. A hollowness pervaded my body, Jan wrote in her blog. Having cancer, or I imagine any serious illness, is like a roller coaster. Everything is going well, and then all of a sudden, a complication arises.
Jan and her husband began researching cancer doctors, which was how they found Dr. Manojkumar Bupathi at Rocky Mountain Cancer Centers and "liked what we saw," Jan says of Dr. Bupathi's patient reviews and professional qualifications. "I had a really good experience with Dr. Bupathi," she says.
Jan says she valued Dr. Bupathi's commonsense, even-keel attitude and encouraged her to continue activities that brought her joy during the chemotherapy treatments – like attending her son's football games. "He was always positive," she adds.
Managing the Side Effects of Breast Cancer Treatment
Jan underwent four rounds of chemotherapy at Rocky Mountain Cancer Centers' Littleton clinic and opted to try the Paxman Scalp Cooling System, which she calls the "Cold Cap," to prevent hair loss. It's an experience she can laugh about now. "It's like a space helmet, and it's really uncomfortable!" she says. At 54 years old, she was often the youngest patient receiving chemo. One elderly man, who saw her wearing the Cold Cap leaned over and whispered to his wife, "What does that young lady have on her head?" His "whisper" was much louder than he realized, however, and Jan and her sister heard him clearly and struggled to contain their giggling.
Jan was fortunate to have little in the way of chemotherapy side effects. Though going through chemo treatments gave her a feeling of being constantly in limbo, she says it had the unexpected, even counterintuitive, effect of calming her worries about the future. "With chemo, one positive for me, it forces you to live in the present moment, living day to day, just to get through it."
"And, you sort of feel protected while you're doing chemo," she says, pointing out that cancer is unlikely to recur during chemotherapy treatment. Jan calls the first few months after completing her four rounds of chemo, "a struggle" as she waited to see if it would prove effective at keeping the cancer from recurring.
Take it from Jan: Early Detection is Key to a Better Breast Cancer Outcome
But, with each subsequent checkup that showed no sign of cancer recurrence, Jan found more and more reason to be optimistic. A private person, she did not share much about her cancer diagnosis and treatment with people outside her closest friends and family – until it was over. Afterward, she became more open about her experience, particularly since early detection was key in having such a positive outcome for her. "I felt it was important to tell people my story because even though there are many new treatments out there, the best outcome is still early detection," she says.
Enjoying Life After Triple-Negative Breast Cancer
Jan found her life had changed in other significant, though sometimes subtle, ways. Once a passionate runner, Jan experienced osteopenia, thinning of the bones, in one hip (a potential long-term side effect of chemotherapy), so she gave up running. "I thought I would miss it, but I didn't," she says. It was recommended that she do some weight lifting, which has been proven to improve bone health in female cancer survivors. To her surprise, she found that she enjoys it. She emerged with a renewed appreciation for the support of family and friends. These days, she's rarely troubled by the anxiety that plagued her immediately after diagnosis.
"Sometimes I have anxiety about it coming back," she says. "But for the most part, I think it makes you be grateful for every day."
If you have been diagnosed with breast cancer and you're looking for the same type of support and care that Jan received, request an appointment at the Rocky Mountain Breast Specialists location closest to you. Whether it's your first consultation or you'd like a second opinion, our breast cancer specialists are ready to help you through.