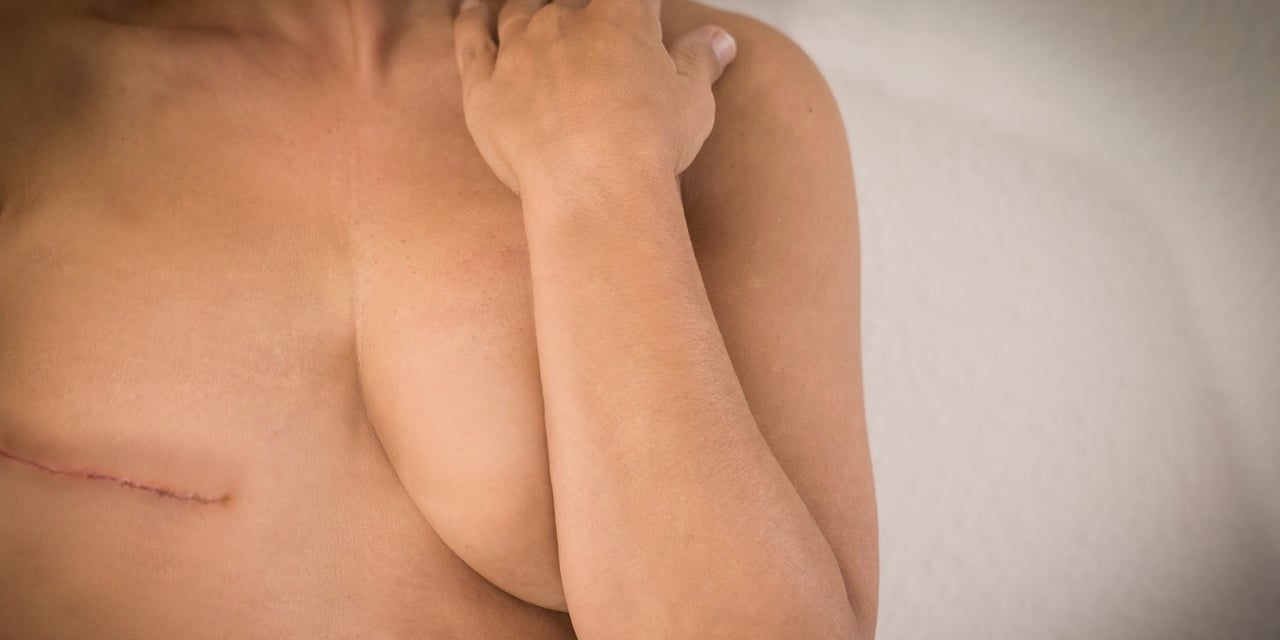 Two Women, Two Different Decisions, One Similar Goal: Empowered Breast Cancer Decisions
Choosing Not to Have Breast Reconstruction After Mastectomy: Leslie Welte, Left Side Mastectomy, age 50 (Part 1 of 2)
A two-part series profiling two women who made different decisions when answering the question "Should I have breast reconstruction after a mastectomy?" Because there is no "wrong" answer, and opting for breast reconstruction after a mastectomy depends on an individual's priorities, Rocky Mountain Cancer Centers (RMCC) explores the decision-making process two breast cancer survivors went through. Though they made different decisions, they arrived at the same place: a satisfying life with cancer behind them. To read about a woman who chose a complete breast reconstruction after a mastectomy, read our profile on breast cancer survivor Erin Buss.
Another Day, Another Disease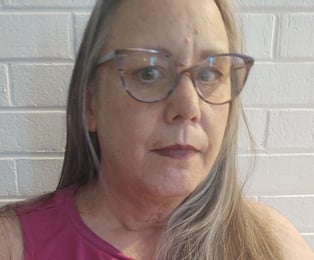 Like many situations in her life, Colorado native Leslie Welte faced her breast cancer diagnosis with her characteristic lighthearted yet unflinchingly honest attitude.
The youngest of four children, Leslie grew up with an intimate view of chronic illness as her father suffered from a mysterious illness not yet defined in the medical field at that time.
"They didn't have an understanding of his disease (now known as ankylosing spondylitis), so he was a guinea pig for treatments," Leslie said. "He had lots of complications from his diseases and treatments."
When her father developed blood clots in his lungs as a complication of diabetes, 9-year-old Leslie looked at her mom and said "another day, another disease." When her mom suggested that was a very cynical attitude, she said "what do you want me to do? You have to deal with it."
"So when I was diagnosed with cancer it was like, 'OK, cut off my boob, let's move on,'" Leslie said. But don't be fooled by Leslie's stark humor and label her negative or pessimistic. Her matter-of-fact, no-sugar-coating view of life and death actually has allowed her the freedom to enjoy life and cast aside external expectations.
Chemotherapy With Less Side Effects: Benefitting from a Clinical Trial
In 2010, two weeks shy of her 50th birthday, Leslie was diagnosed with breast cancer. She had been tipped off by an inverted nipple, and, following her diagnosis, she began a treatment plan that included chemotherapy, radiation, and a mastectomy at Rocky Mountain Cancer Centers' Rose Medical Center location. However, during the surgery, Leslie's breast doctor discovered more cancer and ended up removing all the lymph nodes on the left side.
"I had decided not to be reconstructed before I went into surgery," Leslie said. "But when I came out, my doctor told me she'd removed everything, so I couldn't get reconstructed anyway because there was no muscle to reconstruct to."
Leslie opted to participate in a clinical trial for a new type of chemotherapy that was supposed to remove the most nausea-inducing ingredient from the treatment. Not only did she not experience nausea, but she also felt fortunate not to face many other side effects of chemo, though she did lose her hair.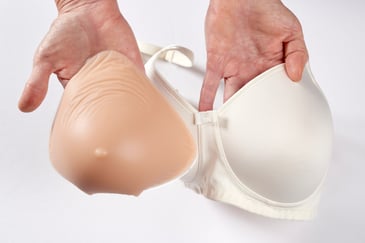 The radiation treatments and surgery actually had more negative side effects, some that lingered for years. Leslie developed lymphedema in her left arm and had to use compression wrapping for a year. And, with only skin now covering her left rib cage, the nerve endings were painfully sensitive, so that wearing a bra – or even a tank top – was excruciating. Using a prosthetic breast was out of the question.
Ongoing Treatment to Prevent Breast Cancer Recurrence
With a music education degree, Leslie has spent her life performing – both before and after her mastectomy. She made her living in her younger years in the hospitality industry as a server and hostess in a hotel restaurant. When that proved too taxing on her body in her 30s, she changed direction to corporate debt collection for data companies, a job she found immensely stimulating and rewarding. Throughout, she played oboe in the Metro State College orchestra.
"I've had an incredible recovery," Leslie said of her battle with cancer.
"The people who did my radiation, the nurses and assistants at RMCC, they were wonderful," Leslie said. "My oncologist and phlebotomist and surgeon were wonderful. After five years post-cancer, I asked my oncologist 'how much longer do I have to come see you?' He said 'until you die.'"
Like many cancer survivors, ongoing treatment is necessary to prevent the cancer from returning. Now, more than 10 years later, Leslie takes a daily medication – and probably will for the rest of her life. At one point, she had hoped to discontinue it but her oncologist said "that pill is as much a part of your recovery as radiation and chemo."
Leslie kept a positive attitude during treatment and surrounded herself with positive, supportive people. She advises others facing a new cancer diagnosis to "plan for help in recovery. Any help you can get, you should take it. You'll need it."
I Don't Feel the Need to Change My Body
Though the option to surgically reconstruct her breast after her mastectomy was ultimately determined by how much tissue was removed during cancer removal surgery, she has opted to face life one-breasted.
Surprisingly – and hurtfully – Leslie found other women were the most critical of her post-mastectomy body. While men looked her in the eye, she found women staring, and even received snide or critical comments from female family members.
"I have the kind of personality that can take it, but that doesn't mean you have to be that way to me," she said. "I'm very cocky and confident. I went to college to be a performer, so I was trained to be confident even when I'm not performing well. I think some people didn't like the fact that I can be out there, stand up straight and not be embarrassed about it, and not be enslaved to external expectations."
After four or five years, Leslie remembered, the nerve pain had subsided enough that she could utilize a prosthetic, but, by then, she had lost interest. "I think it's my body, and I don't feel the need to change my body to make other people comfortable," she said.
These days, Leslie still performs music, singing at weddings and church services, without feeling the need to hide her one-breasted body.
"I was an adult by the time I was nine," she said. "By the time I was 12, I said 'I'm going to stay here.' Now, I'm 60 years old, but I feel physically like I'm 40 because I feel so much better than I used to. But emotionally and developmentally I'm 12, and I plan on staying that way!"
Having the right breast surgery specialist is a critical part of your breast cancer treatment, regardless of whether or not you choose to have reconstruction after a mastectomy. Find out more about choosing your breast surgeon.