Lymphedema Prevention Program
---
Rocky Mountain Breast Specialists' Lymphedema Prevention Program, SOZO, is designed to prevent the development of chronic lymphedema in at-risk cancer patients. There are nearly 17 million cancer survivors in the U.S., with over 200,000 in Colorado alone, and 1 in 3 will develop chronic lymphedema. Recently published data from the PREVENT trial shows that early detection combined with intervention can prevent 95% of patients from developing this debilitating condition. SOZO is currently available through Dr. Tynan at our Longmont location.
What Causes Lymphedema
Cancer treatments such as surgery, radiation, and chemotherapy put you at risk for developing lymphedema in your arm or leg. Lymphedema causes swelling and a feeling of heaviness in your arm or leg. It is caused by damage to the lymphatic system during cancer treatment. The lymphatic system is a large network of vessels that remove waste from the body. If left untreated, lymphedema can cause swelling that could interfere with your work and even wearing clothes. It can also lead to infection. Treatment is life-long and costly. Our goal is to find lymphedema early by testing you with SOZO. When we find lymphedema early (Stage 0 or Stage 1) and treat it, we can prevent it from getting worse.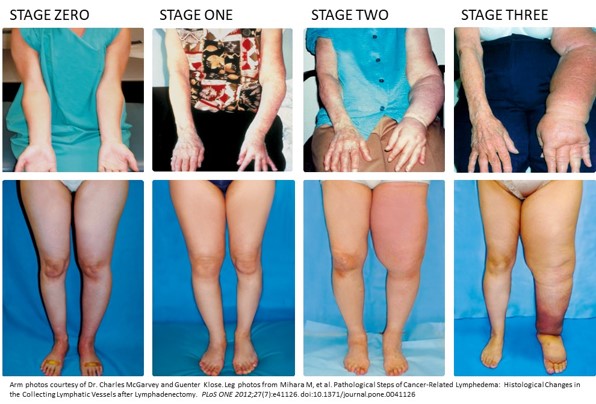 How SOZO Works
SOZO is noninvasive, precise, easy to use, and efficient, delivering objective results in less than 30 seconds by measuring the body's impedance over a full spectrum of 256 different frequencies. It's the only device of its kind in Northern Colorado and one of only a few in the state.
Many chronic diseases cause fluid shifts in the human body. SOZO is so sensitive, it can detect changes in fluid as small as two tablespoons. This is well below when clinical indicators for fluid retention would be apparent, such as serial arm measurements. SOZO is FDA-cleared to aid clinicians in the assessment of: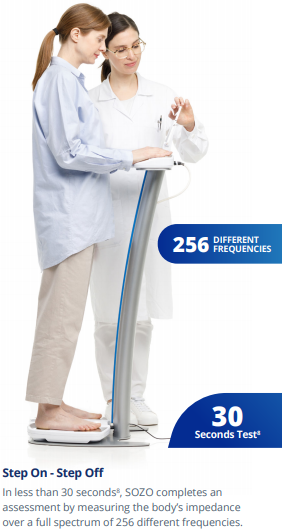 Lymphedema
1 in 3 cancer survivors will develop lymphedema
Heart Failure
2x higher risk in cancer patients
Affects 6.5 million people in the US
Body Composition
70% of cancer patients experience weakness and fatigue
Protein Calorie Malnutrition
Affects 30-80% of cancer survivors
1 in 3 hospitalized patients are at risk
Who is At Risk
Lymphedema risk exists for women and men treated with surgery, radiation therapy, and Taxane-based chemotherapy for multiple cancer types:
Breast cancer
Colorectal cancer
Melanoma
Genital cancers
Urinary cancers
Prevention is as Simple as Test, Trigger, Treat
Our Lymphedema Prevention Program uses the L-Dex score to sensitively and accurately detect small changes in fluid. Patients in the program are measured prior to cancer treatment for a baseline score, and then monitored every three months for three years following treatment, then every six months for another two years. Six years after surgery, the screenings are reduced to annually. If lymphedema is detected, you will be educated on at-home treatment with compression therapy. The compression forces the fluid back into the cells and prevents lymphedema from developing into a chronic condition.

At Home Treatment with Compression Garments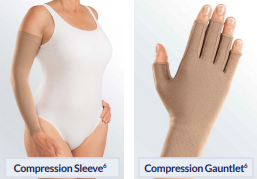 23-32 mmHg compression garments
4 weeks (28 days)
12 hours per day
Why Our Program is So Outstanding
Most programs find and treat lymphedema, but our program is about preventing disease as opposed to chasing it after it appears. Preventing a disease from developing is always better than treating a disease.
Our approach to cancer treatment uses a holistic, multi-disciplinary philosophy. Dr. Tynan, a breast surgeon at RMCC who was involved in launching this visionary device, notes that it is a comprehensive program. "I'm a breast surgeon, and I work closely with breast radiologists, breast oncologists, and radiation oncologists. We try to address all related issues to cancer treatments. We have genetic counselors, social workers, financial counselors, and nurse navigators. Since lymphedema is so common, this is an important service to offer our patients."
Frequently Asked Questions
What is the Lymphatic System?
The lymphatic system is a network of tissues, vessels, and organs in your immune system. Some of its main functions are removing waste from the body and moving a watery fluid called lymph back into your circulatory system (your bloodstream). Lymph fluid collects in clusters of your lymph nodes found in your neck, underarm, groin, stomach, and tailbone region.
What is Lymphedema?
Lymphedema is a condition where lymphatic drainage is impeded by cancer interventions, such as lymph node removal surgery or radiation. With inadequate lymphatic drainage, fluid backs up in the adjoining limb. If left untreated, lymphedema can cause severe swelling and infection.
What Causes Lymphedema?
Cancer survivors who have had surgery and/or radiation on their lymph nodes are at risk of lymphedema. Those include patients with breast cancer, melanoma, colorectal cancer, genital cancers, and urinary cancer. In the United States, breast cancer treatment, which can involve the removal of lymph nodes and radiation therapy, is the leading cause of lymphedema. The risk for developing lymphedema increases with the amount of breast tissue removed, the number of lymph nodes removed, and the extent of radiation treatments.
How Common is Lymphedema?
There are nearly 17 million cancer survivors in the United States, with two million cancer survivors in Colorado alone. As high as one in three at-risk survivors will develop chronic lymphedema.
What are the Signs of Lymphedema?
The most common sign of lymphedema is swelling and a feeling of heaviness in your arm or leg. Because the main lymph nodes causing lymphedema are in the groin or armpit, lymphedema typically affects the arm or leg below the damaged or removed lymph nodes. You might also experience a temperature or color change in the affected arm or leg.
When Does Lymphedema Develop?
Lymphedema usually develops within 36 months after surgery, radiation, or chemotherapy. However, in some cases a small incident can cause lymphedema to occur several years after treatment.
When Will Lymphedema Go Away?
Unfortunately, the lymphatic system has limited ability to repair itself. This is why our goal is to find lymphedema early by testing you with SOZO. When we find lymphedema early (Stage 0 or Stage 1) and treat it, we can prevent it from getting worse and leading to serious swelling and/or infection.
Why is Lymphedema Prevention Important?
Once you develop lymphedema, it becomes a chronic, lifelong condition that's difficult and costly to treat. Prevention is faster, cheaper, non-invasive, and prevents the suffering and inconvenience of dealing with lymphedema. Early detection, combined with intervention, prevents 95% of lymphedema cases in people who are at-risk.
Is Lymphedema Avoidable?
Quickly and efficiently build the materials you need to support your inbound marketing strategy. Drag and drop building blocks including testimonials, forms, calls-to-action, and more.
To decrease the chances of developing lymphedema, after cancer treatment a patient should:
Avoid applying pressure to the treated side of the body.
Avoid needle sticks and blood pressures on the area while undergoing treatment.
Avoid cuticle injuries during manicures.
Avoid saunas and other extreme heat.
Limit sun exposure by using sunscreen.
Reduce risk of developing minor cuts by using gloves.
Maintain a healthy weight.
Avoid tight jewelry.