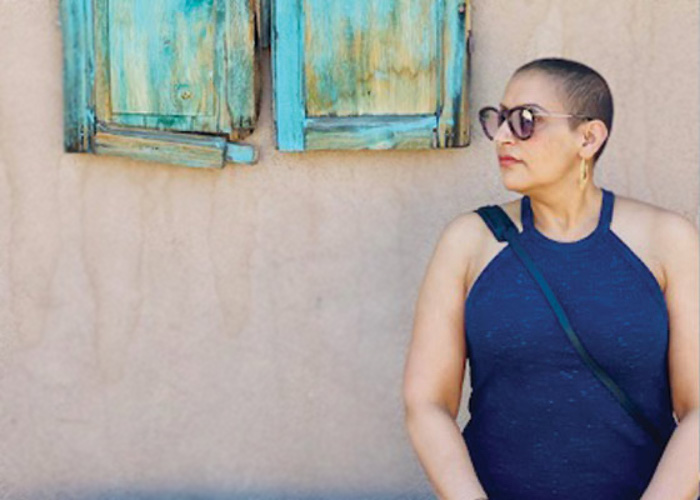 Pinder Gill has more hiking trails to complete, more countries to explore, and more memories to make with her family. In short, the 46-year-old tech executive from Arvada, Colorado, has more adventures to embark on – and metastatic triple-negative breast cancer will just have to come along for the ride.
To say that Pinder's life is busy would be an understatement. She balances her time between career and family, which includes her husband, Brian, 9- and 11-year-old boys, and a Bernedoodle named Odin. In their free time, the Gills enjoy hiking, swimming, snowshoeing, and traveling, especially to Europe.
A Bolt from the Blue
In early 2020, an unexpected development intruded on Pinder's packed schedule. She noticed a lump in her left breast, which prompted her to see her primary care physician.
"My physician thought the lump seemed abnormal, but getting a mammogram sort of got lost in the shuffle at the beginning of the COVID-19 pandemic," Pinder said. "Most people were advised to not go to the doctor's office unless they had to, and I fell into that bucket."
By early September 2020, the lump had grown substantially, and Pinder, concerned, called her physician's office. A mammogram, ultrasound, and biopsy quickly followed.
Shortly after her biopsy, Pinder received a call from her physician with stunning news: she had a type of breast cancer known as intraductal breast carcinoma. Subsequent testing revealed the cancer's subtype was triple negative and that it had progressed to stage 3.
"I felt like I'd been struck by lightning and hit by a Mack truck at the same time," Pinder said. "I received the news as I was picking up my boys from school. They heard it at the same time I did on the Bluetooth speaker."
Related Read: Learn more about signs and symptoms of breast cancer.
Finding the Right Fit
Pinder knew she faced a major challenge – and had a key decision to make. She began researching breast cancer specialists to find the right expert to help her chart a path forward.
"I looked at many physicians because I wanted to find one who would be the right fit for me," Pinder said. "It's not just about a doctor's credibility, but also the chemistry between doctor and patient, how well he or she works with you. Communication is important. I interviewed three physicians."
One stood out: Dr. Dev Paul, a Rocky Mountain Cancer Centers (RMCC) breast oncologist. In his first meeting with Pinder, Dr. Paul impressed her with his knowledge of her case and approach to treating triple-negative breast cancer. This breast cancer subtype tends to be more aggressive than other forms of invasive breast cancer, and treatment options are limited, according to the American Cancer Society. Dr. Paul proposed treating Pinder with a then-investigational type of immunotherapy, pembrolizumab, in conjunction with chemotherapy. Pembrolizumab subsequently received Food and Drug Administration (FDA) approval for use in certain patients with triple-negative breast cancer.
"Dr. Paul and I were a match," Pinder said. "He led with data, not fear, and had success stories supporting the treatment plan he proposed for me."
Pinder decided to go ahead with Dr. Paul's plan.
Going on Offense
Pinder underwent the first of 16 chemotherapy and immunotherapy treatments in the fall of 2020. Her treatments took place at RMCC's Denver – Rose Medical Center Campus location, where the treatment team became like a second family.
"During my early rounds of chemotherapy, the nurses at Rose made me feel like I was going to spend a Thursday afternoon at a friend's house," Pinder said. "They were such a vibrant crew, and they made me feel somewhat normal in a really crappy, challenging situation."
In the spring of 2021, Pinder paused the chemotherapy and immunotherapy treatment to have a double mastectomy followed by nipple-sparing breast reconstruction.
"Reacting to cancer was a defensive thing, but I felt a double mastectomy was an offensive play on my part," she said. "I didn't want to leave any area for cancer to come back."
Once Pinder healed from surgery, she resumed chemotherapy and immunotherapy and added another form of treatment: radiation therapy. Five weeks of five-days-per-week external beam radiation treatment at a local hospital took a physical and mental toll. Pinder developed extensive skin burn on her left side due to the radiation. With 20 treatments down and five to go, she didn't think she could take any more.
"I had a passionate conversation with the radiation oncologist in which I said I didn't want to continue with radiation," Pinder said. "He methodically explained we didn't want to take any chances with the possibility of cancer coming back. We paused for a couple of days and then finished the remaining treatments."
Another Mountain to Climb
By October 2021, Pinder had finished all of her treatments, and her lab test results were coming back clear. She had her chemotherapy port removed and settled into a pattern of following up with Dr. Paul every six months.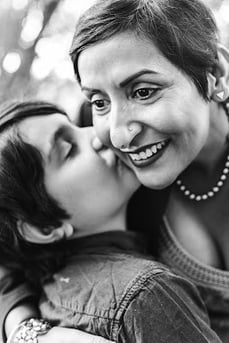 Over time, life for Pinder and her family began to slip back into normalcy. The Gills took a trip to Europe. Shortly after they returned, Pinder had an appointment to see Dr. Paul for an infusion of an anti-osteoporosis medication.
"I called Dr. Paul ahead of the appointment and told him I wasn't feeling so good," Pinder said. "I wasn't sure if it was COVID-19 or jet lag, and I wondered if I really needed to go in for the appointment. He said, 'Why don't we get you an MRI because I want to check your brain and be sure nothing wonky is going on.' I thought he was overreacting. I was minimizing."
Pinder sent her family to get dinner while she had the MRI. By the time Brian and the boys returned, Pinder had just learned she had a 3.4-centimeter (1.3-inch) tumor on the right side of her brain and needed to have surgery right away. The breast cancer had spread.
"The doctors were concerned because of the tumor's size," Pinder said. "When all was said and done, because of Dr. Paul's keen, thorough perspective, I genuinely believe he saved my life."
Pinder went on to have three rounds of brain radiation. Currently, she takes the oral chemotherapy medication capecitabine as part of her maintenance plan for what is now stage 4 cancer.
Leading and Living with Optimism
Predicting the future is impossible, and Pinder and Dr. Paul have no interest in trying.
"Dr. Paul leads with optimism, which I follow and love," Pinder said. "He doesn't bring fear of the unknown into the conversation. He'll say, 'If this medicine stops working, we have other options we can look at.' I'm pragmatic and methodical, following his lead. Fear of the unknown lives in all of us, with or without cancer. We all think about it. I could spend my time being scared or making myself sick with worry, or I could listen to my physician and go with the flow."
Pinder has a brain MRI every three months and a yearly PET scan. So far, they haven't shown signs of more cancer. Pinder exercises regularly and eats healthy. She also relishes her contribution to the advancement of breast cancer knowledge, in which she agreed to share her genetic testing information with a large national registry focused on finding new breast cancer-related gene associations.
Above all, Pinder stays positive. She advises people facing their own cancer diagnoses to hold on to hope.
"Hope is such a powerful form of treatment in itself," Pinder said. "You have to have belief and hope, find joy all around you, and not narrow in on the diagnosis itself."
For Pinder, life's adventure continues.
Our breast cancer specialists see patients in communities across the Front Range. Find a clinic near you.