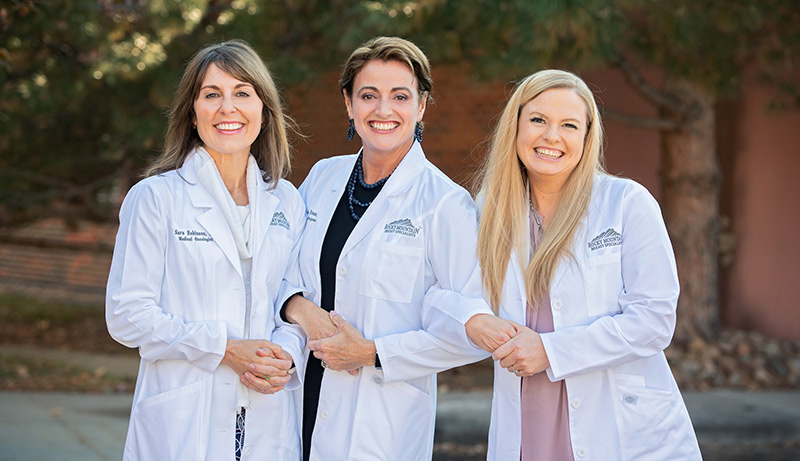 Rocky Mountain Breast Specialists move fast and efficiently while trying to make cancer treatment as stress-free as possible
As with any cancer diagnosis, when it comes to breast cancer, time is of the essence. Thirty days maximum from diagnosis to first treatment is the benchmark in the breast cancer world, according to Dr. Gerlinde Tynan, a breast surgeon at Rocky Mountain Breast Specialists (RMBS), a division of Rocky Mountain Cancer Centers (RMCC) located in Longmont, Colo. For instance, if a patient needs chemotherapy before surgery, the sooner you get them on treatment, the better chance they'll have a "complete response," Dr. Tynan said. "And we know those patients have a better prognosis, a better survival rate."
After 30-60 days, you worry about upstaging — meaning cancer has gotten larger or even spread and might be another stage higher, according to Dr. Tynan. Recently, the team at RMBS saw a 49-year-old patient with triple-negative breast cancer — the most aggressive type of breast cancer — where that 30-day standard was cut in half. "From her first visit to her first chemo was two weeks," Dr. Tynan said. "You can't do it much faster than that — the patient had to get a PET scan, a breast MRI, get a port placed, do a cardio workup, and undergo genetic testing."
The quick turnaround is thanks to RMBS's streamlined process and team-based approach. For breast cancer treatment in Colorado, RMCC truly is the leader. On average it takes less than a week to get an appointment. One of the things that makes this possible is the daily communication between the breast radiologists that find the cancers with the RMBS team. The first appointment is incredibly efficient; most patients are able to meet with an all-female cancer-fighting team that includes Dr. Tynan along with Dr. Sara Robinson, a breast medical oncologist, and Dr. Marie Weeks, a radiation oncologist. The patient also undergoes genetic testing at that very first appointment. The doctors formulate a tentative plan together before they even see the patient, providing a unified front and a clear, cohesive plan of attack. The plan is then modified as needed based on personal factors unique to each patient. Using this approach not only helps treatment move along quicker, but it also helps the patient to feel less anxious and stressed about the journey ahead. "We've discovered over the past several years that a multidisciplinary approach to breast cancer is vital to excellent outcomes," Dr. Robinson said. "We're able to give that woman a sense of direction right away. Women are seen promptly and not shuttled around to see different docs."
For RMCC's marketing director, Mindy Grantham, it's the type of care she wishes she'd had. "As a survivor myself, this is really the best way to approach breast cancer from a patient's perspective," Grantham said. "I had each of these types of doctors, but they were all at different institutions and I didn't know if any of them were talking to each other and if I was making the right decisions. Having them all work closely together will equal better outcomes." By the time the patient leaves the room at RMBS, they have a clear sense of exactly what's going on and the next steps. "Getting everything done in one day is so helpful to women, versus it dragging on for weeks and weeks during what is typically a very anxiety-provoking time for women who are wearing multiple hats already," Dr. Robinson said.
Rather than the patient leaving with a to-do list they have to tackle alone, the team assists with setting up any appointments or next steps. Patients also meet with the nurse navigator who helps guide them along the journey and provides yet another shoulder to lean on. "We like to call it the cocoon," Dr. Tynan said. "Patients come to this nice little cocoon and we take care of everything – referrals, physical therapy, whatever. Breast cancer is hard enough, we want the other stuff to be easy."
Every part of the new patient experience is thoughtful and designed to be as low-stress as possible. Rather than a sterile wall of white, the meeting room is soft and welcoming, designed to "feel like your living room," Dr. Robinson said, complete with low lighting, plush gowns, sofas and plants. "We try to make it more homey and less anxiety-provoking. We find it helps the patient to be more present and absorb more," Dr. Robinson said.
RMCC is known as a state-of-the-art community oncology program, taking care of people right in their backyard so they don't have to travel to access world-class medical care. And unlike some community cancer centers, because RMCC is part of The US Oncology Network, they have access to clinical trials sponsored by all the big pharmaceutical companies just as a university setting might. But unlike a university setting, where patients might meet with multiple medical residents, they meet and form lasting relationships with their doctor.
"RMCC sees more breast cancer patients than anyone in the state," Dr. Tynan said. Rocky Mountain Breast Specialists is part of a nationally accredited program through the National Accreditation Program for Breast Centers (NAPBC). "They have really rigorous standards to meet in order to be credentialed," Dr. Tynan said. "High-quality programs like ours have dedicated breast radiologists, breast surgery, breast oncology, navigation, physical therapy, genetic counseling, social work, and clinical trials. We not only have those things, but we make sure they meet the highest standards of care."