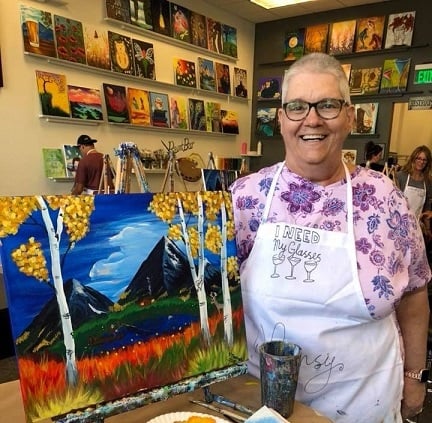 For 68-year-old breast cancer survivor Kathy T., the question "Will my cancer come back?" actually doesn't occupy her thoughts very often anymore. And, her answer might surprise you: "Probably, if I live long enough," she says. "But that could be 30 years from now."
Kathy's attitude may seem shocking for someone diagnosed with stage three triple-positive breast cancer that had metastasized to her lymph nodes by the time it was discovered in 2017. However, her optimistic attitude reflects both the huge advancements in cancer treatment, as well as a positive and humorous approach to life.
"You have to have fun with it," she says of life with cancer. "If you can't have fun with it, it'll take your life before you die."
That's not to say the Colorado breast cancer patient was universally positive during her cancer treatment at Rocky Mountain Cancer Centers. At times, she felt both fearful and "humiliated," but Kathy is uniquely skilled at breaking down apparently-negative situations until she can find the positive in them. Also, she has a lot going for her:
Faith in the competence and compassion of her cancer doctor and nurses
Incredible support from her family
A thirst for knowledge about her breast cancer and treatment
Confidence in Her Cancer Care Team at Rocky Mountain Cancer Centers
The customized cancer treatment process Kathy underwent was not simple, nor easy. She had a lumpectomy and surgical removal of the cancerous lymph nodes. She also went through chemotherapy and radiation. Now, a year after completing all that, she takes two targeted therapy drugs for cancer, which she'll continue for five years with regular monitoring.
"Dr. (Sami) Diab is an incredibly kind man," Kathy says of her oncologist at Rocky Mountain Cancer Centers. "I was certain that he would do all he could, and I trusted him."
Kathy's faith in her medical providers extended to numerous nurses who supported her through her many treatments. "I would encourage cancer patients to talk to your nurses, don't hold anything back," she said. "They gave me the best advice on everything. Little tricks, little tips, tiny things that made all the difference … Everything they said would help, did."
Incredible Family Support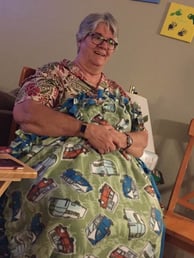 For a mother of five and grandmother of 10, support from her family – and love for her family – has been essential to Kathy. While she told her grandchildren about her breast cancer diagnosis (and answering their many questions) they sat together and tied a fleece blanket. At the time, she was able to reassure them with honest information and her own calm attitude. Then later, when she went to chemo treatments, they reassured her: Wrapped in the fleece blanket they had tied, she felt "wrapped in their love."
Her husband supported her in countless ways throughout her ordeal, some that made her chuckle and others that made her grimace. While it was fun going to the hair salon with him and getting matching hairstyles when her hair grew back after chemo, it was "humiliating" that she needed him to bathe her when the side effects of chemo made it impossible to do it herself.
Since one of Kathy's grown daughters has many disabilities and has required life-long care, Kathy has an insightful perspective of the entire experience. Caring for her daughter, Kathy explains "set a lot of priorities for me."
Kathy's own parents both "passed early," Kathy says. "I've already outlived both of them, so I've thought that every day past the age of their deaths was a gift."
Knowledge is Power: Understanding Her Disease and Breast Cancer Treatment
Before her breast cancer diagnosis, "I thought breast cancer was breast cancer," Kathy summarizes. "I didn't know the difference between anything. When I found out it was triple positive, it was scary. But it was a huge discovery when I learned that new treatments can cure, or at least contain it. I have a friend who has been 14-years with HER2-positive. She takes Herceptin every two weeks and has had no growth. It was very encouraging."
So, Kathy sought to grasp her cancer intellectually and found that it wasn't just the encouraging information that bolstered her optimism. Simply having an understanding of her cancer diagnosis and treatment and what to expect was enough to help her through.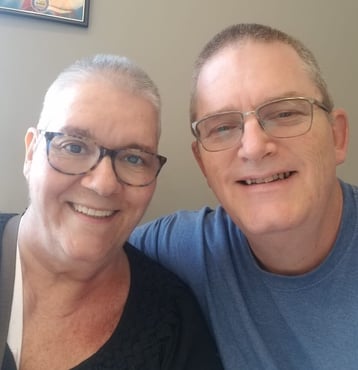 "The biggest scariness is not knowing what you're in for. 'What is chemo?' 'What does this mean?' I did a lot of research, received different opinions. I needed to find my own path. I got a piece of info with each step of the way and learning about it slowly helped."
It's pretty rare these days that Kathy finds herself wondering "will my cancer come back?" Nowadays, Kathy focuses on plans for the future with her husband, kids, and grandkids. "Going into it, I always expected to get better. I never thought of dying from it. The breast cancer, I consider to be behind me."
Advancements in cancer treatment have made many once-deadly cancers either curable or at least treatable with precision medicine. Learn more about molecularly targeted therapy.