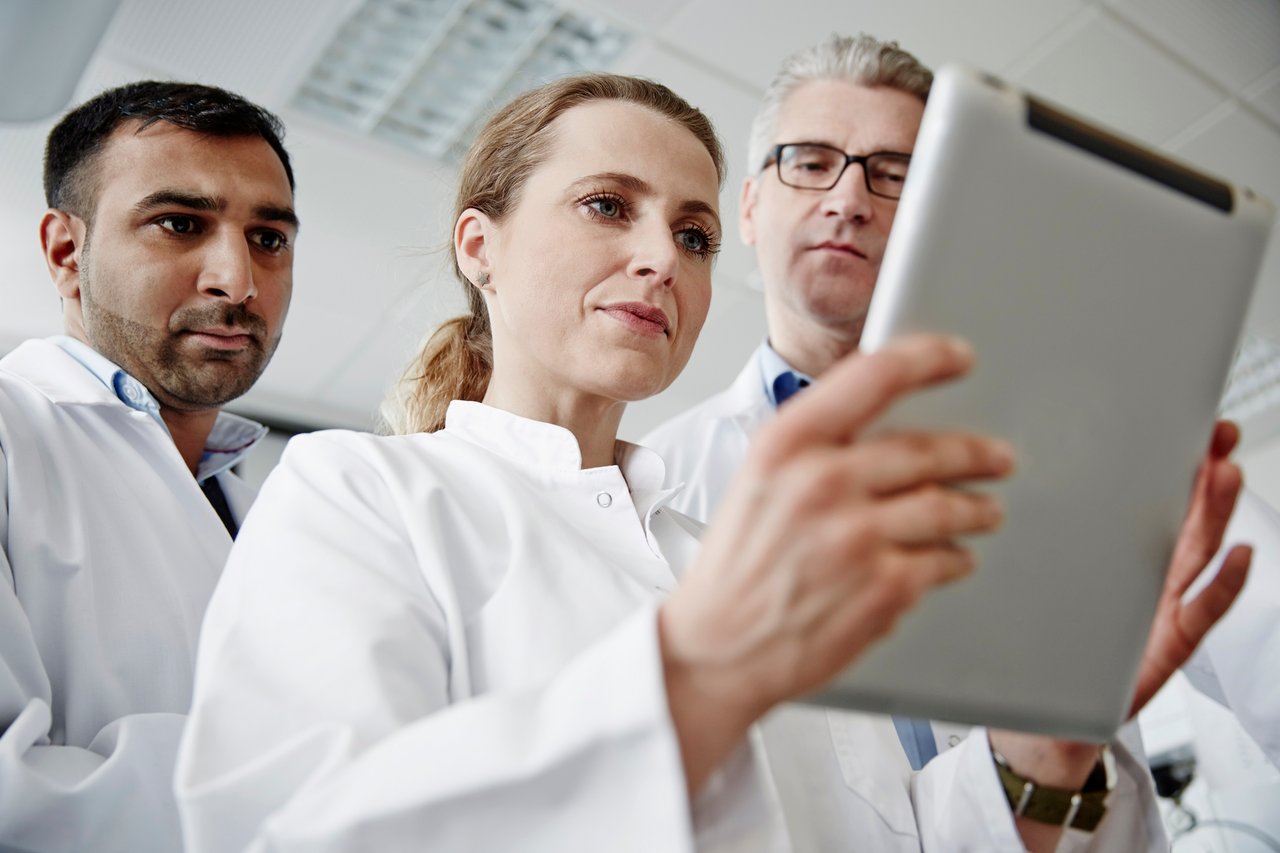 After receiving a cancer diagnosis, patients need information. They need to know what the treatment plan is and what their next steps will be. In the traditional cancer treatment model, patients and their providers often have no choice but to wait as cancer specialists coordinate care across offices or healthcare systems. Conversely, a multidisciplinary approach to cancer care streamlines the process for the patient, their primary care provider, and the oncology team.
"Care coordination is not efficient in the traditional oncology care model," said Dr. Jing Xi, board-certified medical oncologist and hematologist at Rocky Mountain Cancer Centers (RMCC). "After first seeing a surgical oncologist, a patient may wait one to two weeks to see a radiation oncologist and maybe another one to two weeks to see a medical oncologist. A lot of things can happen in those five weeks (for example, a new MRI, an additional biopsy). A plan may be made initially, but with additional specialists weighing in and more information becoming available over time, the plan may need to be changed."
This inefficiency keeps the care team from diagnosing and treating the cancer in a timely manner. It may also mean lost treatment time, lower quality of care, and unnecessary stress for the patient.
The Multidisciplinary Approach in Practice
In the multidisciplinary approach to cancer care, all oncologists on the multidisciplinary team have access to the patient's imaging information, pathology report, and other important clinical data. When physicians have early access to this information, it saves time. It also allows the patient to get better answers during their first visit. The medical oncologist, radiation oncologist, and surgical oncologist see the patient on the same day and can discuss their condition, treatment recommendations, and care plan in real time.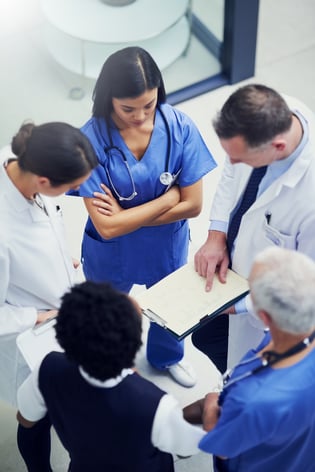 By the time a patient leaves their first appointment in a multidisciplinary clinic, the care team has established a treatment plan. Typically, expected dates are also on the calendar for chemotherapy, radiation, and surgery. In most cases, the team will not need to modify the treatment plan down the line as specialists have already discussed the case in person within hours, if not minutes, of seeing the patient. Providers don't need to send information back and forth, worry about missed calls, or try to remember the details of a case weeks after a patient's last appointment. This streamlined process allows for:
Timely treatment
Improved communication and coordination of care
Real-time collaboration
Instead of simply meeting the standard of care set forth by the National Comprehensive Cancer Network, RMCC specialists exceed those standards by offering more options, providing more information, and spending more time with patients receiving cancer treatment.
The Establishment of Care Coordination in a Multidisciplinary Clinic
When establishing a multidisciplinary clinic, all stakeholders need to be fully on board with the plan.
The medical oncologists, radiation oncologists, and surgeons who form the clinic may each be a part of a different medical group. Similarly, all physicians in the oncology team and imaging and laboratory teams need to build strong relationships. One of these teams must also step up to be the primary leader and champion of the clinic.
It can take time to negotiate the necessary contracts and details of day-to-day operations, including:
Securing an office location and essential equipment
Coordinating multiple EMR systems
Ensuring a plan is in place to assist patients with negotiating insurance payments for the various groups involved
However, even with these difficulties, the benefits of a multidisciplinary approach in cancer care far outweigh the logistical challenges.
RMCC now has several multidisciplinary clinics in the Front Range, including the RMCC breast cancer clinic in Aurora, the first multidisciplinary breast cancer clinic in the area.
"Although the RMCC multidisciplinary breast cancer clinic has been operating for years, many primary care physicians in the region still aren't aware that this type of care even exists," Dr. Xi said. "However, when we present the idea of a multidisciplinary clinic to other providers, they quickly acknowledge that it's a good model to streamline services and coordinate patient care. It's definitely a huge benefit to the community for our cancer patients."
Multidisciplinary Care Implementation
Sixty years ago, the only well-established modality for cancer treatment was surgery. The first endocrine therapy was not yet approved at that time, and chemotherapy for breast cancer just began to emerge.
Over the past few decades, however, options have expanded exponentially. Nowadays, for breast cancer treatment, in addition to the traditional chemotherapy and endocrine therapy, we have a variety of targeted therapy and immunotherapy. Additionally, as a part of the US Oncology Network, RMCC provides access to a wide range of clinical trials that further expand the treatment options for patients receiving cancer care.
"With so many more tools in our toolbox, it makes it much more complicated to decide on the best treatment options and timeline for each patient," Dr. Xi said. "Now is the era for personalized medicine. Technically speaking, each breast cancer case is unique from the biology, genetics, genomics, and social factor standpoint. Customized cancer treatment is provided based on the feature of disease itself, patient's age, performance status, financial situation, personal preference on certain things (such as hair preservation, ovarian preservation, etc.). In a multidisciplinary clinic, we can better address those factors effectively and efficiently while keeping the patient at the center of care."
At RMCC multidisciplinary clinics, during the patient's first visit, they meet with the medical oncologist, radiologist, and surgeon. Physicians also order necessary blood work, labs, and staging scans. The medical oncologist speaks with the clinical trial research coordinator to see which clinical trial may be a good fit for the patient. Additionally, the medical assistant working with the medical oncologist handles genetic testing and other specialty tests. After everyone has seen the patient, the multidisciplinary team meets to discuss the plan of care and create a timeline.
Follow-Up Patient Care in a Multidisciplinary Clinic
Genetic testing, labs, and scan results are sent to the multidisciplinary team as soon as they are received. The team meets weekly for tumor boards where patient cases and treatment recommendations are discussed in detail among medical oncologists, radiation oncologists, surgical oncologists, plastic surgeons, radiologists, pathologists, genetic counselors, and the rehabilitation team. This keeps everyone on the same page and allows the team to share information and ideas. At RMCC, referring providers are kept in the loop regarding their patient's condition and treatment.
"When a patient is referred to RMCC, the referring provider's contact information is entered into our EMR," Dr. Xi said. "When I finish my note, it's just one click to cc the whole team, including the primary care or referring physician, the surgeon, radiation oncologist, and other providers connected to that patient."
The multidisciplinary team continues to communicate about the patient's condition and coordinates ongoing treatment through the regularly scheduled tumor boards. In addition to treatment, the oncology team connects the patient to appropriate support services, including:
At every step of care, the patient's needs and preferences are front and center, highlighting RMCC's shared dedication to a client-centered approach that values shared decision-making.
The Benefit of a Multidisciplinary Team in Cancer Care
"In the traditional model, physicians are so busy, and you can start to feel a bit isolated sometimes," Dr. Xi said. "In the multidisciplinary approach, we have dedicated time for face-to-face discussions. Not only does this save time, but it also really makes you feel like you're a part of a team. It strengthens relationships between us and keeps things fresh and more collaborative. We value each other's opinions."
The benefits of this collaboration reach beyond the multidisciplinary team. Referring providers and patients also benefit. Traditionally, referring providers may need to send referrals to multiple oncology specialists and offices, which takes time and effort. When working with a multidisciplinary clinic, only one referral is required. From there, the multidisciplinary clinic takes over scheduling and streamlines communications between the multidisciplinary team and the referring provider.
Patients also appreciate needing to make only one appointment to see the whole oncology team when initiating care, allowing the patient to:
Be confident in the treatment recommendations and quality of care they receive
Get timely answers to their questions
Receive appropriate care faster
Save time and gas while driving to only one location
Take minimal time off work or away from family duties
The Benefits of Community-Based Patient Care
A community-based, multidisciplinary approach in cancer care also provides benefits not often found in a hospital or large academic medical center. These settings offer services that range from cardiac care to orthopedics to pediatrics. This means resources and priorities are spread over several disciplines. At a dedicated cancer center like RMCC, there is only one focus – cancer care. Its expertise and resources are focused on treating cancer while optimizing patient care and addressing the specific needs of those we serve.
The smaller, community-focused setting also allows patients, providers, and staff to get to know one another and organically build trusting relationships that are extremely difficult to foster in traditional settings. These relationships help keep communication lines open between the patient and the multidisciplinary team. They know they can come to us with concerns or questions, and we will be there with the support they need.
Dedicated patient care with ample resources at RMCC allow oncologists to subspecialize in specific tumor types like at larger academic institutions. RMCC physicians are actively involved in research and are connected to the U.S. Oncology Network of clinical trials providing more treatment options for patients. They are experts in their field with the clinical support and resources needed to put their expertise into practice.
Whether referring for breast cancer, colorectal cancer, lung cancer, or other cancers, providers can be confident their patients are receiving the most up-to-date treatment paired with the customized care, convenience, and collaboration only a community-based multidisciplinary clinic can provide.
Learn how a multidisciplinary approach to cancer care can help. Refer a patient today.