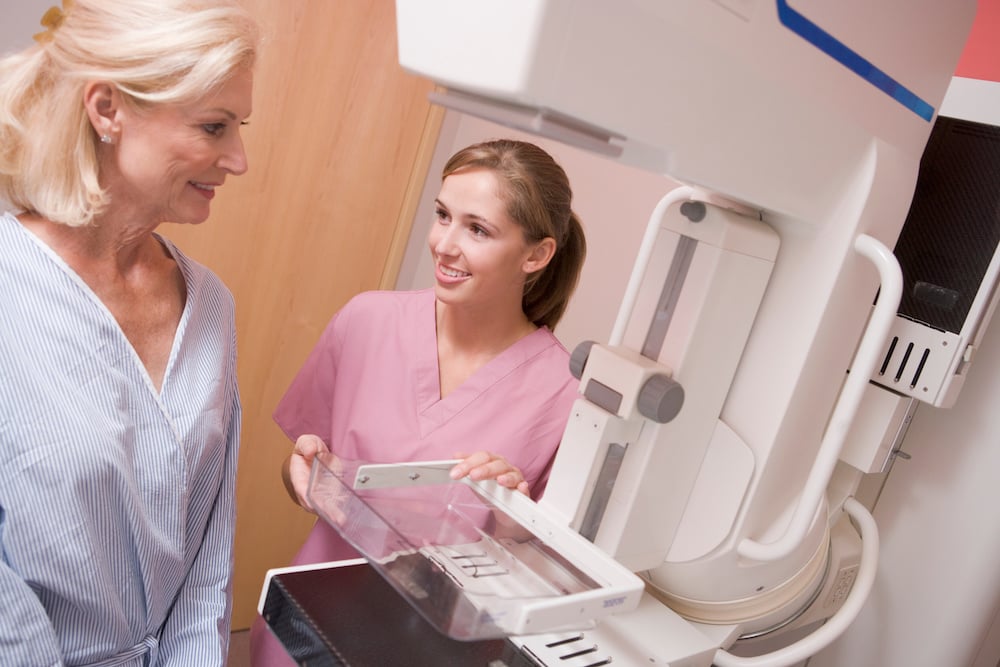 Screening mammograms save lives every year. That's because they can find breast cancer developing in its early stage when it's easier to treat. The five year survival rate for early-stage breast cancer is above 95%. When you have a mammogram a radiologist reviews the results to see if there is anything unusual in the images. If they see something that needs some more investigation, your doctor will call you back to let you know that you may need more imaging.
What does this mean and what can you expect?
Diagnostic Imaging After Screening Shows an Area of Concern in the Breast
It's important to keep in mind that a mammogram is a screening tool and not a definitive diagnosis. If a potential lump has been detected on your mammogram, more images will be needed to see the area better and decide if a biopsy is needed.
Some additional diagnostic tests that may be used include:
Diagnostic mammogram. A diagnostic mammogram means that you will have another mammogram done to double-check that the results are correct. During this mammogram, additional photos will be taken of the specific area of concern. It is more thorough and focused than a screening mammogram, which is the original type of test you had.
Ultrasound. Ultrasounds use sound waves to create images of the inside of the breast. For an ultrasound of the breast, you can expect to lay on a table while a technologist applies a small device to the skin of your breast. This test is not painful, but it may cause some minor pressure. This test can allow for a closer look at the area of your breast that showed the lump on the mammogram.
Breast MRI or other imaging tests.

You may also be asked to complete additional imaging tests, such as an MRI. An MRI uses magnets and radio waves to take detailed images of the inside of the breast.
The results of these tests will likely produce a report with a BI-RADS score. On a scale of 0 to 6, the BI-RADS score gives the doctor a sense of what types of tests might be needed next. A score of 0 indicates that the imaging didn't provide enough information for a clear diagnosis. If it's a 1, there is no sign of cancer. A 2 or 3 means that something was noticed but it does not appear to be cancer and should be monitored over time.
Read more about breast hyperplasia in our blog.
A score of 4 or 5 means that the lump looks like it could be cancerous and a biopsy is recommended.
A 6 means that the lump is malignant (cancer) as proven by a biopsy.
Learn more about the BI-RADS Score.
If Cancer is Suspected, What's Next?
The way that cancer is confirmed is through a breast biopsy.
Biopsy of the Breast
Biopsies involve taking a tissue sample through a long needle. Most often the area is numbed and then the needle is inserted using imaging to be sure the sample is from the area of concern, such as a lump in the breast. Through the needle, a small sample of tissue is taken from the lump that was found on the mammogram. Biopsies can be performed in a variety of ways, including fine-needle aspiration, a core needle biopsy, and a surgical biopsy which requires an incision.
Read our blog: Breast Biopsy: What to Expect if You Need One.
Pathology and Laboratory Analysis
After a biopsy has been performed, the sample will be sent to a pathologist for evaluation. This will determine if there are cancer cells present or if the abnormal area is something else that's non-cancerous. If the lump is cancerous, other characteristics will be noted to help the oncologist plan the most effective treatments. The pathology report is sent to your doctor who will discuss the results with you.
Read our blog: Understanding Your Breast Biopsy Pathology Report
If the Pathology Report Shows Breast Cancer…
Your doctor will let you know the results of the additional imaging tests and the biopsy report. If it's cancer you'll need to see a medical oncologist who specializes in breast cancer. It's best to go to the cancer center before consulting with a breast cancer surgeon because there can be treatments recommended before surgery takes place. Read more about who is on your breast cancer care team.
The medical oncologist will serve as the "team leader" for your entire treatment process. They will review the results of the biopsy and possibly order some additional tests including imaging to see if there are signs of cancer in any other area of the body.
Based on all of the information that is gathered, the cancer specialists will meet to discuss which treatments are recommended and the order of each.
Breast Cancer Treatment Options
Treatment approaches for breast cancer vary depending on the type, the size of the tumor, and the extent (stage) of the cancer. Your breast cancer care team will most likely include some of these treatment options:
Surgery

. Surgery is used to remove the cancerous tissues. Common surgeries that are used for breast cancer include a lumpectomy or mastectomy. Lumpectomies focus on removing just the tumor while a mastectomy involves the removal of the entire breast. Sometimes both breasts are removed to prevent the cancer from coming back. Read more about the difference between a lumpectomy and mastectomy.
Radiation therapy. Radiation therapy uses high energy beams to kill cancer cells. It's most often used after a lumpectomy to kill any cancer cells that may remain. It can be used before or after surgery, however, depending on the goals set forth by the cancer care team.
Medical Oncology: chemotherapy, immunotherapy, targeted therapy, and hormone therapy.

Depending on the specific type of breast cancer, different types of drugs may be used to treat it. The right set of drug therapies, if needed, will be chosen by the oncologist based on your biopsy report and whether the tumor is hormone positive, HER2 positive, or triple-negative, meaning it's not positive for hormones or HER2 protein receptors.
Support and Resources for Breast Cancer Patients
It's also a good idea to talk with the social worker at Rocky Mountain Breast Specialists. He or she can recommend support groups, community resources for cancer patients, and even help you find rides to treatments. Don't hesitate to ask for more information about these resources so you can get the emotional and physical support you need throughout breast cancer treatment.
Find a Breast Cancer Specialist in Colorado
If you or a loved one was recently diagnosed with breast cancer, our team is here to provide the guidance you need and a personalized treatment plan that's specific to your needs.
Find a location in Denver, Colorado Springs, Boulder, and throughout the Front Range.