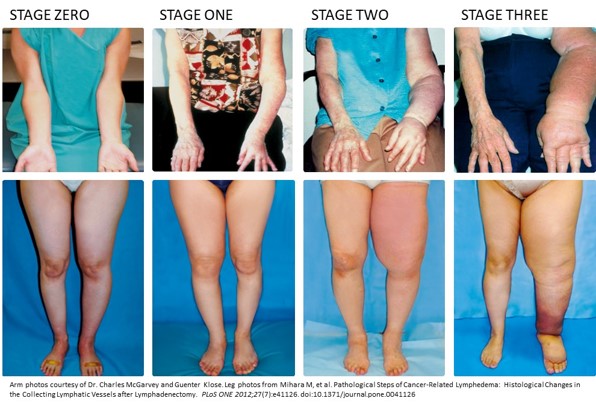 Dr. Gerlinde Tynan's Pilot Program at Rocky Mountain Cancer Centers Uses State-of-the-Art Technology to Prevent Lymphedema
State-of-the-art lymphedema prevention technology is now available at Rocky Mountain Cancer Centers' Longmont location, thanks to a visionary pilot program launched by Dr. Gerlinde Tynan. While there are many things that make the program and the technology – a device called SOZO – remarkable, it's hard to recognize the significance without understanding lymphedema.
What is lymphedema?
Lymphedema is a possible side effect of some cancer treatments. Dr. Tynan, a breast surgeon at Rocky Mountain Cancer Centers, explains lymphedema as a condition where lymphatic drainage is impeded by cancer interventions, such as lymph node removal surgery or radiation. With inadequate lymphatic drainage, fluid backs up in the adjoining limb, causing unsightly swelling, discomfort, and increased risk of infection.
Who is at risk for it?
Cancer survivors who have had surgery and/or radiation on their lymph nodes are at risk of lymphedema. Those include patients with breast cancer, melanoma, colorectal cancer, genital cancers, and urinary cancer. Both men and women are equally affected by lymphedema. Because the main lymph nodes causing it are in the groin or armpit, lymphedema typically affects the arm or leg below the damaged or removed lymph nodes.
How common is it?
According to Dr. Tynan, there are nearly 17 million cancer survivors in the United States, with two million cancer survivors in Colorado alone. As high as one in three at-risk survivors will develop chronic lymphedema.
Why is prevention important?
"Early detection, combined with intervention, prevents 95% of lymphedema cases in people who are at-risk," Dr. Tynan explains.
She adds that, once you develop lymphedema, it becomes a chronic, lifelong condition that's difficult and costly to treat. Prevention, on the other hand, is faster, cheaper, non-invasive, and prevents the suffering and inconvenience of dealing with it.
Dr. Tynan has a more personal motivation for launching the Lymphedema Prevention Program: It can open the door to life-saving cancer treatments if cancer has spread to the lymph nodes.
"In the past I would meet with cancer patients to discuss treatment options, and some would have this terrible fear of lymphedema. Sometimes, it prevents people from getting the treatment they need. They would refuse or delay surgery to remove cancer in the lymph nodes because of an irrational fear of lymphedema. So, a program like this where we can tell people 'we can prevent you from getting it'… That makes for better treatment decisions.'"
How does the prevention program work?
RMCC's Lymphedema Prevention Program utilizes advanced technology called SOZO to screen for early indicators of lymphedema. It's the only device of its kind in Northern Colorado and one of only a few in the state.
It uses bioimpedance spectroscopy to detect subclinical lymphedema. It's so sensitive, it can detect changes in fluid as small as two tablespoons. This is well below when clinical indicators for fluid retention would be apparent, such as serial arm measurements.
SOZO testing is FDA approved and approved by Medicaid and Medicare. Best of all, it's non-invasive, painless, and rapid. It's essentially like standing on a scale for 30 seconds, and a wide spectrum of frequencies provide a detailed fluid and tissue analysis.
"Our program is three steps: Test, Trigger, Treat," Dr. Tynan says.
Before surgery, RMCC does a baseline test. After the surgery and/or radiation treatment, patients return for screening. Since most Lymphedema occurs within the first three years after surgery, patients are tested every three months for the first three years, then every six months until five years. Six years after surgery, the screenings are reduced to annually.
As soon as the SOZO machine senses an increase in extracellular water, patients begin using a compression garment for 30 days. The compression forces the fluid back into the cells and prevents lymphedema from developing into a chronic condition. "They come back and get rechecked in a month, and it's almost always resolved," Dr. Tynan says.
What makes Rocky Mountain Cancer Center's prevention program so outstanding?
"Most programs find and treat lymphedema," Dr. Tynan says. "Our program is about preventing disease as opposed to chasing it after it appears. Preventing a disease from developing is always better than treating a disease."
Additionally, Dr. Tynan points out, RMCC's approach to cancer treatment uses a holistic, multi-disciplinary philosophy. "We are a comprehensive program," she says. "I'm a breast surgeon, and I work closely with breast radiologists, breast oncologists, and radiation oncologists. We try to address all related issues to cancer treatments. We have genetic counselors, social workers, financial counselors, and nurse navigators. Since it is so common, this is an important service to offer our patients."