Chris Benton, MD
---
Blood Cancer Specialist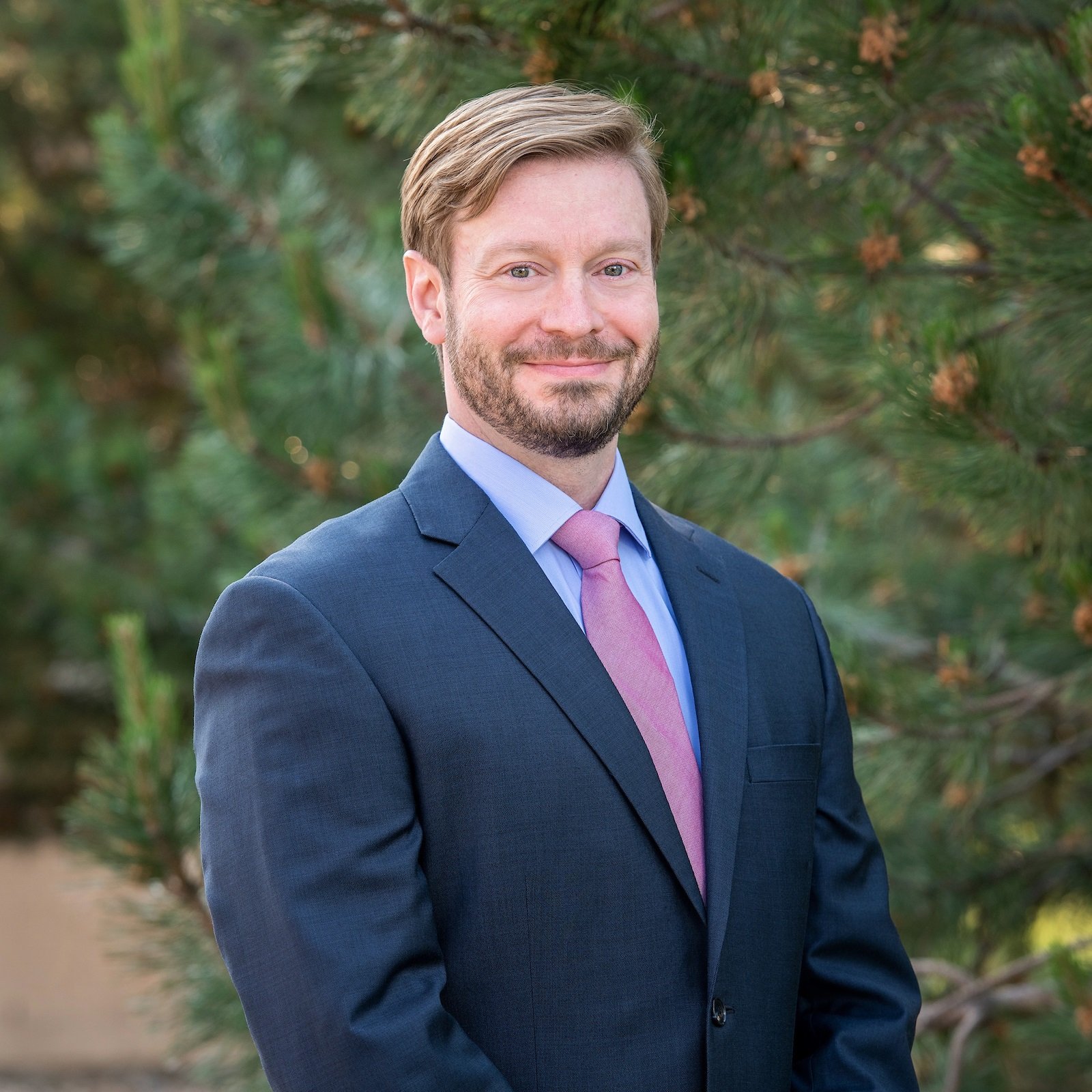 About Chris Benton, MD
Dr. Benton is a board-certified hematologist and medical oncologist who joined RMCC in 2019 after serving on faculty at MD Anderson Cancer Center in the Department of Leukemia. He specializes in blood cancers and non-cancerous blood disorders, with an emphasis on acute and chronic leukemias. He uses personalized medicine to treat each unique cancer, delivering high-quality and compassionate care for his patients. Dr. Benton has authored countless peer-reviewed publications and presented original research and trial data at local, national, and international meetings relating to blood cancers, molecular genomics, and clinical research. His areas of expertise include chemotherapy and new therapies including molecular targeted therapy, antibody therapy, immunotherapy epigenetic therapy, cell therapy, oral therapy, and novel combinations. Dr. Benton serves as a principal investigator for many clinical research trials which have paved the way for cutting-edge cancer treatments. He serves on the USON Research Committee and leads the Citywide Hematology Tumor Board in Denver-Metro area.
Board Certifications
Hematology
Internal Medicine
Medical Oncology
Clinical Care Expertise
Acute and Chronic Leukemias

Acute Lymphoblastic Leukemia (ALL)
Acute Myeloid Leukemia (AML)
Chronic Myeloid Leukemia (CML)
Myelodysplastic Syndrome (MDS)
Myeloproliferative Neoplasms (MPNs)

Blood Cancers
Blood Disorders

Anemia
Bleeding & Clotting Disorders
Iron Deficiency
Thrombocytopenia
Pregnancy-Related Blood Disorders
Surgical Clearances
Antiplatelet and Anticoagulant Management
Education
Fellowship
Hematology & Medical Oncology, University of Texas MD Anderson Cancer Center, Houston, TX
Residency
Internal Medicine, Baylor College of Medicine and Affiliated Hospitals, Houston, TX
Medical School
Baylor College of Medicine, Houston, TX
Patient Care Philosophy
Each cancer is unique, just like each person. My philosophy is to target the characteristics of the specific cancer with all available tools, while at the same time serving the individual needs of the patient to help achieve the best possible outcome for every person. Being diagnosed with cancer is a challenge, and I truly enjoy working alongside each patient, designing a comprehensive care plan, and guiding them through the process one day, and one step, at a time. A part of the process is teaching about the why's and how's of what we are doing, so that patients can actively participate in their care.
Additional Information
American Association of Cancer Research
American Society of Clinical Oncology
American Society of Hematology
Rocky Mountain Cancer Centers Research Committee
US Oncology Hematology Research Program
June 2021. Speaker, Hematology for the Primary Care Provider. Rocky Mountain Cancer Centers.
June 2021. Moderator, Myeloproliferative Neoplasms (MPN). Prime® Education.
January 2021. Speaker, Acute Myeloid Leukemia: Real World Strategies for Personalized Treatment. Prime® Education.
January 2021.Speaker, CLL Connections: Dinner with the Docs, Patient Power.
March 2020. Presenter, Leukemia at What's New in Hematology: A Review of Benign and Malignant Hematology. Rocky Mountain Cancer Centers.
Benton CB, Ravandi F, Andreeff M, Kadia T, Ruvolo V, Qiu P, Wheeler DA, Garcia-Manero G, Cortes J, Kantarjian HM, Konopleva M. Case series of patients with acute myeloid leukemia receiving hypomethylation therapy and retrospectively found to have IDH1 or IDH2 mutations. Leukemia & Lymphoma 55(6):1431-4, 6/2014. e-Pub 11/2013. PMCID: PMC4105975.
Benton CB, Thomas DA, Yang H, Ravandi F, Rytting M, O'Brien S, Franklin AR, Borthakur G, Dara S, Kwari M, Pierce SR, Jabbour E, Kantarjian H, Garcia-Manero G. Safety and clinical activity of 5-aza-2'-deoxycytidine (decitabine) with or without Hyper-CVAD in relapsed/refractory acute lymphocytic leukaemia. Br J Haematol 163(3):356-65, 11/2014. e-Pub 7/2014. PMCID: PMC4198465.
Benton CB, Tanaka M, Wilson C, Pierce S, Zhou L, Cortes J, Kantarjian H, Verstovsek S. Increased likelihood of post-polycythemia vera myelofibrosis in Ph-negative MPN patients with chromosome 12 abnormalities. Leukemia Research 39(4):419-23, 4/2015. e-Pub 2/2015. PMID: 25687833.
Konopleva M*, Benton CB*, Thall PF, Zeng Z, Shpall E, Ciurea S, Kebriaei P, Alousi A, Popat U, Anderlini P, Nieto Y, Parmar S, Qiao W, Saliba R, Chen J, Rondon G, McMullin B, Wang R, Lu H, Schober W, Woodworth G, Gulbis A, Cool R, Andreeff M, Champlin R. *MK and CBB are co-first authors. Leukemia cell mobilization with G-CSF plus plerixafor during fludarabine/busulfan conditioning in allogeneic stem cell transplantation. Bone Marrow Transplantation, 7/2015. e-Pub 4/2015. PMID: 25867648.
Benton CB, Nazha A, Pemmaraju N, Garcia-Manero G. Chronic myelomonocytic leukemia: Forefront of the field 2015. Crit Rev Oncol Hematol 95(2):222-42, 8/2015. e-Pub 3/2015. PMCID: PMC4859155.
Short NJ*, Benton CB*, Chen HC, Qiu P, Gu L, Pierce S, Brandt M, Maiti A, Min TL, Naqvi K, Quintas-Cardama A, Konopleva M, Kadia T, Cortes J, Garcia-Manero G, Ravandi F, Jabbour E, Kantarjian H, Andreeff M. *NJS and CBB are co-first authors. Peripheral blood blast clearance is an independent prognostic factor for survival and response to acute myeloid leukemia induction chemotherapy. Am J Hematol 91(12):1221-1226, 12/2016. e-Pub 8/2016. PMCID: PMC5118152.
Benton CB, Ravandi F. Targeting acute myeloid leukemia with TP53-independent vosaroxin. Future Oncol 13(2):125-133, 1/2017. e-Pub 9/2016. PMCID: PMC5144553.
Montalban-Bravo G*, Benton CB*, Wang SA, Ravandi F, Kadia T, Cortes J, Daver N, Takahashi K, DiNardo C, Jabbour E, Borthakur G, Konopleva M, Pierce S, Bueso-Ramos C, Patel K, Kornblau S, Kantarjian H, Young KH, Garcia-Manero G, Andreeff M. *GMB and CBB are co-first authors. Greater than one TP53 abnormality is a dominant characteristic of pure erythroid leukemia. Blood 129(18):2584-2587, 5/2017. e-Pub 2/2017. PMCID: PMC5418636.
Benton CB, Fiskus W, Bhalla KN. Targeting Histone Acetylation: Readers and Writers in Leukemia and Cancer. Cancer J 23(5):286-291, Sep/Oct, 9/2017. PMID: 28926429.
Benton CB, Ravandi F. A mind map for managing minimal residual disease in acute myeloid leukemia. Clin Adv Hematol Oncol 15(11):859-867, 11/2017. PMID: 29200419.
Boddu P, Takahashi K, Pemmaraju N, Daver N, Benton CB, Pierce S, Konopleva M, Ravandi F, Cortes J, Kantarjian H, DiNardo CD. Influence of IDH on FLT3-ITD status in newly diagnosed AML. Leukemia 31(11):2526-2529, 11/2017. e-Pub 7/2017. PMID: 28751773.
DiNardo CD, Rausch CR, Benton CB, Kadia T, Jain N, Pemmaraju N, Daver N, Covert W, Marx KR, Mace M, Jabbour E, Cortes J, Garcia-Manero G, Ravandi F, Bhalla KN, Kantarjian H, Konopleva M. Clinical Experience with the BCL2-inhibitor Venetoclax in Combination Therapy for Relapsed and Refractory Acute Myeloid Leukemia and Related Myeloid Malignancies. Am J Hematol, 3/2018. e-Pub 12/2017. PMID: 29218851.
Boddu P, Benton CB, Wang W, Borthakur G, Khoury JD, Pemmaraju N. Erythroleukemia-historical perspectives and recent advances in diagnosis and management. Blood Rev 32(2):96-105, 3/2018. PMCID: PMC5857409.
Benton CB, Chien KS, Tefferi A, Rodriguez J, Ravandi F, Daver N, Jabbour E, Jain N, Alvarado Y, Kwari M, Pierce S, Maiti A, Hornbaker M, Santos MA, Martinez S, Siguero M, Zblewski D, Al-Kali A, Hogan WJ, Kantarjian H, Pardanani A, Garcia-Manero G. Safety and tolerability of lurbinectedin (PM01183) in patients with acute myeloid leukemia and myelodysplastic syndrome. Hematol Oncol, 8/2018. PMID: 30153704.
Benton CB, Khan M, Sallman D, Nazha A, Nogueras González GM, Piao J, Ning J, Aung F, Al Ali N, Jabbour E, Kadia TM, Borthakur G, Ravandi F, Pierce S, Steensma D, DeZern A, Roboz G, Sekeres M, Andreeff M, Kantarjian H, Komrokji RS, Garcia-Manero G. *CBB and MK are co-first authors. Prognosis of patients with intermediate risk IPSS-R myelodysplastic syndrome indicates variable outcomes and need for models beyond IPSS-R. Am J Hematol 93(10):1245-1253, 10/2018. e-Pub 9/2018. PMID: 30051599.
Short NJ, Kantarjian HM, Loghavi S, Huang X, Qiao W, Borthakur G, Kadia TM, Daver N1, Ohanian M, Dinardo CD, Estrov Z, Kanagal-Shamanna R, Maiti A, Benton CB, Bose P, Alvarado Y, Jabbour E, Kornblau SM, Pemmaraju N, Jain N, Gasior Y, Richie MA, Pierce S, Cortes J, Konopleva M, Garcia-Manero G, Ravandi F5. Treatment with a 5-day versus a 10-day schedule of decitabine in older patients with newly diagnosed acute myeloid leukaemia: a randomised phase 2 trial. Lancet Haematol, 1/2019.
Benton CB, Boddu PC*, DiNardo C, Bose P, Wang F, Pemmaraju N, KC D, Pierce S, Patel K, Konopleva M, Ravandi F, Garcia-Manero G, Kadia T, Cortes J, Kantarjian H, Andreeff M, Verstovsek S. *CBB and PCB are co-first authors. Janus Kinase 2 Variants Associated With the Transformation of Myeloproliferative Neoplasms into Acute Myeloid Leukemia. Cancer, In press, 2/2019.