Manojkumar Bupathi, MD, MS
---
Medical Oncologist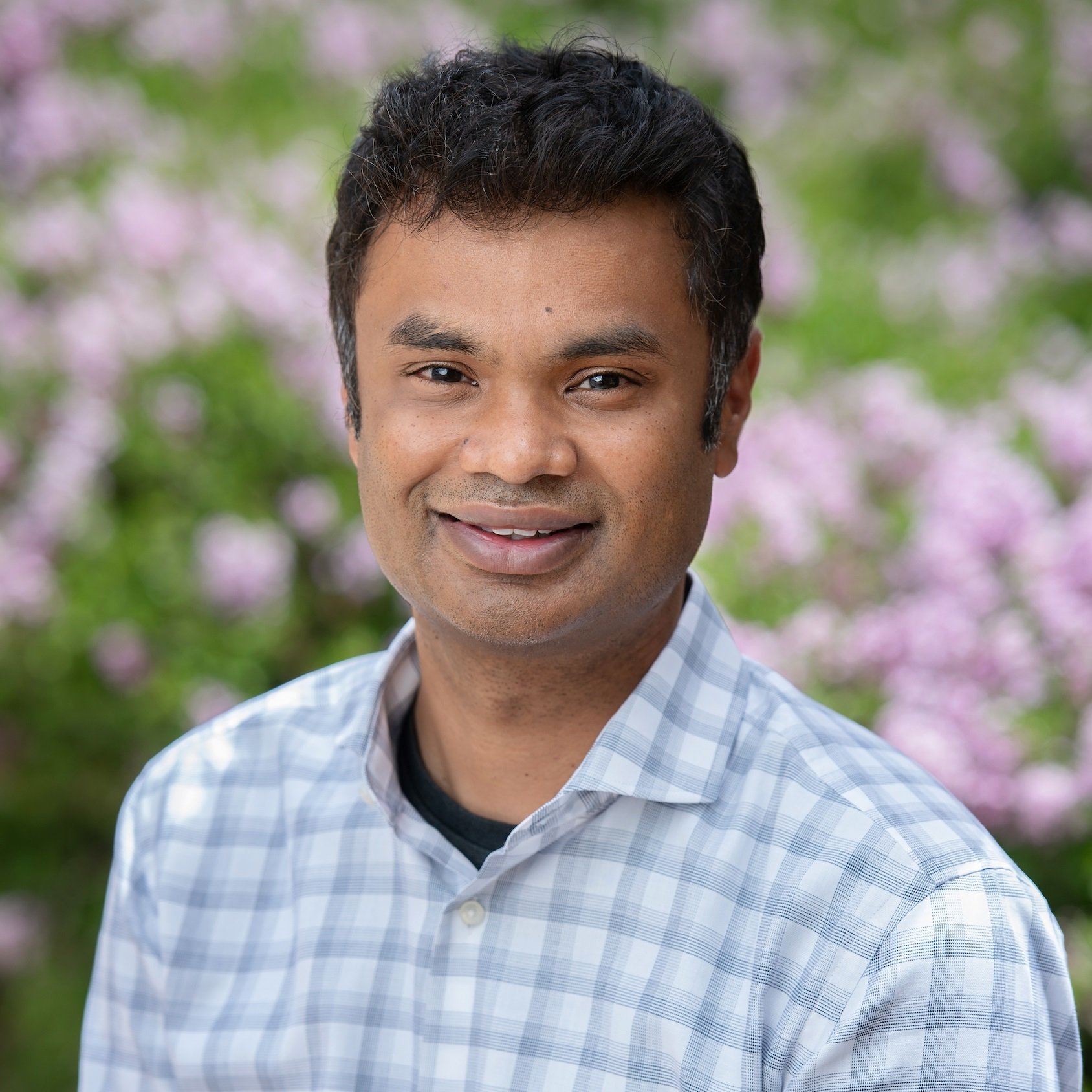 About Manojkumar Bupathi, MD, MS
Dr. Bupathi is a board-certified medical oncologist and joined Rocky Mountain Cancer Centers in 2017. He specializes in solid tumors with an advanced subspecialty expertise in breast cancers and genitourinary cancers (adrenal, bladder, kidney, penile, prostate, and testicular). Dr. Bupathi is deeply committed to personalized care, always taking the time to listen and understand what matters to his patients. He is valued by his patients, peers, and colleagues for his excellent clinical judgment. He makes it a point to be well-prepared for patient visits by reviewing charts and consulting with colleagues and team members prior to appointments. His patients have his full attention and he is devoted to their best interests.
He participates in many tumor boards, where he collaborates with other cancer specialists including surgeons, radiologists, pathologists, and radiation oncologists. This allows him to provide a comprehensive, multi-disciplinary approach to cancer treatment recommendations such as chemotherapy, targeted therapies, and immunotherapies. Dr. Bupathi has a strong interest in the field of personalized medicine and how genomics and molecular pathways impact cancer treatment options. Dr. Bupathi is the Co-Chair for the US Oncology Genitourinary Cancer Research Program and serves as principal investigator for many Phase 1, Phase II, and Phase III studies. He emphasizes the importance of participating in clinical research trials whenever possible to ensure his patients are receiving the most up-to-date, cutting edge treatment for their disease.
In addition to Rocky Mountain Cancer Centers, Dr. Bupathi also sees patients for Phase I clinical research trials at Sarah Cannon Research Institute in Denver. Dr. Bupathi is available to see patients at Rocky Mountain Cancer Centers clinics in Aurora, Englewood, and Littleton Clinics as well as Sarah Cannon Research Institute in Denver.
Board Certifications
Internal Medicine
Medical Oncology
Specialties
Breast Cancers

A

typical Ductal Hyperplasia

Atypical Lobular Hyperplasia

Ductal Carcinoma in Situ (DCIS)

HER2+ Breast Cancers

Inflammatory Breast Cancer

Invasive Breast Cancer (IDC/ILC)

Lobular Carcinoma in Situ (LCIS)

Metastatic Breast Cancer

Paget Disease of the Breast

Triple-Negative Breast Cancer

Clinical Research
Sarcomas
Urologic Cancers

Adrenal Cancer
Adrenocortical Cancer
Bladder Cancer
Kidney Cancers
Penile Cancer
Prostate Cancer
Testicular Cancer
Education
Fellowship
Medical Oncology Fellowship, The Ohio State University, Columbus, OH
Investigational Cancer Therapeutics Fellowship, The University of Texas, MD Anderson Cancer Center, Houston, TX
Gastrointestinal Oncology Advanced Fellowship, The Ohio State University, Columbus, OH
Research Fellowship, Cleveland Clinic Foundation, Department of Translational Hematology & Oncology, Cleveland, OH
Residency
Internal Medicine, Case Western Reserve University, Cleveland, OH
Medical School
St. George's University, School of Medicine, West Indies, Grenada
Patient Care Philosophy
Research proves that patient outcomes are better when the patient is involved with their care, which is why I strive to engage with my patients and respect their preferences. I want to ensure they understand the disease, their diagnosis, treatment options (including clinical trials), and the goals of their treatment. I tailor treatments based on disease state and biology and coordinate patient care with other physicians and medical personnel (like social workers) so the patient has seamless care.
Languages Spoken
Additional Information
American Medical Association
American Society of Clinical Cancer Research
American Society of Clinical Oncology
American Society of Hematology
Best of ASCO Denver (2018-2021), Program Chair
Rocky Mountain Cancer Centers Research Committee
Sarah Cannon Research Institute, Drug Development Unit (Phase I), Breast Cancers, Research Oncologist
Sarah Cannon Research Institute, Drug Development Unit (Phase I), Genitourinary, Associate Director
US Oncology Genitourinary Cancer Research Program, Co-Chair
2020. Presenter, Genitourinary – Non-Prostate, Sitravatinib in combination with nivolumab demonstrates clinical activity in checkpoint inhibitor naïve, platinum experienced patients with advanced of metastatic urothelial carcinoma. Best of ESMO.
2020. Presenter, Improving Personalized Outcomes in Bladder Cancer. PRIME Education Virtual Collaborative Learning Session.
2020. Presenter, Genitourinary – Non-Prostate: ASCO Virtual Direct Highlights Denver. Total Health Conferencing.
2019. Presenter, Colorectal Cancer: ASCO Direct Highlights Denver. Total Health Conferencing.
2018. Presenter, Breast Cancer: An Evening Symposium on Breast Cancer.
2017. Presenter, Immune Checkpoint Inhibitors for Bladder Cancer: Practice Essential for Community Oncologists and Advance Practice Providers.
(Book Chapter) Bupathi, M. "Emerging role of targeted neoadjuvant chemotherapy in sarcoma treatment" in Current Problems in Surgery, Volume 55, Number 12. Ashley, S, Creswell Lawrence. Elsevier Health Sciences Division, 2018.
Primary Results From TROPHY-U-01 Cohort1 : Phase 2 Open-label Study of Sacituzumab Govitecan in Patients With Advanced Urothelial Carcinoma After Platinum-based Chemotherapy and Checkpoint Inhibitors. Tagawa S, Balar A, Petrylak D, Kalebasty A, Loriot Y, Flechon A, Jain R, Agarwal N, Bupathi M, Barthelemy P, Beuzeboc P, Palmbos P, Kyriakopoulos C, Pouessel D, Sternberg C, Hong Q, Goswami T, Itri L, Grivas P. Submitted to Journal of Clinical Oncology, March 2021
Degree of MDM2 Amplification affects clinical outcomes in dedifferentiated liposarcoma. Bill K, Seligson N, Hays J, Swasthi A, Demoret B, Stets C, Duggan M, Bupathi M, Brock G, Millis S, Shakya R, Timmers C, Wakely P, Pollock R. Clinical Cancer Research 2018.
Temozolomide post pazopanib treatment failure in patients with advanced sarcoma: A case series. Bupathi M, Hays JL, Chen JL. PLoS One. 15 Nov 2017.
Biweekly cisplatin and gemcitabine in patients with advanced biliary tract cancer. Ahn DH, Reardon J, Ahn CW, Bupathi M, Mikhail S, Wu CS, Bekaii-Saab T. Int J Cancer. 17 Nov 2017. doi: 10.1002/ijc.31133.
Therapeutic options for intrahepatic cholangiocarcinoma. Bupathi M, Ahn D, Bekaii-Saab T. Hepatobiliary Surg Nutr. 6 April 2017. doi:10.21037/hbsn.2016.12.12.
Incidence of infusion reactions to anti-neoplastic agents in early phase clinical trials: The MD Anderson Cancer Center experience. Bupathi M, Hajjar J, Bean S, Fu S, Hong D, Karp D, Stephen B, Hess K, Meric-Bernstam F, Naing A. Investigational New Drugs. 29 Sept 2016. doi:10.1007/s10637-016-0395-y
Spotlight on bevacizumab in metastatic colorectal cancer: patient selection and perspectives. Bupathi M, Ahn D, Bekaii-Saab T. Gastrointestinal Cancer: Targets and Therapy. 30 June 2016; doi
Biomarkers for immune therapy in colorectal cancer: mismatch-repair deficiency and others. Bupathi M, Wu C. J Gastrointest Oncol. 2016;7(5):713-720. doi: 10.21037/ jgo.2016.07.03
Modified irinotecan and infusional 5-fluorouracil (mFOLFIRI) in patients with refractory advanced pancreas cancer (APC): a single-institution experience. Bupathi M, Ahn D, Wu C, Ciombor KK, Stephens JA, Reardon J, Goldstein DA, Bekaii-Saab T. Medical Oncology. 2016 April; 33(4):37.
Clinical next-generation sequencing reveals aggressive cancer biology in adolescent and young adult patients. Subbiah V, Bupathi M, Kato S, Livingston A, Slopis J, Anderson PM, Hong DS. Oncoscience. 2015 Jul 8; 2(7):646-58.
Hepatocellular carcinoma: Where there is unmet need. Bupathi M, Kaseb A, Meric-Bernstam F, Naing A. Molecular Oncology. 2015 Jun 25. pii: S1574-7891(15)00129-5. doi: 10.1016/j.molonc.2015.06.005.