Sujatha Nallapareddy, MD
---
Medical Oncologist / Hematologist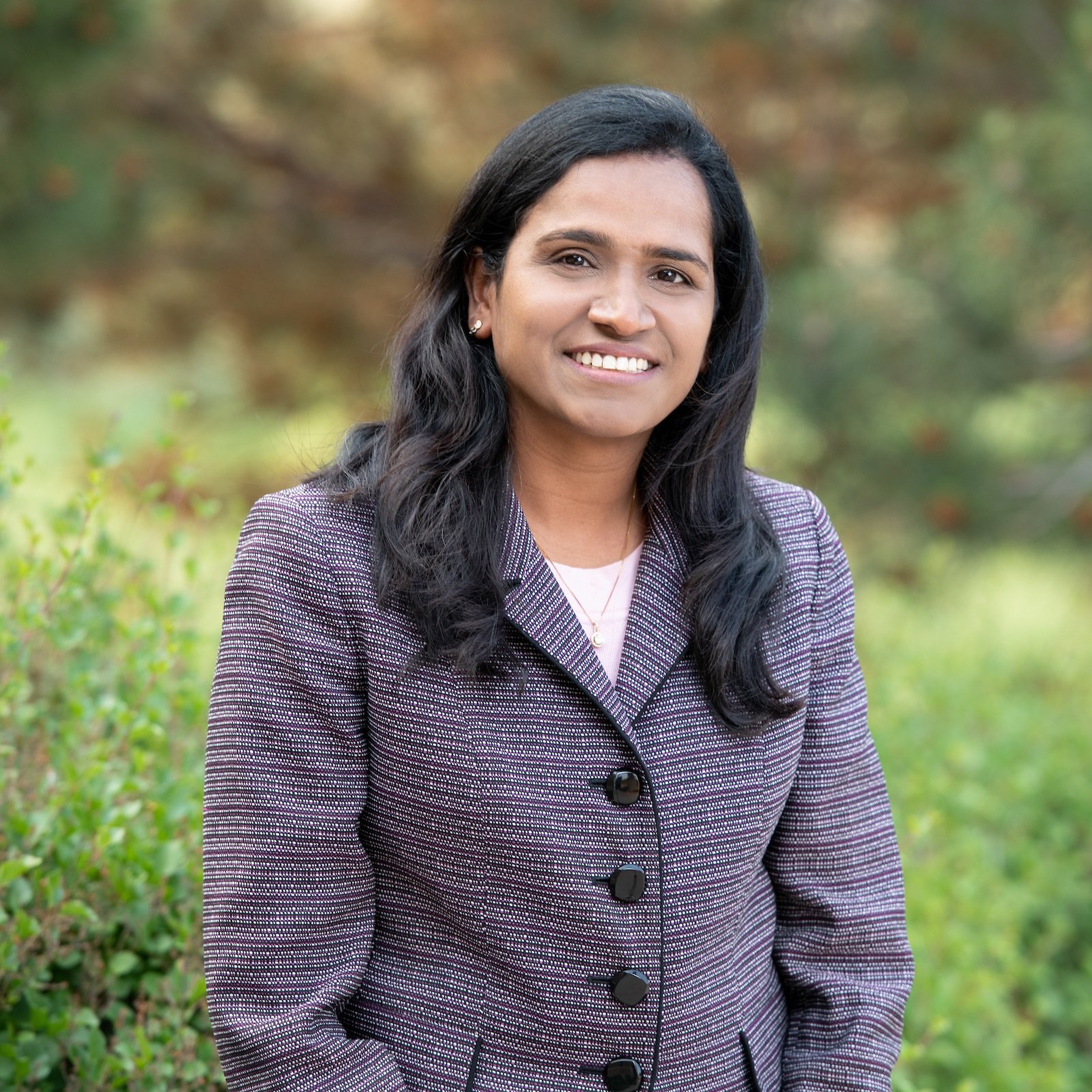 About Sujatha Nallapareddy, MD
Dr. Nallapareddy is a board-certified medical oncologist and hematologist and has been practicing at Rocky Mountain Cancer Centers for over 10 years. She specializes in gastrointestinal cancers, skin cancers, breast cancers, and non-cancerous blood disorders.
Dr. Nallapareddy takes a collaborative approach in patient care, taking the time to listen and getting to know her patients and their families as well as educating them on different cancer treatment options, because she believes better outcomes are achieved when patients understand and embrace their care.
Dr. Nallapareddy participates in many tumor boards, where she collaborates with other cancer specialists including surgeons, radiologists, pathologists, and radiation oncologists. This allows her to provide a comprehensive, multi-disciplinary approach to cancer treatment recommendations such as chemotherapy, targeted therapies, and immunotherapies.
Dr. Nallapareddy has served as a principal investigator for many clinical research trials and emphasizes the importance of participating in clinical research trials when appropriate to ensure her patients are receiving the most up-to-date, cutting-edge treatment for their disease. She does presentations for the community about the risks, treatments, and prevention for colorectal cancers and works closely with Colon Cancer Alliance to increase awareness around cancer prevention.
Board Certifications
Hematology
Internal Medicine
Medical Oncology
Specialties
Blood Disorders

Anemia
Antiplatelet and Anticoagulant Management
Bleeding & Clotting Disorders
Iron Deficiency
Pregnancy-Related Blood Disorders
Surgical Clearances
Thrombocytopenia

Gastrointestinal Cancers

Anal Cancer
Bile Duct Cancer
Esophageal Cancer
Liver Cancer
Pancreatic Cancer
Small Bowel Cancer
Stomach Cancer

Neuroendocrine Cancers

Carcinoid
CEP NETs – foregut, midgut, hindgut
Metastatic NETs

Skin Cancers

Basal Cell Carcinoma
Melanoma
Squamous Cell Carcinoma
Education
Fellowship
Hematology & Medical Oncology Fellowship, University of Colorado School of Medicine, Aurora, CO
Developmental Therapeutics and Gastrointestinal Oncology Fellowship, University of Colorado School of Medicine, Aurora, CO
Residency
State University of New York (SUNY), Buffalo, NY
Medical School
Osmania College, Hyderabad, India
Patient Care Philosophy
My goal is to treat patients as if they were part of my own family or closest friends. My goal is to help you understand your disease and the treatment plan. I encourage patients and family members to ask me questions so that they can better cope with their illness. I am also a strong advocate of clinical trials to help advance the state of knowledge in the treatment of cancer.
Languages Spoken
Additional Information
American Society of Clinical Oncology
Rocky Vista University, Clinical Preceptor
Colorectal Cancer Alliance
Rocky Mountain Cancer Centers Research Committee
US Oncology Gastrointestinal Cancer Research Program
US Oncology Research Committee
March 2021. Speaker, Cancer Screening Guidelines for Primary Care Physicians. Rocky Mountain Cancer Centers.
January 2021. Presenter, Updates in Colorectal Cancers. Medical Center of Aurora.
JJ Tentler, S Nalllapareddy, AC Tan, A Spreafico, TM Pitts, MP Morelli, HM Selby, MI Kachaeva, SA Flanigan, GN Kulikowski, S Leong, JJ Arcaroli, WA Messersmith, SG Eckhardt Identification of predictive markers of response to the MEK1/2 inhibitor selumetinib (AZD6244) in K-ras-mutated colorectal cancer. Molecular Cancer Therapeutics, 9 (12), 3351-62.
Q Zhou, D Gustafson, S Nallapareddy, S Diab, S Leong, K Lewis, L Gore, WA Messersmith, AM Treston, SG Eckhardt, C Sidor, DR Camidge A phase I does-escalation, safety and pharmacokinetic study of the 2-methoxyestradiol analog EDMN-1198 administered orally to patients with advanced cancer. Invest New Drugs, 29 (2), 340-6.
CD Weekes, S Nallapareddy, MA Rudek, ANorris-Kirby, D Laheru, A Jimeno, RC Donehowr, KM Murphy, M Hidalgo, SD Baker, WA Messersmith Thymidylate synthase (TYMS) enhancer region genotype-directed phase II trial of oral capecitabine for 2nd line treatment of advanced pancreatic cancer. Invest New Drugs, 29 (5), 1057-65.
S Nallapareddy, SG Eckhardt, W Messersmith Irinotecan versus oxaliplatin for adjuvant colon cancer therapy: Why do the results differ? Current Colorectal Cancer Reports, 4, Article Number 167
S Nallapareddy, GE Wilding, G Yang, R Iyer, M Javle Chemoradiation is a tolerable therapy for older adults with esophageal cancer. Anticancer Research. 15 (4), 3055-60.
D Tan, X WU M Hou, SO Lee, W Lou, J Wang, B Janarthan, S Nallapareddy, DL Trump, AC Gao
Interleukin-6 polymorphism is associated with more aggressive prostate cancer. The Journal of Urology, 174 (2), 753-6.
S Nallapareddy, J Bagirathan, S Kamasani Esophageal Cancer in a Post-Liver Transplant Patient. Internet Scientific Publications. Volume 4, Number 1.